News
»
Go to news main
HAHP's new Recreation Library encourages collaboration
Posted by
Josey Houle, Dal Health Freelance Writer, with files from Dr. Karen Gallant
on January 4, 2023 in
Teaching and Learning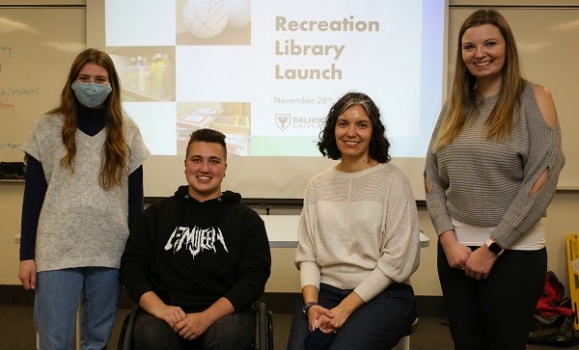 On Nov. 28, 2022, Dalhousie's School of Health and Human Performance (HAHP) introduced students, faculty, and community members to the Recreation Library, a valuable resource that has been two years in the making.
Located on the fourth floor of the Dentistry building, this new space offers HAHP-specific resources for student use, including bean bags, hula hoops, art supplies, and board games. The items, which help students brainstorm ideas for class and extracurricular activities, are shared across the school's disciplines.
The project was funded by a grant from Dal's Centre for Learning and Teaching. Dr. Karen Gallant, Recreation and Leisure Studies' Associate Professor and Division Head, oversaw its development.
"I'm excited about the Recreation Library as a new way for our students to connect with and learn from each other, experiment and innovate, and have fun," says Dr. Gallant. "Already they're developing and sharing resources, such as activity kits and instructions for facilitating games and icebreakers."
Volunteering opportunties
 
The Recreation Library was inspired by lending libraries, which gained popularity throughout the pandemic. Designed for communities to share rarely used equipment, lending libraries can provide all sorts of supplies to borrow, including tools, bicycles, electronics, and games.
Beyond borrowing equipment, there are plenty of volunteering opportunities available at the Recreation Library, including content creation, communications, event planning, and resource lending. Evaluations of the available resources are encouraged, as are suggestions for new equipment.
To see which items are available to borrow, check out the Recreation Library's Sharepoint site. A request form must be completed before items can be taken out. For more information, contact RecLib@dal.ca or Dr. Karen Gallant at karen.gallant@dal.ca.