News
»
Go to news main
'This will impact people far beyond the borders of our campuses'
Posted by
Josey Houle, Dal Health Communications Intern
on July 15, 2022 in
News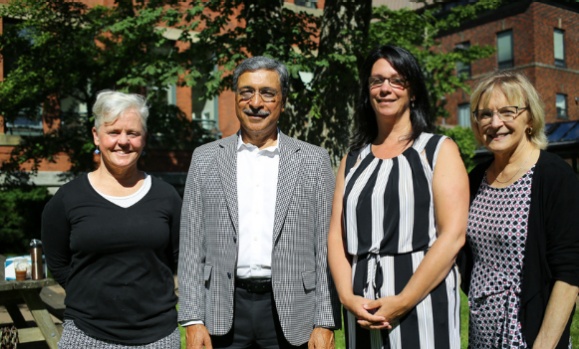 The significance of July 12's announcement cannot be overblown, despite the wind's attempts to try.
A breezy Tuesday morning saw the wider Dalhousie community gather alongside local media and spectators in front of the Forrest Building, for an exciting announcement from the provincial government. The Honourable Michelle Thompson, Minister of Health and Wellness, shared news of the government's pledge to fund an additional 26 seats in the SoN, while simultaneously recommitting to financing the 25 Nursing seats created in 2018.
"There has always been strong interest in the nursing profession and our nursing programs," said Minister Thompson. "Now there will be more capacity to educate and train the nurses we need in communities across the province."
Dr. Ruth Martin-Misener, Director of the SoN, expressed her gratitude for the government's continued support of Nursing students. She also offered thanks on behalf of the School and Faculty of Health to SoN faculty members, who went above and beyond during the pandemic to ensure student progression.
President Deep Saini said the government's pledge will sustain Dalhousie's success in "leading the front" of Nursing education. Partnerships between universities, sectors of government, preceptors and mentors are integral to the success of Nova Scotia's future nurses. Dalhousie University Nursing Society (DUNS) co-president, Noah Robinson, elaborated upon the Interprofessional Education (IPE) opportunities that are made available to Dalhousie's SoN students. Robinson recently finished a six-week placement in cardiology and looks forward to exploring different units before graduating next May.
"There is no better experience for nursing students than to be out in practice," he said.
After the lively press conference, spectators were led by Dr. Brenda Merritt, Dean of the Faculty of Health, to the third floor of the Collaborative Health Education Building (CHEB). Noel Pendergast, Director of Collaborative Clinical Learning and Research (C3LR), conducted a tour of the third floor's clinical simulation spaces. The spaces are designed to house 3 mannequin patients at a time, each overseen by 6 students. During simulations, cameras and microphones are broadcast to the Control Room, where instructors provide real-time feedback to students. There has been a 30-40 % increase in simulation space program hours over the past 2 years, which are used across multiple disciplines of medicine, health, dentistry and by partner organizations.  
After the tour of the CHEB's simulation spaces, the crowd observed a clinical simulation in real time. Third-semester nursing students performed what they've learned on a mannequin, which was able to breathe, sweat, and cry. Students' psychological health was monitored before, during, and after the simulation, with pre-briefing and debriefing time. Student input is prioritized in the construction of simulations, and feedback on simulation experiences is encouraged.
Seemingly in awe of the SoN's commitment to their practice, spectators left with optimism for the future of Nova Scotian health care, appreciating how the provincial government's pledge will support Nursing students for generations to come.
BACKGROUND ON ANNOUNCEMENT:
The Dalhousie Bachelor of Science in Nursing (BScN) program recently received a seven-year approval by the Canadian Association of Schools of Nursing – the highest distinction possible to programs of its kind. The government's pledge to funding nursing seats at Dalhousie reaches beyond their promise to create 200 nursing seats at schools across the province. As their annual intake grows beyond 200 students, the SoN plans to increase their prioritized seating of 40 African Nova Scotian and Mi'kmaw students at their campuses in Yarmouth and Halifax.