News
»
Go to news main
"Rising Star" MHA Grad Recognized for Academic Excellence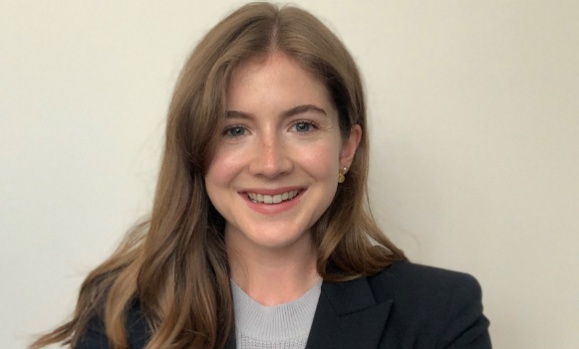 "With graduates like Ms. Archibald blazing the next trail in our health system, our future is a little bit brighter," says Dr. Jeanna Parsons Leigh, Sociologist and Assistant Professor, Dalhousie Faculty of Health
Spring 2022 MHA (Master of Health Administration) grad Emma Archibald is "still a bit in shock" about receiveing the 2022 Governor General's Gold Medal. This honour is awarded to the university's most outstanding master's graduate, who has demonstrated equally remarkable achievements in academia and extracurricular leadership. Only two medals are awarded among the entire pool of master's graduates; one medal to a master's graduate in the Humanities and Social Sciences and one medal to a master's graduate in the Natural Sciences and Engineering.
The MHA program initially piqued Archibald's interest as it presented the opportunity for her to bridge her corporate career "with her ambitions of working in healthcare". The faculty consistently connects students with alumni and mentors in the health workforce, helping to ensure future graduates' professional success in their chosen fields.
Returning to school after years spent working in England, Archibald was a Cohort Representative for the Association of Health Administration Students in her first year, ultimately rising in her second year to become the Association's president.
"Being in the student association really helped me to build a relationship with faculty members," explains Archibald.  
Across the course of her degree, Archibald completed her residency at The College of Physicians and Surgeons of Nova Scotia. She credits her experience there as fueling the "genesis of her thesis project," which used "multiple methods across two phases to explore physician health approaches in Canada and the perspectives of Medical Regulatory Authorities and Medical Associations in Canada on the issues in physician health."
Across her thesis research, Archibald was fascinated by the "complex identity paradox" of being a physician-patient working in the field of public health.
Archibald's humility, intelligence, and work ethic were evident to faculty and students upon her entry into the MHA program. As the country works to recover from the COVID-19 pandemic, Dr Jeanna Leigh Parsons insists how Archibald's thesis work "is likely to have a direct and lasting impact on physician health programming in this country."
After her incredible tenure in the MHA program, Archibald will be furthering her Dalhousie education, starting at the Schulich School of Law in September 2022.
BACKGROUND:
Other awards of Archibald's include the 2022 Bluenose Chapter Award, presented to a student with high academic standing and a high degree of professionalism. In 2012, she was awarded the McEuen Scholarship, covering tuition and accommodation costs of a Canadian Student at St. Andrews University in Scotland, where Archibald went on to complete a Joint BSc Honours in Biology and Economics.