News
»
Go to news main
GRADUATE PROFILE: RUFFLING FEATHERS
Posted by
Brody Stuart-Verner
on July 4, 2022 in
Students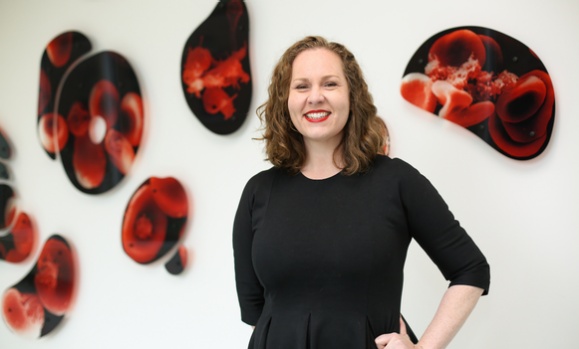 Dr. Jennifer Lane is a Sessional Lecturer at Dalhousie University whose research aims to address the health needs of diverse 2SLGBTQ+ populations in Nova Scotia.
Dr. Lane had her interest in this area was piqued during her undergraduate studies as she observed gaps in classroom instruction.
"I was often faced with a choice: whether I was going to point out the heteronormative assumptions in the literature and potentially ruffle feathers or suck it up and accept my own erasure. That was a real point of contention for me."
Upon completion of her BScN, Dr. Lane spent time practicing in General & Plastic Surgery prior to rekindling her passion for mental health while working in the NSH's Short Stay Unit. She quickly realized the gaps she'd observed during her undergrad were not limited to classroom instruction.
"When I got into the practice setting, I saw how those unmet learning needs translated into unmet health needs for patients."
Teaching content on mental health and addictions at Dalhousie University's School of Nursing, Dr. Lane is working to ensure 2SLGBTQ+ Health Equity is a pillar of her instructions.
Dr. Lane recognizes there are some immediate steps that could be taken to improve health care for 2SLGBTQ+ Nova Scotians that would subsequently benefit all Nova Scotians.
"First and foremost, we need to start seeing these communities as part of every community. When we stop seeing them as an 'add-on', we can really open up the way that we deliver care."
The collaborations and partnerships Dr. Lane has formed have been the highlight of her time as a PhD student at Dalhousie. She cites her Doctoral Advisory Committee for giving her the opportunity to grow and reach new heights as a researcher, including Drs. Ingrid Waldron, Marilyn MacDonald, Megan Aston, and Liesl Gambold.
"Half the members of my committee were nurses, and the other half were social scientists. So, I was able to explore and pull on different disciplines that maybe aren't normally used in nursing."
Last year Dr. Lane spent time as a patient navigator with prideHealth, which works to improve primary health care for 2SLGBTQ+ residents of the province.
In this capacity, she was part of a group of individuals who organised education modules, was instrumental in establishing a referral network for gender-affirming treatments and procedures, and worked to assist patients through cumbersome approval processes Trans and gender-diverse Nova Scotians often go through to receive treatments and procedures.
"If you think about gender-affirming hormones, they are less risky than insulin. Insulin is a hormone and people can overdose on it. With gender-affirming hormones, there's far less risk, but because of how it's packaged in medical education, it creates a huge barrier."
Dr. Lane is quick to acknowledge the misconceived view of 2SLGBTQ+ people as a monolithic entity, and the importance of taking an intersectional approach to research.
"I recognize the responsibility I have, particularly within the context of the historical whitewashing of queer politics. 2SLGBTQ+ communities are within every community, and so getting that point across is important."
She was the recipient of a 2019 Diversity in Health Care Bursary awarded by the QE2 Foundation in partnership with the NS Health and Community Health Boards.
Right now, Dr. Lane is beginning postdoctoral research with Dr. Janet Curran.
------
Dr. Jennifer Lane lives in Halifax Regional Municipality with her wife, Kris, and their 9-year-old son, Oscar. You can visit her doctoral research website for more information on her work.