News
»
Go to news main
"It'll make a huge difference": Deputy Prime Minister visits Dalhousie, announces loan forgiveness for doctors and nurses working in rural communities
Posted by
Dawn Morrison
on April 14, 2022 in
News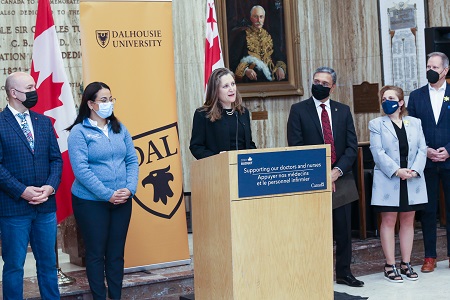 DPM Freeland visits Dal earlier this week. (Bruce Bottomley photos)
On April 12, the Deputy Prime Minister and Minister of Finance, the Honourable Chrystia Freeland, toured Dalhousie University with medical and nursing students to discuss new measures to support them, while ensuring Canadians in rural communities get the high-quality health care they deserve.
While at Dal, Ms. Freeland visited simulation labs in the Collaborative Health Education Buildiing (CHEB), chatted with students and hosted a post-budget announcement in the Tupper foyer. She was joined in the announcement by The Honourable Sean Fraser, Minister of Immigration, Refugees and Citizenship, Jaime Battiste, MP for Sydney—Victoria, Lena Diab, MP for Halifax West, Andy Fillmore, MP for Halifax, Darren Fisher, MP for Dartmouth-Cole Harbour. Dal's President Deep Saini, Dean of Health, Dr. Brenda Merritt, and Director of Nursing, Dr. Ruth Martin-Misener were also in attendance.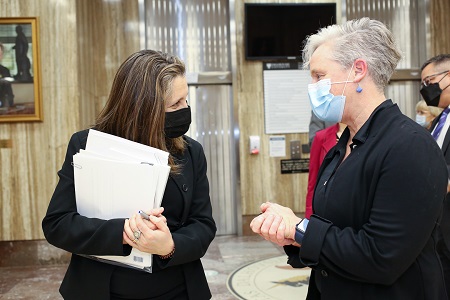 DPM Freeland speaks with Dal Health Dean Dr. Brenda Merritt
"Far too many Canadians in rural communities struggle to access the doctor or nurse they need. To help bring more health care workers to the communities that need them most, our government is increasing loan forgiveness for doctors up to $60,000, and for nurses up to $30,000, if they are working in a rural or remote community," she said. "This will make it easier for people across Nova Scotia—and across Canada—to get the high-quality care they need close to home and help to strengthen Canada's world-class public health care system for years to come."
BScN student and co-president of the Dalhousie University Nursing Society (DUNS), Anika Daclan says the news is exciting. "The students and administration at the School of Nursing have been talking about the impact of finances, not only on our education but on our lives as well. You want nurses that are robust and ready to work and to do that, we need to be able to take care of ourselves and that comes with having the necessary support and finances. We have questions about the details of this announcement but overall, I'm excited about this news. I think it'll make a huge difference for a lot of nurses."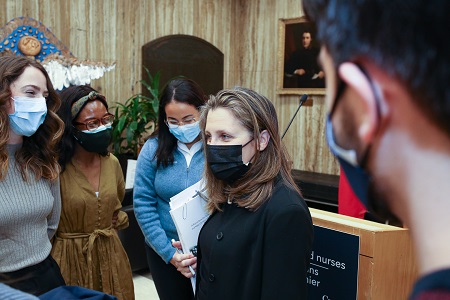 DPM Freeland speaks with Nursing and other health students 
President Saini said supporting the accessibility of doctors and nurses in rural communities across Canada is critical for ensuring a robust and resilient health-care system. "Today's announcement will support the availability of medical and health professionals where they are needed most by investing in students and supporting graduates who choose to make their career in underserved rural and remote communities," he said.  
"This is a significant day that defines the next several years in their careers," he said. "Today's announcement provides an important initiative for graduating students to consider the many rewards of careers in rural and remote areas of Canada."
This measure would build on the government's commitment, announced last month, to provide an additional one-time, $2 billion top-up to provinces and territories to reduce waitlists and clear the pandemic-driven backlogs of surgeries and other medical procedures.