News
»
Go to news main
Health Champions: Heather Payette (BN'88)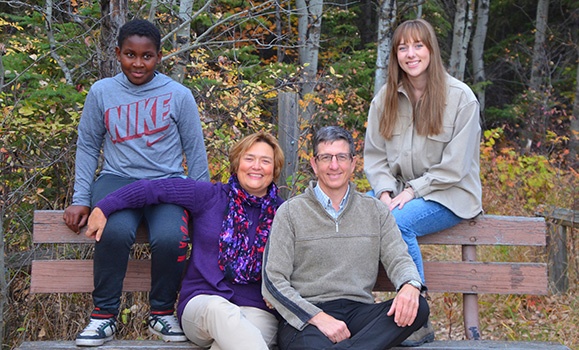 Heather Payette (BN'88) has many great memories from her days at Dal. "So much fun and a lot of work. Lots of laughter and lots of tears. The friends from intramural sports, residence, 'For the Health of It' variety show skits, Tupper band rehearsals in the Tupper building cafeteria, walking back and forth from each end of campus, Halifax Mardi Gras at Halloween, walking at Point Pleasant Park, donairs on the way home from downtown, Peddler's Pub, the 8 am lectures, frosh events, I could go on and on!"
Her experiences in class and out, the people she met, the education she received, have all made a difference in her career, and continued friendships. "I am impressed by my classmates, many of whom went on to obtain graduate degrees. Dalhousie University and these classmates made me who I am and gave me great friendships and a foundation to start from." Their class made the great decision to elect a Life Officer/President who organizes a reunion weekend every five years, which allows classmates to stay connected. They also have a Facebook group and often have gatherings between the reunions.
Heather feels very fortunate to find herself in a financial position to support Dalhousie. "I thought about who I wanted to help and thought of my son, who is adopted from the Democratic Republic of Congo.  We will be able to support him financially to follow the education choice he chooses in the future. I want to help other Black Canadians to follow their choice as well," she says.
As a registered nurse for Alberta Health Services in Edmonton, working at the Northern Alberta Cardiac Rehabilitation Program at the Glenrose Rehabilitation Hospital, she would like to see more diversity in health care as a reflection of its diverse clientele. "Patients come from all over the world and are diverse in ethnicity and language, and I feel our health care teams should reflect that."
Tribute to her Classmates
Having received an entrance scholarship, she knows firsthand what a difference it can make in easing the financial burden, during the university years and after graduation. As a result, she recently established the BN Class of '88 Entrance Bursary to provide assistance to entering Bachelor of Science in Nursing students who demonstrate financial need and self-identify as Black Canadian with a preference to African Nova Scotian and then Maritime students.
Heather never thought she would be doing something like this. "I wanted to give back to Dalhousie; I wanted to help someone who has not had the opportunities that I have had; I wanted to somehow show how privileged I feel to have been part of the BN Class of 1988. I have been able to do all of these things in one fell swoop."
Being very uncomfortable having a bursary named after herself, she proudly decided to name it after her class. "A few years ago, I went to an alumni event in Edmonton. My name tag said, BScN. I pointed out that this is not my degree, my degree is Bachelor of Nursing (BN). That's when it hit me. It's been over 30 years since that degree was last granted, no doubt most people have no idea that the degree had a different name before 1989. I wanted to keep this little piece of history alive and commemorate my class as the last graduating class to earn a Bachelor of Nursing (1988)."
When asked what advice she would offer to others thinking of donating Heather says, "donating was an easy process. If you are unsure if or how you want to use your resources to help the university and students, Dalhousie staff can give you ideas and options."