News
»
Go to news main
Alumni Profile: Martha Purdy ‑ 'Can't imagine doing anything else'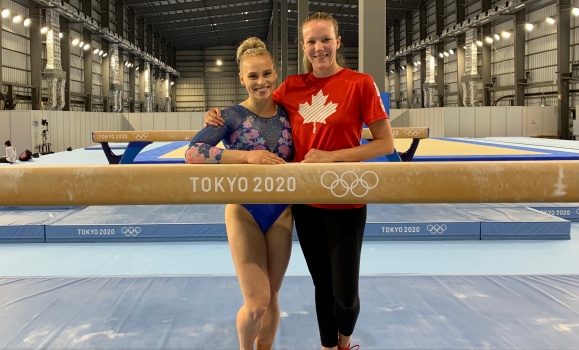 At a young age Martha Purdy (BScPT'02) was a very talented gymnast from Truro, NS. She started gymnastics at the age of five, but then switched to trampoline by the time she was 12. She represented Canada in two World Championships and two World Age Group Championships as a trampolinist.  
She knew that she wanted to be a physiotherapist from the time she was 14.  "I remember going to physio for a lower back injury as an athlete, and it was a great experience.  In high school, I volunteered at the same clinic and then worked there as a summer student," she says.  She chose Dalhousie for her undergrad, as she knew it had a great physiotherapy program.  
Originally drawn to sports physiotherapy because of her internationally experience as an athlete, Martha worked as a physiotherapist and performance medicine supervisor for Cirque du Soleil.  "I still remember sending my job application in to Cirque du Soleil, thinking it was a long shot.  A few months later I was moving to Montreal for training, and then heading out on tour.  Little did I know that I would be travelling the world for the next five years," she says.  She learned a lot about working with different cultures, team work (stage managers, coaches and artists - not your typical health care team), and communication.  "I spent a lot of time treating the performers, but also observing, and learning how best to support their unique needs.  This required creativity and attention to detail, with the end goal of preventing/treating injury, but also optimizing performance."
When she joined Cirque one of the pieces of equipment they had on tour was a reformer, which is a Pilates machine.  "I hadn't had much exposure to Pilates before this, so I started hiring Pilates teachers to come into our training environment to work with the performers and to teach me.  This was an amazing learning experience, and I started to integrate Pilates into my treatment approach," she says.  When she moved back to Halifax in 2008, she started teaching small group classes in Halifax, and has been teaching ever since.  Many of her physio patients come to a class with her every week, and it has become an integral part of how she works.  "As a physiotherapist, we have a strong exercise skill set.  Using this to empower and educate our patients in a body positive environment, is very rewarding," she says.   
Olympic journey
Martha feels very fortunate to be a physiotherapist for Gymnastics Canada. "I help our local national team members, and also travel with Canada's top gymnasts to training camps and international competitions, supporting their health and performance."
As part of Halifax Olympian Ellie Black's Integrated Sports Team she supported her, and the Canadian team, for the Tokyo Olympics 2020.  "I feel very lucky to have been a part of this journey over the past 5 years.  It was an especially challenging Olympics with the year long delay, and the unstable training situations of the pandemic.  Just making it to the Olympics was a big feat for all involved, and I am so proud of how hard our team worked."
"It's hard to describe my Olympics experience.  I think most people who have the opportunity to go to the Olympics likely have many highs and lows, in this intense environment.  It's hard to believe that most of the athletes there have spent their lives preparing for what may be only a few minutes of competition.  To be there to support our team was a great honor. The most exciting part was being in the Olympic village.  It was amazing to look around and see the world's greatest athletes all together in the name of sport," she says.  
Martha felt very safe at the Olympics and says every measure was taken to prioritize our team's health.  "It was a little strange getting on a plane after 18 months, but as soon as we arrived in Japan, it felt like the pandemic was far away, as we were all 100 per cent focused on preparation and performance."
Sense of community
As the founder/owner of SYNERGY Physiotherapy + Pilates in Halifax, Martha says she does everything from treating patients, paying the bills, to social media. "In our new global environment, I have also had to learn and incorporate new technical skills in order to teach and produce online classes, as well as telehealth to support our patients. As an entrepreneur and physiotherapist, there is always something new to learn."
When she started practicing in Halifax, she was working at two private clinics and renting studio space privately to teach a couple Pilates classes a week.  She realised early on that she really loved teaching.  "One day the person I was renting studio space from asked if I would also like to share an office.  This would mean that I could treat and teach in the same location and really integrate my two passions,' she says. Fast forward ten years, and Synergy has now grown to a team of ten, with all physiotherapists both treating and teaching classes.  
"At Synergy there is a real sense of community and teamwork between our therapists and our patients.  I love that we have the freedom and space to create new programs and workshops and find new ways of empowering and educating both our team, and our patients. We have over 200 patients doing a weekly exercise class with our physiotherapists, and some of them have been with us for the whole 10 years."  
Advice for health students
Martha offers these words of advice to students in health professions: "Take what you love and bring it to work.  Being part of gymnastics as a physiotherapist, as well as creating and building our movement studio at Synergy, have been the highlights of my career.  Watching patients acheive their goals, whether it is going to the Olympics, or picking up their grandchildren, have been the real rewards."
As a physiotherapist, learning and career opportunities are endless.  "I remember in school, thinking I had to learn it all at once.  Well, I can tell you whoever said, 'the more you learn, the less you know' was right."  
She feels that Physiotherapy is a career that requires ongoing learning, which keeps it interesting. "I have a job where I can use my creativity, expand my technical and personal skills, interact and learn from my colleagues and patients, and be physically active every day at work.  I can't imagine doing anything else."
Dal memories
Some of Martha's favorite memories at Dal were, "participating in For the Health of It shows, and gross anatomy lab time. "I really loved my PT class, and many of us are still in touch."