News
»
Go to news main
'Making lives better': Dal Health receives large donation of medical equipment including wheelchairs, walkers and more
Posted by
Terry Murray-Arnold
on August 25, 2021 in
News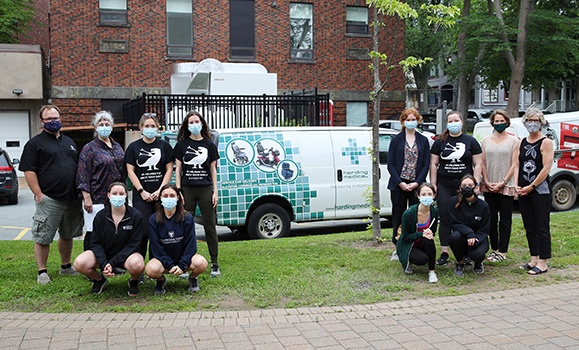 There was an air of excitement among School of Occupational Therapy (SOT) students, faculty, and staff as a Harding Medical van rolled up to the Forrest Building loading bay last month. The students were eager to help unload the van's full cargo of new wheelchairs, walkers, transfer belts, braces, weights, and assistance devices. The equipment donation totalled 114 items and was worth approximately $32,000.  
Harding Medical's gift of new equipment will be used by Occupational Therapy and Physiotherapy students on placement at the Dal Spryfield and Mumford Family Medical Clinics and the Dal School of Social Work Clinic. Working with preceptors, students can provide this equipment to clients who would otherwise be unable to afford it.   
"When we learned about the School of Occupational Therapy's role within the Dal School of Social Work Clinic, we immediately knew this was an initiative we needed to support; it's the natural progression for us is to assist in the growth of the program," said Janice Edwards, Business Development Manager for Harding Medical.
Even though SOT students were wearing masks, their huge smiles underneath were apparent. As the students unloaded and inventoried the items, they were already making notes about which items their clients could use and thinking of how the equipment would make a positive difference in their clients' lives.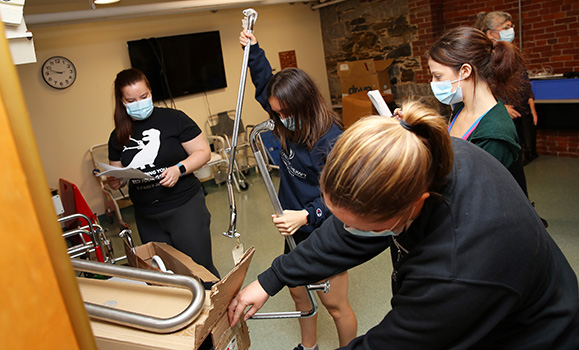 "Harding's gifts are vital to the work of our students in improving access to supports and equipment that are making lives better for people in the community," said Lynn Shaw, Director School of Occupational Therapy and Assistant Dean Citizenship, Faculty of Health.
Harding Medical is anticipating making a second delivery of similar value including some power wheelchairs which are expected to arrive in the fall.
The School of Occupational Therapy has developed an efficient electronic check in/check out system to keep and inventory of the equipment. When clients no longer need items, they can be donated back to the School for future use by other clients.    
"Harding Medical is an ambassador for Occupational Therapy students and the program.  They have worked with the School for many years supporting education on mobility equipment and participating in mobility events with students and faculty. Innovation is part of the continued commitment of Harding. This donation of equipment is a huge example of the innovative approach," said Dr. Shaw.  
Founded in 1987, Harding Medical offers mobility & home medical equipment sales, rental and service to clients living in Atlantic Canada.
"During the 34 years Harding Medical has been in business, we've made long lasting connections at every level in the OT community, beginning with the students in the Dalhousie School of Occupational Therapy and working with them as they start their professional careers in the private and public sector," said Ms. Edwards.
"While the donation of this equipment is a first step, we look forward to collaborating with Dalhousie University on an ongoing basis to lend a hand in advancing the well-being of our community. Our ultimate goal is to deliver independence to our clients and the community at large. "