News
»
Go to news main
'Very proud of the profession': Pharmacy grad worked on the front‑lines of the pandemic
Posted by
Stephanie Brown
on June 24, 2021 in
News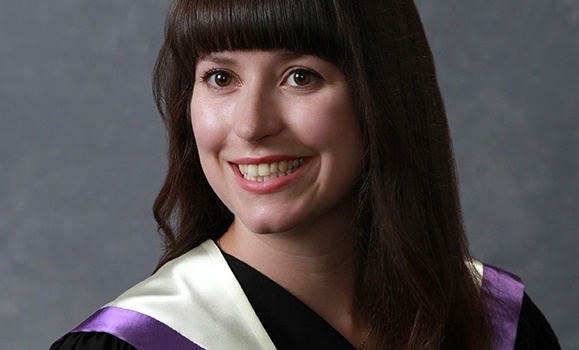 Convocation Q&A: Jessica Weagle
Congratulations to all of our Dal Health Class of 2021! To celebrate Spring Convocation 2021, we chatted with students from across Dal Health.
Name: Jessica Weagle

Pronouns: she/her
Degree: Bachelor of Science (Pharmacy)

Where you're from: Halifax, Nova Scotia

How significant is it for you to receive this degree?
Pharmacy school has been a challenging but rewarding journey. The last few years have required a lot of time and hard work, so receiving this degree is an achievement I am very proud of! The field of pharmacy is constantly evolving and has a wide range of roles that pharmacists can hold, so receiving this degree gives me the opportunity to pursue a variety of careers in the field.
What were the highlights of your degree?
One of the highlights of my degree was my involvement in student leadership! Student leadership is something I have been passionate about since before my time at Dalhousie, and is certainly something I was able to purse further as a pharmacy student. During my time at Dalhousie, I have been fortunate to be actively involved with the Dalhousie Student Pharmacy Society (DSPS) for the past 4 years, a society for which I was President for the final year of my program. Being involved with and leading this society has given me the opportunity to meet  and work with so many of my peers, as well as collaborate with the wonderful faculty and staff within the College of Pharmacy and Faculty of Health.
What will you miss about your time at Dal?
I will miss the incredible people that I've met here at Dal! The pharmacy program is a very collaborative environment, which has allowed me to meet and work with so many fantastic people. The friends I met in this program have been an immense source of support for me during my time in the program, and I would not have made it to the end without them!
What was your journey to Dal and to this program?
I did not grow up planning to be specifically a pharmacist, but I did grow up with the intention to work in health care in some capacity, so after high school I decided to pursue a Bachelor of Science with the intention of then applying to other programs that would lead me to a career in health care. I ended up completing my Bachelor of Science in Biology-Chemistry at the University of New Brunswick and then applied to the College of Pharmacy at Dalhousie. I came very close to not being here today, as I was initially declined an interview, however I was then offered an interview 2 weeks before the interviews, and 2 short months later I found myself accepted to the program and the rest is history. Recognizing how close I came to not being here today makes me even more grateful that I am. I feel incredibly lucky to have been given the opportunity to join this incredible field.
What topics/research/work did you become passionate about during your education?
I had the opportunity to work with the Nova Scotia College of Pharmacists for the past two years. This was an incredible opportunity to explore the world of health policy & research, as well as regulatory bodies in heath care.  In my role with the NSCP, one area I worked on that I am quite passionate about is harm reduction, and I was fortunate to have the opportunity to work on a new policy regarding the role of pharmacists in harm reduction in Nova Scotia. Providing care and services to under supported groups is a way that pharmacists can ensure that all people have access to the care that they need.
How did COVID-19 impact you during your studies?
I did not realize that March 13, 2020 would be the last day that I would spend in class with all my classmates, and it saddened me to know that I would not spend time with them all again before our program finished and we parted ways. With the public health restrictions in place, our classes moved to an online setting. We were fortunate to be able to complete our clinical rotations as planned, which certainly taught me what providing care is like in the midst of a pandemic.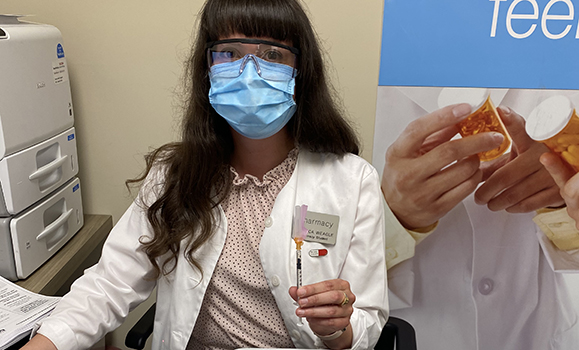 Like many other pharmacy students, I worked part-time at a community pharmacy while I was a student. During the first wave of the pandemic, it was an incredibly challenging time to work in pharmacy; public health restrictions were constantly evolving, there were significant concerns surrounding drug shortages, and there were many barriers to people accessing primary care. While challenging and stressful, working on the front-lines during this pandemic has given me strong resiliency and problem-solving skills that I know will be valuable as I enter my career.  I have also been fortunate to work delivering COVID-19 vaccines. It has been an incredible experience to be part of this huge public health vaccination program, and to know that my work is contributing to the solution to the COVID-19 pandemic. As the most accessible health care provider, pharmacists are playing a crucial role in delivering vaccines to people in communities all across the country. I feel very proud of the profession as a whole for their continued commitment and service to patients during the pandemic.
What's next for you?
Since finishing my program at the end of April, I have spent most of May studying for my licensing exams. With my licensing exams now behind me, I have moved to Fredericton, New Brunswick with my partner to work as a community Pharmacist with Shoppers Drug Mart. I'm excited to start my career in such an exciting time to be working in a field that is constantly growing and expanding its scope of practice to meet the health needs of people in my community!