News
»
Go to news main
Alumni profile: Shawna Paris‑Hoyte ‑ A five‑decade relationship with Dalhousie University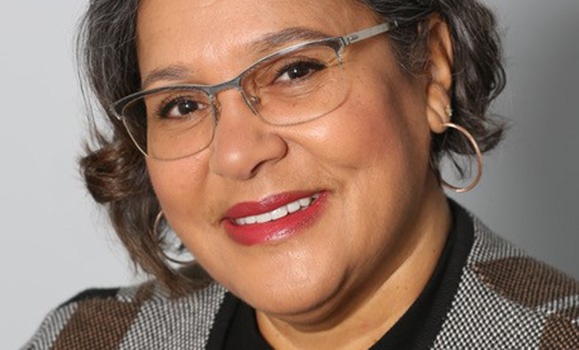 Shawna Paris-Hoyte (MSW'03, BSW'01, LLB'94, BA'78) is a fifth generation Black Nova Scotian who was born in New Glasgow and grew up in Truro, Nova Scotia. As a high school student in the early 70's she saw the most popular jobs for women were nursing and teaching. Shawna had always done well in school and in particular her English courses. She was encouraged and inspired by family friend and mentor Dr. Carrie Best OC, ONS, to pursue an career in education. Without the financial means to attend university, Shawna applied for and was accepted into Dalhousie's Transition Year Program (TYP) 1974. At that time, she had no plans to become a social worker or a lawyer and was focused on becoming an English teacher.
After graduating with a BA ('78), she headed to Toronto to secure employment. Her first teaching position was at a private college which eventually led to her appointment as Director of Student Services. That position was the pathway to working with students as well as the marginalized and low-income population in Toronto. This experience led her to open the first full-service employment agency in Toronto (The Job Search Centre), which she owned and operated in the 1980's. However, with the need to learn more about contracts, and employment law, she took evening courses in labour law at Ryerson University. As a result, she says, "I fell in love with the law."

In 1989, a friend from Halifax visited her in Toronto. The conversation led to reminiscing about their time at Dalhousie. Her friend mentioned a program called the Indigenous Blacks & Mi'kmaq (IB&M) Initiative. The IB&M Initiative was established in 1989 at Dalhousie University following the Royal Commission Report on Donald Marshall Jr. to address the lack of representation of Indigenous Blacks and Mi'kmaq in the legal profession in Nova Scotia. From that conversation, Shawna became solely focused on returning to Nova Scotia and attending law school.
Upon graduating from the now-Schulich School of Law, Shawna intended to return to Toronto, however, that all changed the last term of her law school education. She enrolled in the Dalhousie Legal Aid Clinical Law Program, more commonly known as 'The Clinic'. "My time in the clinical law program changed the trajectory of my career and my life. The clinic work reconnected me with the Black community and those marginalized and disenfranchised in Nova Scotia. I had a renewed sense of purpose and direction. I decided at that point, I would practice law as a service and not as a business which I have happily continued to do for over twenty-six years at Dalhousie Legal Aid Service," she says.

My calling
"I purposely chose teaching and the law as careers. However, I truly believe social work chose me and it is my calling," she says. While doing her law degree, she was a volunteer with the Income Assistance Career Development Program for Halifax and worked with the Department of Community Services – Child Protection Services and Income Assistance. "The intersect of law and social work was always apparent in my jobs," she says.
Her first year of practice as a staff lawyer at Dalhousie Legal Aid Service drove home for Shawna that the social issues her clients faced were often the 'cause and effect' of their legal issues. "I desired to provide a holistic, trauma-informed and client-centered approach as a lawyer, so I enrolled in the BSW Program at Dalhousie School of Social Work (Maritime School of Social Work) and then went on to complete my Masters of Social work."
"For any lawyer interested in community-based legal aid work, I highly recommend taking at least the introductory courses in social work. For social workers whose work intersects with the law, I highly recommend taking courses in forensic social work practice at Dalhousie University School of Social Work in Continuing Education which I designed and teach."
Her career aspiration since the early 70's to be a teacher has come full circle. She has been teaching at Dalhousie University in the Faculty of Law since 1995 and the Faculty of Health - School of Social Work as an Agency Field Supervisor and Faculty Advisor since and classroom instructor collectively since 2003. "If you had asked me in the 70's would I have a career as a lawyer, a social worker and teaching at a University, the answer would have been - not likely.  With the many blessings and opportunities I have had in life, I come to realize that what is for me will not go by me."
Lifelong learner
"I believe my steps were ordered when it comes to my career(s). As a teacher/instructor, I enjoy the interaction with my learners. I feed off their passion to learn, to experience, to explore and develop new ideas and pathways for the next generations. I often tell my learners that our relationship is symbiotic, I learn as much from them as they hopefully learn from me through discussion, debate and shared knowledge. I am blessed to have a career that enables me to share my knowledge, skills, and wisdom with others."
Shawna adds that her children have been her motivation and inspiration since leaving Toronto for law school in 1990, at which point she became a single parent. "They were mere babies at that time. Throughout my educational journey, my children have made a lot of sacrifices to support me for which I am beyond grateful. They never complained. I think they simply got used to me always being in school, taking courses, and working for the community. I hope they are as proud of me as I am of them."
In November 2020, Shawna was thrilled to receive a call from the Nova Scotia Provincial Protocol Officer advising that she would be inducted to the Order of Nova Scotia in an upcoming ceremony when Covid-19 restrictions have been lifted. "I have been blessed, honoured and humbled to have my work acknowledged for many years. I consider it a great privilege to receive each award and recognition. To receive the Order of Nova Scotia is beyond my wildest dreams. I want to acknowledge that I stand on the shoulders of my ancestors and acknowledge their many sacrifices that have opened the doors of opportunity for me Hence, 'Ubuntu - I am because you are.'"
Shawna's advice to students today is not to put a timeline on learning. "We need to embrace lifelong learning. As learners, be open to as many possibilities and opportunities as you can imagine. Never believe that you must pick one career or one path. If you have an interest in several careers, pursue each with passion and commitment. Education, information, and knowledge are not stagnant they are fluid. Therefore, explore, learn, and then, explore some more. Share your knowledge to the benefit of others, and mentor those who follow in your footsteps. They are not your competition; they are your allies, your supports and the future. Tell them; education is a blessing that opens the door to opportunity. Opportunity opens the door to the future."
Dal Memories
Shawna's greatest memory of her time at Dalhousie was when she first arrived on campus in August 1974. "Sitting in a TYP classroom with other Black and Mi'Kmaq students. Meeting Black learners from other countries on campus. Learning for the first time ever in my life from teachers who looked like me, such as Dr. B.A. "Rocky" Jones and Indigenous elder Dr. Noel Knockwood. That experience has stayed with me. My relationships from TYP have spanned almost 5 decades. Little did I know at that time that the Transition Year Program, the TYP students/learners would be lifelong friends and colleagues, and Dalhousie University would have such an impact on me and my family. Who would have believed at that time my relationship with Dalhousie University would span five decades? Not me," she says.
What does the future hold for Shawna? Not surprisingly, she is in her fourth year of study as a PhD student in Social Work education at Memorial University in Newfoundland. Her research interest is in forensic social work practice and education, as well as transgenerational trauma.
She created the National Institute of Forensic Social Work in 2016 which is the first professional development institute of its kind in Canada that focuses on the intersection of law and social work training. The mission of the Institute is to develop the concept of forensic social work as a recognized sub-specialty area of generalist social work practice in Canada.
In 2018, she designed and continues to teach forensic social work (FSW) courses through the Faculty of Health at Dalhousie University School of Social Work in the continuing education program. "The learners in my FSW courses are as far away as the Yukon to as near as the shores of Newfoundland & Labrador. It's an exciting time for forensic social work in Canada and I appreciate that Dalhousie School of Social Work was willing to hear my pitch when I first introduced the concept in 2016 after several years of teaching the law and social work courses. I hope to release the first published guide on Foundational Law in Forensic Social Work and Social Service Practice in Canada in 2021."
As retirement from practicing law draws near, Shawna looks forward to spending time with her children, granddaughter, and family and says, "I hope to be blessed to continue to pursue my passion in clinical social work private practice and forensic social work practice while focusing on writing, curriculum development and teaching.