News
»
Go to news main
Alumni profile: Matt Steele ‑ The healing power of music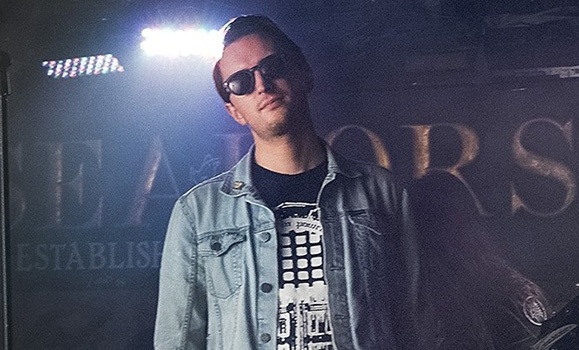 Originally from Kentucky and with PEI roots, Matt Steele (BScR'19) moved to Halifax in 2014. He wanted to work in healthcare but in a field that wouldn't leave his musical life behind. His aunt Carol Ann, who was a nurse in long-term care, suggested recreation therapy (RT) because he could use music alongside other recreational activities to help people with their health and wellness. In 2015 he settled on recreation therapy as his next career move and started at Dalhousie.
Matt works as a therapeutic assistant at the Adult Neurodevelopmental Stabilization Unit, Nova Scotia Health, which is for clients who have a dual diagnosis of intellectual disability and mental health concerns. "We work under the recreation therapist (as well as OT, RNs, and behavioral analyst) to implement care plans for our clients. This looks like assisting and skill-building with activities of daily living to encourage independence, building leisure skills, helping establish daily structure and routine, and using behavioural skills to reduce behaviours of concern," he says.
He is also a well-known singer-songwriter and performs solo and with his band Matt Steele & The Corvette Sunset. "I think that my work in recreation therapy is a natural outgrowth of my passion for music and its healing powers. I was lucky last year, I worked at a long-term care facility as a recreation therapist and was able to play music for our elders. Without that, I think I would have fared much worse, mentally," he says.
"Being a recreation therapist involves a good deal of creativity, which feeds into my music. Working in long-term care and mental health I have certainly heard a lot of stories and seen a number of notable happenings. I might not turn those experiences into songs, but it helps to develop my reflection skills – 'what was it about that experience that's worth remembering, writing about, distilling, passing on, etc.' My favorite songs have come from living life, and thinking about other people's experiences, like my song Borderline which is inspired by several people I know and care about from my time in PEI," he says.
Heavy metal self help
Over the years Matt has gotten more attuned to the gaps in the programming of mental health programs and practices. He has played Wagon Wheel and other common cover songs countless times in mental health music groups. "But there's a lack of hip hop, of metal, and some of those genres that aesthetically appeal to people dealing with mental health issues. I know for myself, this winter I had a bout of depression, and playing The Ripper and Breaking the Law by Judas Priest was pretty much the only way I could get psyched up for work in the morning," he says.  
At a recent TR alumni event, Matt shared a demo version of a book called Heavy Metal Self Help which he worked with artist Teri Boates and graphic designer Devin Fox on developing. It includes; Hard Rock Crossword, Color the Tattoo, Word Find all the Bands, Color in the Back Patch, and Reflection Time.  "Music lights up every part of the brain. It is key to unlocking some peoples' best memories. It's an incredible way to build togetherness through singalongs. So many uses!"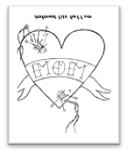 "I thought that it would be perfect synergy to make a leisure education/sampling book incorporating metal/punk/alternative subculture aesthetics and interests that features some activities to help with mental health/self-care. I wanted to reach people who might be turned off by coloring in flowery mandalas and say 'Hey! You can color when you're stressed out, just color in a tattoo instead'. Recreation therapy is about working with the individual. People might be hesitant to try a new self-care activity like word searches or crosswords if there isn't a hook, something to stimulate that first bit of interest."

In June, Matt is releasing a new single called Falling Asleep at the Metal Show. "When I lived in PEI I worked as a sound technician, pushing faders for legends and locals alike. Part of that gig was working the Sunday night punk and metal shows. After a week of working a day job, gigging, and doing sound on other nights, not even the loudest, the most energetic punk show could stop me from nodding off at times. Usually, nothing happened during his mini naps, but one night a lead singer - rightfully - tore a strip off of him for his inattention."
"I love loud music, being pushed around in the pit, and feeling the sound hit my body like an ocean wave. I also love the camaraderie of people united by the music. But that said, it's a running joke among my friends that I could literally sleep through anything. This song is, ironically, a slow burn acoustic ballad, but it's a love letter to loud, heavy music."
Advice for students
Matt encourages students to go to their professor's office hours. "Not only is it the best way to deepen your understanding of the course material, ask questions and get help but it will strengthen your networking and mentorship opportunities. I often check in with former professors if I have questions as a professional because I developed those relationships at school."
He also values networking with professionals in the field. "A good professional network is really important in a small field like TR. Your fellow professionals have knowledge and experiences you may not have. They might have a hot tip or an 'in' on an upcoming job opportunity, you can find a mentor, they can offer advice, etc. Plus, I think it is just plain fun attending networking events with your peers in the field!" he says.
"Read things written by people who aren't like you — this one especially applies to the cis white dudes like me. Learn to practice self-care. Treat every client like the individual they are. Be patient, kind, and a fierce advocate for those who you serve", he says.
He also wishes he knew, "how entrepreneurial I would have to be. Rec therapy career paths are a little less linear compared to some of the other health professions, in my experience."
Dal memories

Matt's favorite memories at Dal, "are the ones where my rec classmates got to do what we do best - engage in leisure activities. It was so much fun trying out everyone else's recreation projects in different classes!"
What does the future hold for Matt? "I hope to continue working in mental health, developing new skills, and trying to help as many people as I can. As a musician, now that the pandemic seems to be in retreat, I hope to get back to performing live, releasing more music both solo and with the band. I have so many songs I can't wait to share," he says.
"Financially, 2020 and most of 2021 so far was a disaster for all of my musician friends. Spotify royalties can't hold a candle to buying physical merchandise and live concert tickets. I encourage all your readers to go support your favorite local musician, and then find another local favorite and support them too. Halifax is FULL of great artists, and they won't be able to keep making that great art without your support."
Matt and his fiancé recently bought a home in Halifax, so he thinks his roots are pretty firmly planted in NS. "I like being close to all my family in PEI, and we have a great social network here. I can't wait to go back and visit the US once COVID is under control. But I think that Nova Scotia is a great province, one that continually reveals new wonders as the years go by," he says.
To follow Matts music: