News
»
Go to news main
Dal Health Promotion professor creating positive environments for healthy living
Posted by
Stephanie Brown
on March 19, 2021 in
News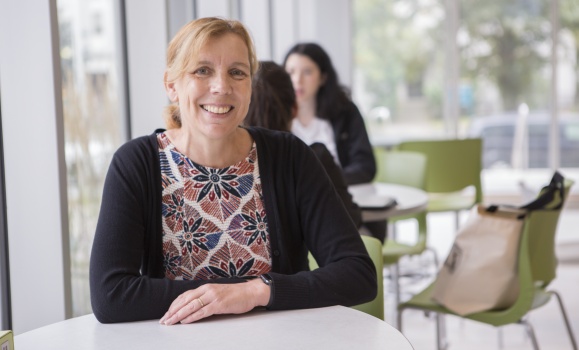 When Dr. Sara Kirk speaks about her many research projects, all centered around supporting positive environments for healthy behaviours, her passion speaks volumes.
In addition to her role as a professor in Health Promotion, within the school of Health and Human Performance, she is also the Scientific Director of the Healthy Populations Institute and the co-lead of UpLift, a school-community-university partnership.
Dr. Kirk's enthusiasm for healthy living started with a dietitian background in the UK, when her research interests changed from what people ate, to why people ate. Her work around weight stigma and bias lends itself to the research she does now, which is looking at the ways our environments affect how we eat and are physically active.
'Food is undermining health'
Dr. Kirk recently published a study about food options in recreation facilities across Canada. Her team found that although rec centres are places you go for fitness, such as playing hockey or soccer, the food offered was not reflective of nutritional guidelines.
"It's the places we spend our time – people go there to be physically active, but the food is undermining health. The environment is colliding with our biology," says Dr. Kirk.
Similar to that research is Dr. Kirk's work with UpLift. With $5 million from the Public Health Agency of Canada and $3 in private sector funding, the UpLift team is focused on supporting the integration of the Health Promoting Schools model in schools across Nova Scotia.
"The model is already in existence, it's not that we don't know what we need to do, we just haven't always had the political will or the public buy in. Good mental health comes with good physical health. If we compartmentalize the two, we're not going to be successful."
The team works with youth to bring them into the conversation, thinking of sustainable ideas to improve their school environment.
Dr. Kirk says it gives her goosebumps to see the look on students' faces when they feel involved.
"The youth are the best part, the enthusiasm from the youth is incredible. They love that we are asking them their opinion, it makes them feel valued."
Dr. Kirk says some students on the South Shore wanted to become bike ambassadors and are using the trail system that connects to the school. They even put together a video that looked like a movie trailer to promote their project. Other students in the South Shore are using audio visual equipment to make videos about healthy behaviour which make them feel more connected since they aren't all able to socialize due to COVID-19 restrictions.
At another school a student is building bird boxes for her mental health, and the school is looking at incorporating these into a tranquility garden.
It may come as a surprise to some, but Dr. Kirk says a very popular idea with youth is salad bars, so students can pick and choose what they eat.
"This is about equity – how do we make the healthier choice the easier choice across the province, no exception. We know that healthy kids learn better."
Equity issues in cycling
Dr. Kirk is also studying another passion of hers – cycling. She is helping develop the first national cycling count, looking at age, race and gender.
"Who is biking? It's often mainly white men. Anecdotally, the number of women cycling looks to have increased but we have no evidence or data to back that up."
Dr. Kirk says understanding who is cycling will help them understand if there is adequate infrastructure in place.
"Often men don't mind cycling on the road, but I end up zig zagging down lower-traffic roads to get to work."
The count will focus on collecting data in 14 cities across Canada.
'I love what I do, and I think it shows'
Dr. Kirk says some of her proudest accomplishments in her career are getting more women into academia and supporting gender equity.
"My work isn't about me, it's about us, I couldn't do what I do without an incredible team. I love what I do, and I think it shows."