News
»
Go to news main
Nursing professor named Quality and Patient Safety Research Chair at IWK Health
Posted by
Stephanie Brown with files from IWK Communications & Public Affairs
on March 8, 2021 in
News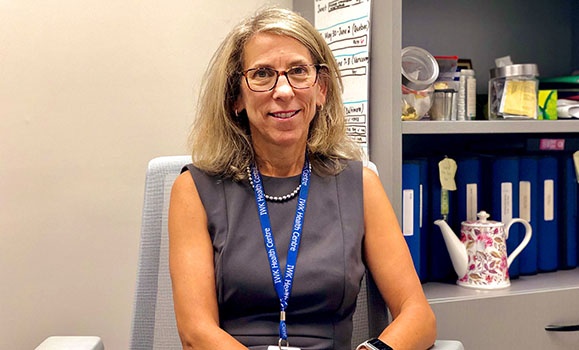 Dr. Janet Curran, professor with the Faculty of Health's School of Nursing and Clinician Scientist at IWK Health has been named the inaugural Quality and Patient Safety (QPS) Applied Research Chair at IWK Health.
The new position has been created through an initiative of the Department of Health and Wellness, in collaboration with IWK Foundation, IWK Health, Nova Scotia Health, Dalhousie University's Faculty of Health, and Dalhousie University's Faculty of Medicine.
The first of its kind in Canada, this role will integrate research into the delivery of patient safety to ensure the highest quality of care for Nova Scotians while also building capacity for health system improvement.  
According to the Canadian Patient Safety Institute, one in three Canadians says either they, or a loved one, has experienced a patient safety incident that could have been prevented. Safety and quality of care is supported by well-designed processes of care aimed to prevent, recognize, and quickly recover from errors so that patients are not harmed. 
Building on the successes in quality and patient safety supported by the teams at IWK and Nova Scotia Health, both health authorities will support the QPS chair to engage with a full spectrum of stakeholders and conduct research through mixed methods that will capture the patient experiences alongside complex health data to drive a deeper understanding of patient safety needs. The aim will be to design effective interventions and optimize uptake to support sustainable change through the health system, all aimed at improving care for Nova Scotians. 
"This is an exciting opportunity to work in partnership with patients and families, healthcare providers, health administrators, researchers and trainees to study and co-design strategies to improve safety, effectiveness and efficiency in health care," Dr. Curran says. "The Quality and Patient Safety Research Chair is a demonstration of the strong commitment of IWK Health, the IWK Foundation, Dalhousie University, Nova Scotia Health and Nova Scotia Department of Health and Wellness to enhance quality improvement and patient safety across Nova Scotia."
"I am very pleased to hear of Dr Curran's appointment as the Quality and Patient Safety Applied Research Chair. Dr. Curran's experience and expertise in applied research will serve to advance health research and the health of our communities." says Dr. Brenda Merritt, Faculty of Health Dean.
Dr. Ruth Martin-Misener, Professor and Director in the School of Nursing says "It is wonderful to hear the news of Dr Curran's appointment as the Quality and Patient Safety Applied Research Chair. She is a superb researcher whose background as a registered nurse is a good fit with the patient-centered focus of the research and knowledge translation that the Chair will carry out."
The initial $1,000,000 funding for the initiative has been provided through the Department of Health and Wellness and will be administered through the IWK Foundation. The Foundation is committed to raising an additional $2,000,000.