Josh Myers (BSW'09, MSW'10) grew up in Riverview, New Brunswick. While completing an undergraduate degree in Psychology from Saint Mary's University, his supervisor and mentor introduced him to social work. "At the time, I didn't realize how prominent the profession was in healthcare but I quickly learned that it was the largest sector in the country employing social workers and came to really see and understand it as a health profession. I interviewed a few social workers in healthcare and quickly realized that the variety of work was exactly what I was interested in and best suited my skills," he says.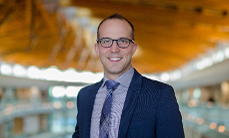 Dalhousie's School of Social Work was an easy choice as it had an excellent reputation and would allow access to clinical opportunities as a student in various areas of healthcare. Having established a number of close relationships with faculty and Social Workers in the healthcare sector during his BSW, he felt that it was the best place to complete his training and earn his MSW.
Inspires people to shine
Josh is the current Executive Director of the BC Centre for Ability (BCCFA), a healthcare non-profit, which provides rehabilitation, child development, counselling and employment services to people with diverse abilities across British Columbia. His responsibilities include overseeing the organization's day to day operations as well as working with the board to deliver on the vision and mission of the organization through setting and executing strategic and operational plans. His past clinical and industry experience with Fraser Health Authority as their Director of Patient Experience and Leader of Clinical Care Priorities and in his previous role at BCCFA as the Clinical Team Leader and Program Coordinator for the Brain Injury Program, all prepared him well for his new leadership role.
"What I enjoy the most is watching the people we serve thrive. Whether that's a child learning to communicate with their parents for the first time, learning to walk for the first time without assistance, or a staff member taking on a project and succeeding. Our organization is a place where people can achieve their goals, whether they're clients or clinicians, and it's a place that inspires people to shine," he says.
What challenges him the most is trying to meet the demands of the people they serve with limited resources. "As with many public services, you have to be very creative and thoughtful about how you can deliver the best services, to the most people, on budget and when they need us the most. It's not always the case of needing more money, sometimes it's about flipping your understanding of how services should be delivered on its head and challenging status quo, which we've all been given a crash course in during the pandemic".
Leadership journey

Recently named as one of Business in Vancouver's Top 40 Under 40, Josh was very surprised. "I've worked hard and I've been really fortunate to have early success as a leader in the healthcare sector trying to provide the best and most compassionate services possible, while also creating a culture where staff can develop their talent and be their best for the people we serve."
He has had amazing mentors and supporters along the way who gave him the chance to stretch and sometimes have taken risks on him because they saw past his age and believed in his ability to get the job done. "I wouldn't have had a fraction of opportunities I've had if it wasn't for people in key leadership positions believing in me and giving me those opportunities," he says. "The most important thing I learned from them is how to call into question things that aren't right or unjust in a way that invites dialogue, discussion and learning. We can challenge each other, the systems we live and work in and our own beliefs while maintaining respect, openness and humility in the process. My professors at Dal were not only great researchers, educators and social workers but they were great leaders in the community."
Serving on the BC Lower Mainland Chapter Executive of the Canadian College of Health Leaders allows Josh to formalize mentorship opportunities with new and emerging healthcare leaders.  "It's incredibly important for me to provide mentorship and coaching support to others because it's that support that I received that determined the trajectory of my career. I feel honoured to be in a position where I'm not only continuing my own leadership development journey, but I can now provide some insight to those who have similar career goals. The pool of healthcare leadership talent in BC is impressive and I think the healthcare system in BC is best served if we can learn and grow with and from each other," he says.
Strengths of relationships

Josh is amazed how the strength of our relationships can impact our ability to get work done. "One of the best ways I built relationships and credibility as a student and early in my career was to chip in to help a teammate. There are lots of things that need to get done in healthcare that are shared responsibilities and it goes a long way in building relationship and trust if you're able to jump in and help, because when it's your turn you'll have a team of people behind you waiting to return the favour," he says.

"You have an opportunity, whichever profession you chose, to make a difference in the lives of people in your community often at a time when they need you the most. I can't think of a greater responsibility or privilege. Be curious, kind, humble and a team player. Be open to growth and take the time to build relationships within and across professions," he says.
Dal Memories
Reflecting back on his time at Dal, Josh's best memories are, "the simple ones that all seem to involve long days/nights studying, debating and working on papers at the library with my classmates followed by a chilly walk to a local pub for some live music. To be able to show off the school, city and province to my classmates from other parts of the country was really fun and filled me with pride to be from such an amazing part of the world."
What does the future hold for Josh? "There is so much to learn and so many opportunities to have a meaningful impact. I think the future of public health with be changed forever as a result of the pandemic and that we're learning a lot about the quality of services for our aging population," he says.
How technology will be integrated into our work and how we manage our future workforce needs with our demographic shifts are also of interest to him. But for now, he is very happy doing what he's doing and says, "I see no shortage of opportunities in this sector in the future to manage the health needs of our communities now while also preparing for the next seen or unforeseen health challenge of tomorrow."
Josh and his wife, Leslie (Shaw) Myers (MSW'10), who works as a social worker in Primary Care at Fraser Health, both have a strong love for Halifax, the people and the culture. They talk occasionally about moving back and sharing their experiences with their 2 year-old little girl.