News
»
Go to news main
'I can be an agent of change': MSc OT grad reflects on learning experiences throughout her degree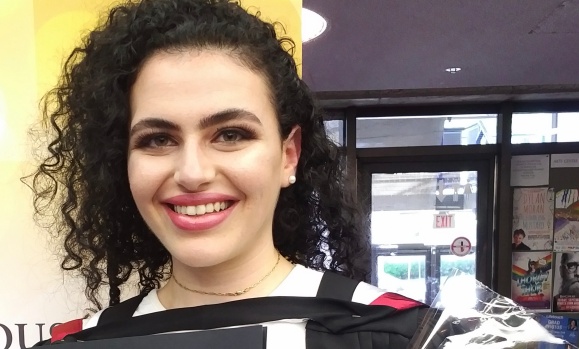 Convocation Q&A: Mirna Gerges, Master of Science (Occupational Therapy)

Congratulations to all of our Faculty of Health graduates this fall! To celebrate Fall Convocation 2020, we chatted with students from across Dal Health. Today's Q&A profile features Mirna Gerges, a Master of Science (Occupational Therapy) graduate from Abu Dhabi, UAE.

How significant is it for you to receive this degree?
While this degree was challenging, it was certainly rewarding to complete all 22 months of it. The realm of Occupational Therapy taught me how determinants of health, wellbeing, and justice intersect. My learning in this program developed my vision towards my role in enabling individuals to meet their basic and unique needs, equitably, which is especially crucial for marginalized and underrepresented populations.  
What were the highlights of your degree?
Every clinical placement I was involved in was a rich learning experience that made me realize I can be an agent of change in an unparalleled way, compared to other health professionals. Each of these opportunities, which occurred in robust settings, was foundational to my knowledge and passion about occupational therapy.  
What brought you to Dal and to your program specifically?
I was drawn to Dalhousie because of its renowned focus on research and hands-on community experiences. My interest in pursuing a degree in Occupational Therapy started in my undergraduate degree, where an information session by Carmel O'Keefe sparked an internal feeling of enthusiasm I had never experienced towards a profession. This excitement fuelled my desire to complete the certificate in Disability Management, unique to Dalhousie, and eventually my degree in Occupational Therapy.  
What will you miss about your time in Occupational Therapy?
I'm going to miss the enhanced learning labs, where we were given opportunities for hands-on, experiential learning in group settings alongside individuals from the community, as well as simulated clients. These experiences were meaningful because they allowed me to draw connections between academic and real-world learning with the support of faculty and clinicians, which fortified my competence in the field.  
What topics/research did you become passionate about during your education?
While the scope of Occupational Therapy is vast and filled with countless unique opportunities, I was particularly drawn to the area of geriatrics, which was introduced to me by Dr. Grace Warner. Short thereafter, I was fortunate to have my first full-time fieldwork placement in a long-term care facility, where my desire to work with this population exponentially grew.  
What was your biggest learning experience?
Living through the stress of school, as well as my personal life, was really overwhelming at times. I learned that it's okay to ask for support— from faculty, friends, and family. In a program that stresses the importance of "independence", I was frequently forgetting to consult the network of support I'm fortunate to have during times of hardship. With time, I learned to develop and resort to a reliable support system by reminding myself that interdependence is not a weakness.  
How did the COVID-19 pandemic affect your studies/work?
The pandemic had global implications that certainly changed the course of the program. I was in Nova Scotia, in the second week of my final fieldwork placement of the program, on March 17th— the day we learned that our placements needed to be discontinued because of the global circumstances. Luckily, our faculty were flexible and adapted the remaining degree requirements to a virtual delivery platform. Eventually and fortunately, I was able to resume my placement in-person, which was unexpected yet rewarding. While the dates of our graduation and National Board Exam were pushed, we still crossed the finish line— perhaps differently than we could've ever imagined, but surely.  
What's next for you?
I've been applying for jobs since March without any luck yet. My goal is to continue looking for employment so I can reap the rewards of my degree, as an Occupational Therapist.