News
»
Go to news main
Prescribing Hope: Pharmacy alum on overcoming debilitating depression, and how pharmacists can help patients manage mental illness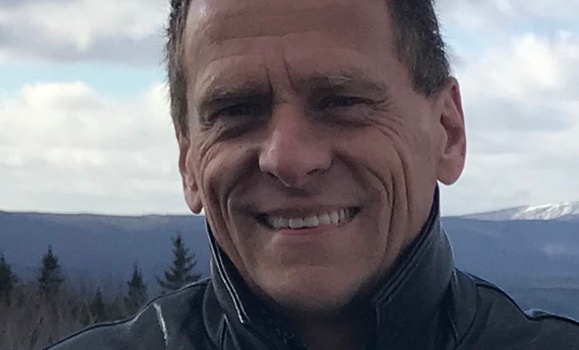 For pharmacist Hugh Toner (BScPH'87), the sky was the limit when he graduated high school. Growing up on a potato farm in rural New Brunswick, he learned to drive trucks and tractors from an early age, was raised by two loving parents, played sports and had high marks. It was an idyllic life, where academic and athletic successes came easy. In his last year of high school, he was athlete of the year, and class valedictorian.
"I was looking forward to university," he says. "I had a great life."
Everything changed when he entered university. For someone who was good at everything, being suddenly thrust into adulthood and expected to choose a career path was overwhelming.
"I left high school feeling like a big fish in a small pond. Soon, I became a small fish in a vast ocean. My first year of university felt like someone said: 'on your mark, get set… decide what you want to do for the rest of your life.' Suddenly, I couldn't concentrate in class, things were very difficult. I didn't have the skills to navigate those pressures at that age."
That's when he experienced his first bouts of depression, which he remembers as very dark times. Back then he didn't know how to deal with it, so he did not seek treatment or talk about what he was going through. In his final year of pharmacy at Dal, he remembers everyone else enjoying a period of celebration, while he suffered alone.
"As I was nearing the end of my Pharmacy program. I remember we all took a trip to Spain. I spent most of it in a hotel room while people went to the beach."
A crusade to help others
After a 30-year journey of healing and service to his community as a pharmacist, Toner is on a mission to help those with a similar story come out of the darkness. He speaks candidly about his experiences with depression and wants students who experience the same thing to know they are not alone. The first step to healing, he says, is to bring things out in the open.
"Years ago, it was embarrassing for me; here I was a pharmacist and I had these mental health issues. Over the years I've been on a journey to understand my mind and how it works so I could understand what was happening to me, get treatment and make sure my children didn't go through what I went through. Understanding myself and talking about my experiences became my crusade."
On his path to recovery, Toner carved out a successful career as the owner of two Medicine Shoppe pharmacies in Sydney, NS and became an accomplished actor, motivational speaker, and singer with two professionally recorded albums. He is married with two children; his son Brandon is also Dal grad (BScPharm'15) who works in his pharmacies. His daughter Lauren also works at the pharmacies and is pursuing a master's in counselling psychology degree.
Despite the bouts of depression in his first year of science and also in his final year of pharmacy at Dal, he says his experiences at the College of Pharmacy shaped his career in many ways.
Pharmacy provided a closely-knit community, which fostered opportunities in leadership, sports, and creativity. "As a small, intimate College nested within the Faculty of Health at Dal, we could we could get to know each other, and the faculty knew us personally. Dal provided the perfect environment for me to grow professionally, and personally."
He now uses the knowledge he's gained to help other people and encourages clients to seek out advice and assistance from pharmacists, who are often on the front lines of mental health issues.
"Pharmacists are some of the most accessible health professionals. There's a pharmacy in every community, people can just walk in off the street, in many cases without an appointment," he says. "If someone is having a mental health crisis or going through a rough patch, advice and consultation is only steps away."
After a long road of recovery, he now sees his depression as a gift.
"Had I not been depressed, I would never have been led down a path where I could help myself and others," he says. "I went from not being able to get out of bed, to having this wonderful family, rewarding career and getting to talk to people from around the world. I'm truly blessed."
Mental Health Tips
For students who may be struggling with depression or other mental health issues, Hugh Toner's advice is to first get treatment that is person-centered and works for them, which may include meditation, therapy and other interventions. Here are some other tips:
"Make a list of 10 things you truly love. It could be something as simple as petting the cat. When you're feeling down, take out this 'love list' (I call it) and read it over then pick one to focus on."
"Try and shift the momentum of thoughts that you're having as early as you can. This slows the momentum. You can slow down your thoughts for a period of time by engaging in meditation, having a nap, or going for a walk. All of these will induce relaxation; therefore promoting a calm state of being."
"Most importantly, give yourself a break. Instead of beating yourself up, be gentle with yourself; with time, everything tends to work out."
Information and Resources: