News
»
Go to news main
Indigenous‑Academic Collaboration Aims on Transforming Health Research in Mi'kma'ki, Labrador and Beyond
Posted by
Terry Murray-Arnold (with files from CIHR and WLN)
on June 26, 2020 in
Research
The Canadian Institutes of Health Research has awarded $100.8 million dollars over 16 years to nine new Indigenous health research networks across Canada. This represents the largest single investment in Indigenous health research in Canadian history. One of these networks, The Wabanaki-Labrador Indigenous Health Research Network (WLN) will be hosted at Dalhousie University in partnership with Mi'kmaq, Wolastoqiyik, Inuit and Innu communities and organizations and with academic institutions stretching across all four Atlantic provinces.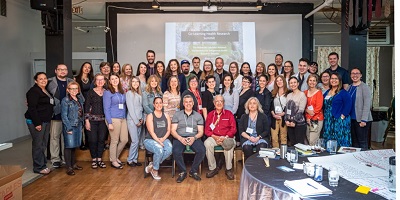 Co-Learning Indigenous Health Research Summit, June 2019 (Photo: Chris Holland) 
The WLN aims to build and improve capacity for Indigenous-led and Indigenous-governed health research in the region. Focussing its efforts on supporting Indigenous communities and organizations to advance their own health research priorities, this new network represents an opportunity for transformative change to Indigenous health research in the region. 
"As we move ever further on the path of reconciliation in Canada, it is important to recognize the knowledge and rights that Indigenous people hold in relation to health research. Southern science and research partnerships have their place. The Wabanaki-Labrador Indigenous Health Research Network is an opportunity for Indigenous peoples to strengthen health research capacity and explore research opportunities that give strength to holistic, Indigenous cultures and practices," says Michele Wood, an Inuk Researcher/Evaluator with the Nunatsiavut Government and one of the key partners in the formation of the WLN.
Transformative change
The WLN is an interdisciplinary collaboration that is as diverse as it is inclusive. It includes partnerships with Indigenous organizations and communities throughout the region, including the Atlantic Policy Congress of First Nations Chiefs, Union of Nova Scotia Mi'kmaq, Mi'kmaq Native Friendship Centre, NunatuKavut Community Council, Nunatsiavut Government, Mi'kmaq Confederacy of Prince Edward Island, Mi'kmaq Native Friendship Centre, among others. It also includes Indigenous community members, health professionals, students, academics, traditional healers and allies from across all four Atlantic Canada provinces.  
"The overarching purpose of the WLN is to really draw on the existing wisdom and organic ability to conduct research that has always existed within Indigenous communities in this region. To that end, we want to shift and transform how research with Indigenous peoples is undertaken," explains Dr. Debbie Martin who is a member of NunatuKavut, Canada Research Chair in Indigenous Peoples' Health and Well-Being at Dalhousie University, and the nominated principal investigator for the WLN. 
The WLN was awarded funding through Canadian Institutes of Health Research (CIHR) Network Environments for Indigenous Health Research (NEIHR) Program. The goal of the NEIHR program is to "establish a national network of centres focused on capacity development, research and knowledge translation (KT) centred on Indigenous Peoples…" intended to provide "supportive research environments for Indigenous health research driven by, and grounded in, Indigenous communities in Canada." 
Representing the Atlantic Region, WLN received $3.5 million in operational funding for the first five years, with the possibility for renewal for another ten years. The funds will be hosted by Dalhousie University, with academic partnerships with St. Francis Xavier University, Memorial University, Cape Breton University, Mount Saint Vincent University and the Nova Scotia Health Authority. In addition to Dr. Martin, the core research team includes John R. Sylliboy (McGill University/Millbrook FN), Margot Latimer (Dalhousie University), Ashlee Cunsolo (Labrador Institute of Memorial University) and Jane McMillan (St. Francis Xavier University). 
"A major goal of this network is to move decisions about research away from being single-handedly led by academic research teams and into the hands of Indigenous communities and organizations, who are most affected by that research," said Dr. Martin. 
Indigenous community and organizational partners have an integral role in the WLN and health research. Although, Dr. Martin says this has not always been the case. According to Dr. Martin, there's been a great deal of research has happened on Indigenous communities in this region, with little opportunity for the communities themselves to be involved shaping the direction of that research. The result has been that research has offered very little benefit to Indigenous communities, and far too frequently, has done harm. 
John R. Sylliboy, Interim Director of the Wabanaki Two-Spirit Alliance, is a Mi'kmaw researcher who celebrates this news with great enthusiasm. As a co-principal investigator of the initiative "the synergy between my role as the Sex and Gender Champion of the initiative and as the Alliance's director is a clear pathway to an organizational partnership to promote community-led research on sex, gender and sexual health in the region", he says.  Sylliboy recognizes the potential to address various Indigenous health concerns, especially for Two-Spirits and Indigenous LGBTQIA+ people, which the Alliance aims to serve under his leadership. 
To ensure that research is undertaken with oversight and governance by Indigenous peoples who are most affected by it, the WLN has established a Local Indigenous Governing Circle that will act in an advisory capacity around all major decisions pertaining to the WLN. The WLN research team also consists of Indigenous scholars, policy-makers, Elders and allied researchers. 
 "The WLN has created a series of intersecting activities that intend to offer Indigenous communities the opportunity to invest in, and lead, meaningful health research, while establishing partnerships to secure the sustainability of the network," said Dr. Martin.
The activities of the Wabanaki-Labrador Network will include:
• Research and Innovation Co-Learning Lodges which build capacity in community to direct, lead, and independently oversee the roll-out of community-based health research from design to dissemination. 
• Systematic Investments in Research Ethics and Governance, including strengthening the capacity for community-led ethics review processes, enhancing Indigenous-specific ethics review processes in academic and governmental institutions, and creating a virtual Co-Learning Lodge that provides appropriate ethics materials for researchers. 
• Funding Opportunities for workshop and research grants that address community health research priorities. 
• A funding and mentoring program for trainees that will enhance the work of the existing Atlantic Indigenous Mentorship Network. 
• Strategic Communications and Knowledge Exchange which will ensure that the research findings are relevant and useful to the communities involved and are shared widely.
• Knowledge Gardening: sustainability and evaluative activities, such as surveys, the distribution of annual reports, and hosting annual face-to-face meetings to foster shared learnings.
The WLN held a co-learning summit in 2019 and has launched a website that will host Indigenous health research resources and highlight research funded by the WLN. 
"This type of research – community initiated, directed and led – is how we create a new legacy of health research – one that offers value and benefits to the Indigenous communities and nations that are involved," said Dr. Martin.