News
»
Go to news main
Award‑winning HAHP graduate hopes her success will reflect positively on homeschool education
Posted by
Dawn Morrison
on June 26, 2020 in
News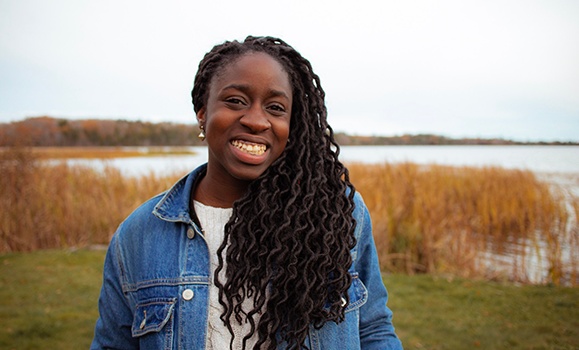 Convocation Q&A: Fola Akpan, School of Health and Human Performance
Congratulations to all of our Faculty of Health graduates this year! To celebrate Convocation 2020, we chatted with students from across Dal Health. Today's Q&A profile features Fola Akpan, who is graduating with Honours in Kinesiology, School of Health and Human Performance.
Fola has won a significant amount of awards during her time at Dalhousie, including the Matthew Knox Award, Dalhousie Alumni Association (Women's Division) for the highest GPA within Kinesiology, the University Medal and Canadian Society for Exercise Physiology Award for highest GPA within HAHP, and the Avery Award, awarded on graduation to the student standing highest among graduates of the general degree.
How significant is it for you to receive this degree?
This degree is very important to me personally as it the culminations of many years of hard work that started before my time at Dalhousie. I was homeschooled for elementary, junior high and high school education, and many people doubted that homeschooling could adequately prepare me for post-secondary education. Some still doubt homeschooling is a viable alternative to the typical education system, but I hope that my degree and awards for academic achievement, demonstrating integrity of character, respect for others and the potential for leadership will encourage others to explore alternative pre higher education options. I am honored to complete this degree, especially for my parents, who sacrificed so much for my education.
As a society, there are many systems that are broken in many ways, and where reformation is not possible, the freedom to create a new system is key to allowing diverse perspectives and voices to be heard.
What were the highlights of your degree?
The highlight of this degree has been the mentors and friends that I met during my time at Dalhousie. My professors, supervisors and mentors have taught me so much about the specifics of my discipline, how to learn and life in general, and I have made many lifelong friends during these last four years. I have also had the opportunity to be a part of student organizations that focus on uplifting and supporting Black folks on Dalhousie's campus and it has been an honor to give back to the Black community during my time at Dal.
What will you miss about your time at Dal/HAHP?
Although I am not yet leaving Dalhousie, I will be continuing my education in a different department. The thing that I will miss most is the professors and graduate students in the School of HAHP. I have spent the last two summers working in various Kinesiology labs and have learned so much from interacting with the Faculty.
What brought you to Dal and to your program specifically?
The main reason I decided on Dalhousie was because of the Kinesiology program and its focus on science. My goal was to go into Physiotherapy, however I also enjoyed science and wanted the option to do research. Compared to the other schools I was looking at, Dalhousie had a reputation for high quality research and clinical volunteer opportunities so it was a very easy choice to come to Dal to explore the many options.
What topics/research/work did you become passionate about during your education?
Being involved in research early on helped me to get a solid understanding of the type of research that I enjoyed. When I first started, I thought that pure biomechanics could be my passion. But as I did research in this area and took electives in other disciplines, I realized that I was fascinated by the bigger picture and viewing health at the system level. My research experiences, classes in HAHP, industrial engineering and computer science and involvement with organizations like Imhotep Legacy Academy and PLANS helped me to realized that I was very interested in researching at the system level rather than individual components level.
Given that graduates unfortunately couldn't celebrate in person due to COVID-19, how did you celebrate this accomplishment?
My graduation celebration so far has been the combination of many small graduation events. Most of my extended family, both in Canada and in Nigeria, had a Zoom celebration and watched the graduation videos from HAHP and the Kinesiology department. My uncle surprised me with a "Class of Dalhousie 2020" lawn sign, and I received six bouquets of flowers from various family and friends. Although it was disappointing to not have a convocation ceremony, the effort of the people around me to celebrate along with me brought so much joy.
What's next for you?

I have been accepted into the Joint Masters of Physiotherapy and Rehabilitation Research Program at Dalhousie, which I will start in the Fall of 2020. My research will be around optimizing care for stroke patients. When I was looking at what to do next, I didn't think it was possible to combine my interests in Physiotherapy, Public Health and Industrial Engineering together, but the combined program has allowed me to combine these passions and I am so exited to start the program.