News
»
Go to news main
Dr. Ingrid Waldron wins Errol Sharpe Book Prize
Posted by
Stephanie Brown
on June 26, 2020 in
News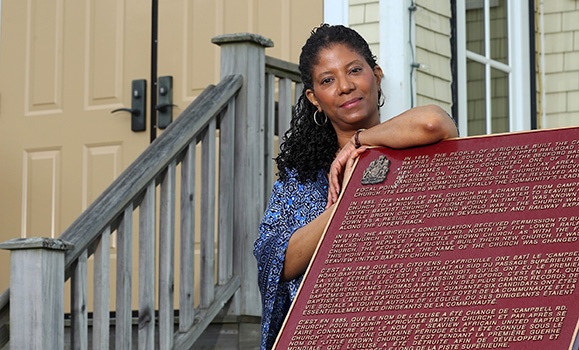 Dr. Ingrid Waldron (School of Nursing) has been awarded the 2020 Society for Socialist Studies Errol Sharpe Book Prize for her book turned Netflix documentary, There's Something in the Water.
The Errol Sharpe Book Prize is an annual prize for a significant contribution to socialist research in Canada.The prize includes a cash award, a commemorative plaque, and an invitation to speak in a future Society conference about a research topic that has interested the author since the completition of the prize-winning volume.

Dr Waldron received the award from book prize committee member Dr. Elaine Coburn of Glendon College, York University, by remote Zoom meeting on June 8, 2020. The committee said:
"Focusing on environmental racism, Waldron documents the long history of activist struggles by Mi'kmaw and African-descent people and their allies in Nova Scotia against the pollution and poisoning of their communities. The book reveals the devastating effects of long-term social and economic inequality on Indigenous and Black communities and recognizes the strength of their resistance and mobilising initiatives.The book makes an impressive theoretical contribution by showing how environmental racism is produced by the interacting dynamics of settler colonialism and state sanctioned racial violence, systemic white and male supremacy, and neoliberal capitalism. Relying on community-based research, it carefully documents specific political organising campaigns that focused on building coalitions and solidarities among white-led environmental groups, Indigenous and Black communities. The book exposes the complexities of such alliances, inviting readers to face the contradictions between "our shared interests" and "our complicity in each other's oppression, and how that complicity often serves to maintain the status quo" (139).  Clearly and effectively written, and committed to social justice, this book makes the kind of significant contribution to research honoured by this prize."   
Dr. Waldron has been featured in many articles regarding her research on environmental racism and her book There's Something in the Water, including: