News
»
Go to news main
Dal Health (Nursing) PhD Scholar Leah Carrier receives 2020 Pierre Elliott Trudeau Foundation Scholarship
Posted by
Terry Murray-Arnold
on June 26, 2020 in
Students
PhD (Nursing) student Leah Carrier has been selected as a recipient of the 2020 Pierre Elliott Trudeau Foundation's PeT doctoral scholarship which aims to "help shape researchers into engaged leaders who are conscious of the impact of their research and connected to the realities of the communities in which they work....". She is among a very select group of scholars picked from a pool of hundreds of candidates from universities in Canada and abroad.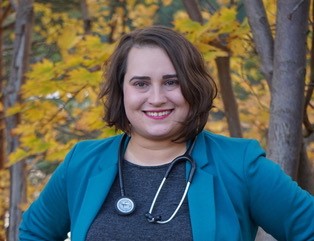 Leah Carrier (Provided Photo)
This year the Foundation appointed 16 dynamic and diverse doctoral scholars who come from a broad array of academic backgrounds, in the social sciences and humanities, and communities across Canada and around the world. 
The PeT doctoral scholarship program lasts for three years and provides generous support for scholars' doctoral work in the form of a stipend and a research and travel allowance. "The research and travel allowance provided by the Foundation will facilitate the success of my dissertation project and opens the door for new possibilities to creatively sharing the knowledge that emerges from the research. I'm excited that this funding will provide resources that will benefit children and youth in community," Leah says.  
In addition to the generous financial support provided by this award, the Trudeau Foundation is unique in that it focuses on the leadership and professional development of the selected scholars.
"This award provides amazing opportunities to network and interact with scholars and changemakers who are making waves in their research and leadership work. I am excited for the opportunity to connect with scholars and mentors from across Canada, as well as for learning from many interdisciplinary perspectives," she continues.  
Leah is a Niitsítapi registered nurse and doctoral student at Dalhousie University. She is also a research trainee with Dr. Margot Latimer at the IWK Health Centre, working with the Aboriginal Children's Hurt and Healing Initiative (ACHH) on projects related to chronic pain and mental health in Indigenous children and youth. 
The Trudeau Foundations scholars are selected for their "outstanding achievement as well as unique qualities and perspectives". A 2018 Dalhousie Board of Governors' Award winner, Leah strongly advocates for diversity and inclusion on campus and within the health-care system. 
"My passion for improving health care experiences for children and youth is informed by my lived experiences in the healthcare system. As a member of equity-seeking communities, I have personally experienced or witnessed systemic barriers that exist for minority health-seeking groups in Nova Scotia, such as a lack of understanding about cultural context and its impact on health outcomes. My experience as a patient gives me a unique lens as a nurse scientist and better prepares me to conduct patient-oriented and community-based research in Indigenous child and youth health," she says.
She founded the Community of Indigenous Students in Nursing (CISN) at Dalhousie University and has been instrumental in connecting this group to initiatives at the university, in the local community, and with Indigenous networks nationally. Leah is also the co-president of the Dalhousie Indigenous Health Interest Group, whose mandate is to promote Indigenous health through education, research, and professional development. 
Leah's doctoral research uses a Two-Eyed Seeing approach to examine the impact of cultural connectedness on mental health outcomes and how cultural interventions can be implemented with Indigenous children and youth. Her PhD research is supervised by CIHR Indigenous Health Chair in Nursing (2020) Dr. Margot Latimer.