News
»
Go to news main
Taking Steps Together: Dal Health researcher awarded $75,000 to support the mental health of Black Canadians
Posted by
Dawn Morrison
on June 19, 2020 in
News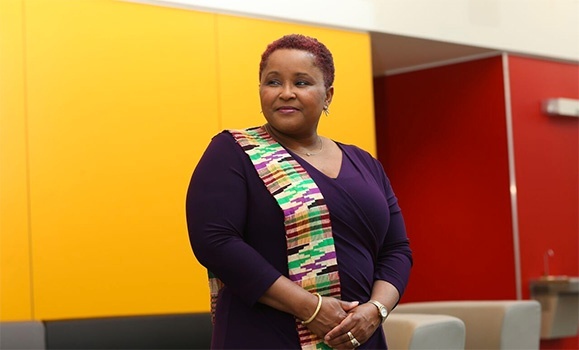 What happens to individuals who are released from prison, when they lack support in trying to reintegrate back into society? Some may struggle with everything from navigating their employment and housing situation or finding mental health support, to getting a gym membership, reconnecting with family, or finding a family doctor.
Dr. Barb Hamilton-Hinch (HAHP) is a Principal Investigator on a project that is working to help provide much-needed support for those seeking to reintegrate after incarceration. Dr. Hamilton-Hinch and three other researchers from Dalhousie University (PhD Candidate Crystal Watson, Dr. Jacob Cookey and Dr. Ifeyinwa Mbakogu) were awarded $75,000 through the Public Health Agency of Canada's Promoting Health Equity: Mental Health of Black Canadians Initiative (MHBC).
The four researchers were awarded the funding through the Incubator Stream for the project: Mobilizing Partnerships: Taking Steps Together for Supported Re-Integration. The Project Team also includes Charisma Grace, who is the Project Coordinator on the grant, and Tiffany Gordon, a PhD student here at Dalhousie who is the Research Assistant. The Team further extends to an Advisory Committee that includes concerned members of the community.
Building Capacity
The federal government's 2018 budget committed $19 million to strengthen multiculturalism and address mental health challenges faced by Black Canadian communities. The Project Team's capacity-building project will support the reintegration of African Nova Scotians from the criminal justice system into the community and work to address mental health-related barriers, including stigma.
Dr. Hamilton-Hinch and her partners will identify knowledge and service gaps in this area, and build a network of advocates, organizations and professionals that will support the development and implementation of culturally relevant programs. The target population is youth of African descent aged 15 to 35 who were incarcerated or in conflict with the law. People of all genders will be consulted to ensure multiple perspectives are represented.
"We know there is a need for this program," says Dr. Hamilton-Hinch. "In our prison system, Black and Indigenous communities are highly represented. There are some programs in the prison systems, but they may not be culturally relevant."
Doing Time "On the Outside"
"We have heard from these individuals that without the proper supports in place, they feel like after they are released, they still feel like they're doing time —only now on the outside." Dr. Hamilton-Hinch says.
The researchers also want to consult directly with individuals who have been incarcerated and their families on how best to support them, so they don't experience recidivism and will have a more positive reintegration process upon release.
In addition, the researchers are meeting with organizations who work with these populations, such as the John Howard Society, 902ManUp, and Women's Wellness Within. From these consultations, they will create a needs assessment to see what programs are out there and where the gaps are.
The Incubator Stream lets participants use the initial funds to build a program to be eligible to compete for more funding — up to $200,000. Dr. Hamilton-Hinch and their team are working towards that goal.