News
»
Go to news main
School of Health Administration graduate reflects on the many highlights of his time at Dal
Posted by
Dawn Morrison
on June 12, 2020 in
News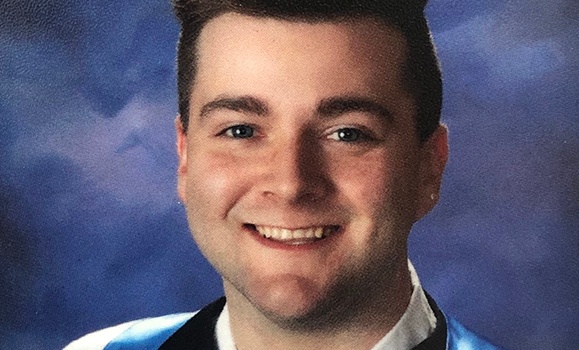 Convocation Q&A: Peter Richard, Master of Health Administration

Congratulations to all of our Faculty of Health graduates this year! To celebrate Convocation 2020, we chatted with students from across Dal Health. Today's Q&A profile features Peter Richard, a Master of Health Administration graduate from Dartmouth, Nova Scotia.
How significant is it for you to receive this degree?
Receiving this degree is very significant and important to me, as it is essential for my growth as a future healthcare leader. Working towards this degree has given me the tools and knowledge needed to manage a team, work collaboratively, and manage change in the workplace. This degree gives me the ability to work in a field that has inspired me my entire life, and for that I am extremely grateful.
What were the highlights of your degree?
There have been many highlights of my degree. First, the opportunities the School of Health Administration offered its students were beyond beneficial and provided great experience. During the two years, we worked on several different projects that required us to connect and network with present-day healthcare leaders within Nova Scotia, and in some cases, across Canada.
Another important highlight is how strong and respectful our school community is. Every student quickly became great friends and we all had strong relationships with the faculty and staff at the School. We encouraged one another and applauded individual success whenever possible.
The last highlight of my degree was being involved in the School's Association of Health Administration Students (AHAS). During my first year of the degree, I was one of two first-year student representatives, while in my final year of the degree I was the president. I took pride in representing the student voice and being able to work alongside my other fellow classmates who were involved in AHAS as well.
What will you miss about your time at Dal?
There is quite a lot I will miss about Dalhousie. I completed both my undergraduate degree and graduate degree here, so I have many memories. That said, I think what I am going to miss the most is the "school atmosphere." I have always loved school and learning, and always will. In fact, when I started primary school, I was the kid who got upset at lunch because I thought that meant I was going home for the day, but when I learned that I got to go back in the afternoon, I was the happiest I could be!
I am also really going to miss the people. This includes the friends I made along the way, as well as faculty and staff from the School of Health Administration. Every connection I made these past two years are so meaningful and long-lasting. I truly am grateful to have met such wonderful people.
Lastly, I am going to miss Project Room #3 at the School of Health Administration. I spent so many hours sitting in that room studying, working on assignments and projects, and so much more. Over the years, that room has become a part of my identity! I was in that room so much that people started to joke around by calling it "Peter's Office."
What brought you to Dal and to your program specifically?
When I was younger, I always knew Dalhousie was the university I wanted to go to. There weren't really any other options I considered. After graduating from my undergraduate degree I was unsure of what I wanted to do as a career. All I knew was that I wanted to do something regarding healthcare. I remember having a conversation with my late father and he was the one who told me that Dalhousie had a Masters of Health Administration program. Immediately after that conversation I searched the program and read up on the degree and knew that was exactly what I wanted to do.
What topics/research/work did you become passionate about during your education?
I'm the type of person who loves to learn about anything and everything, so this question has always been a challenge for me, since "everything" isn't really an adequate answer. If I had to narrow in on something, I am passionate about quality management and health information.
Given that graduates unfortunately couldn't celebrate in person due to COVID-19, how did you celebrate this accomplishment?
Every year, our student association works together to plan the end-of-year banquet. This celebrates both first-year and second-year students, as well as faculty and staff. This year, however, we were unable to have the traditional in-person banquet. That said, members of the School, myself, and a few other students got together and organized a virtual banquet on Zoom that took place in early April. We were even able to get Dr. Brendan Carr, CEO of the NSHA to attend as our keynote speaker.
On a more personal level, my mother was organizing a graduation celebration, which was supposed to happen in May. Given the current circumstances and restrictions, we are unable to have the celebration. However, when we are able to safely reconnect with family, friends, and loved ones, my mother has promised that we will have a proper graduation celebration!
What's next for you?
Currently, I am working from home for Health Canada. I am a Policy and Risk Management Officer in the Occupational Health and Safety Unit. I worked with this team last summer during my School's residency program, and they brought me back once I graduated for another work term. Following this work term, I hope to find a job within the NSHA that focuses on quality or health information.