News
»
Go to news main
Distanced defence: PhD in Health students defend their theses virtually
Posted by
Stephanie Brown
on April 8, 2020 in
News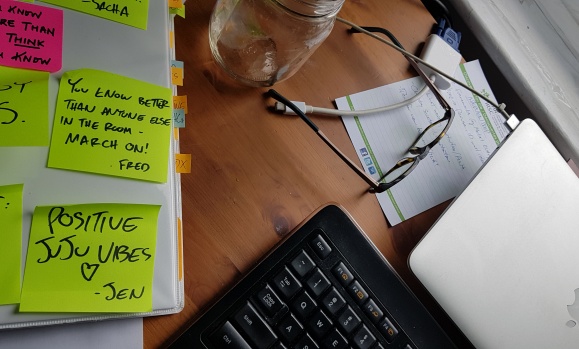 Successful PhD defences are always a reason to celebrate, even when the circumstances are quite different than anticipated. PhD in Health students Logan Lawrence and Peter Stilwell successfully defended their theses on March 25th and 27th respectively – over video chat from their homes.
As precautionary measures for flattening the curve during the COVID-19 pandemic started to take place, Dr. Lawrence and Dr. Stilwell were still hopeful they would be able to defend their theses in person, even if the audience was smaller than anticipated.
The week before their presentations, they found out it would be virtual, which raised a lot of questions about how it would work. Both students credit the Faculty of Graduate Studies for their comprehensive FAQ page detailing how virtual defences would work, and the Faculty of Health PhD in Health staff for helping out every step of the way.
Dr. Lawrence
Dr. Lawrence presented his thesis 'Assessing policy capacity: A mixed-methods study of health policy making in Nova Scotia' to his defence committee including his supervisors Dr. Janet Curran and Dr. Patrick McGrath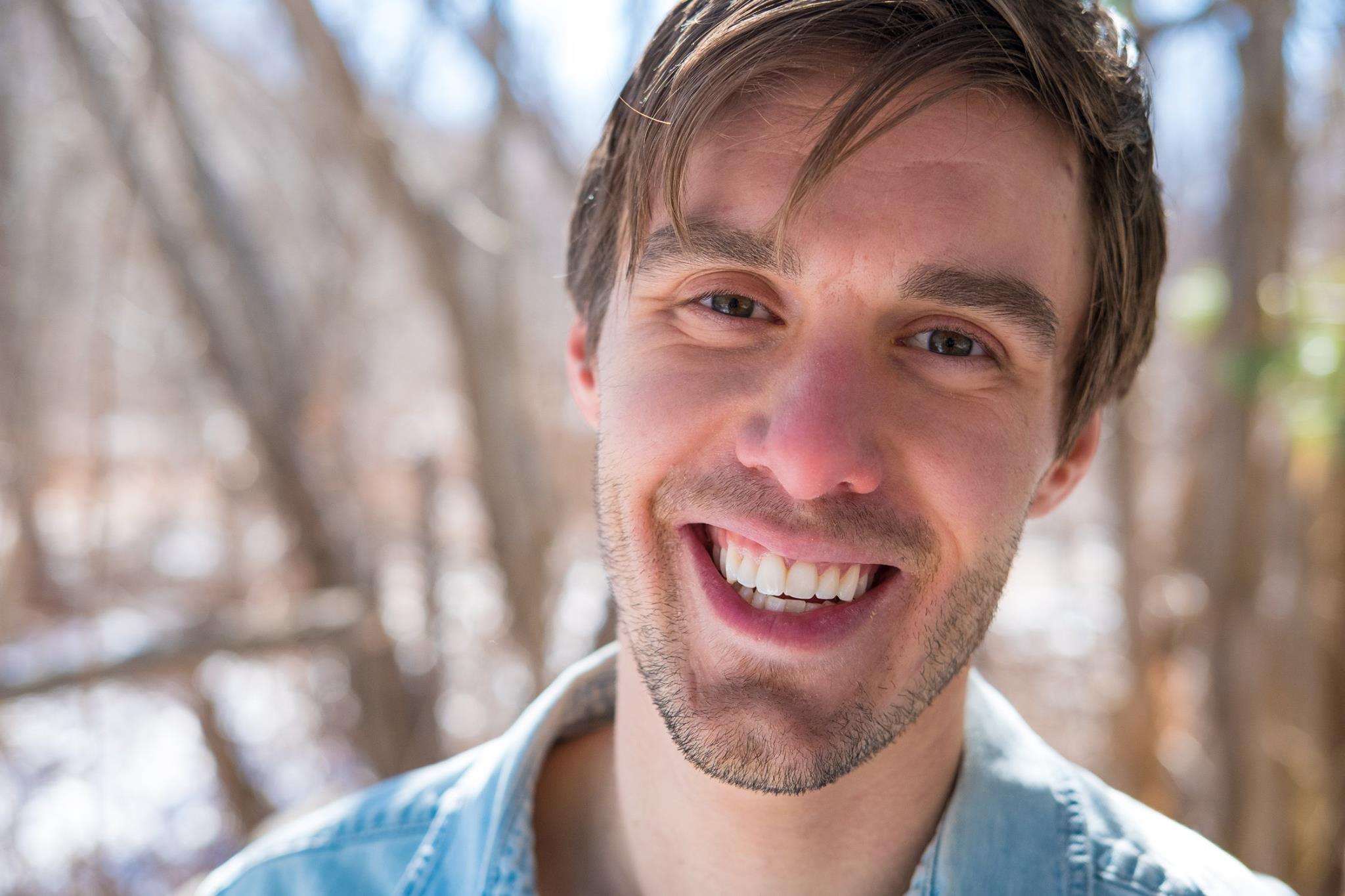 Dr. Logan Lawrence (Submitted photo)
Dr. Lawrence said it was disappointing not having supporters in attendance, but he found a way around it.
"I asked friends and colleagues what they would tell me in person, and wrote down their messages on sticky notes. During my defense I would look at their messages and feel like they were there with me."
There were some hiccups – they had to start 40 minutes late due to technical difficulties, but it was smooth sailing once Dr. Lawrence got started.
Dr. Lawrence's background is in Kinesiology – he completed his undergrad in Kinesiology from the University of Alberta and his Masters of Kinesiology from Dalhousie.
In his thesis he looked at a conceptual framework of policy capacity and worked to make it a more practical tool that helps researchers and policy makers understand the factors that go into making policies.
Dr. Lawrence used the tool to study health policy changes in Nova Scotia, like having nurse practitioners provide primary health care services; his research shows how turning simple ideas into reality can take years because of the complexity of policy process. His research was funded by the Nova Scotia Health Authority, while his training was supported by scholarships from  the Nova Scotian Health Research Foundation (now Research Nova Scotia), Nova Scotia government, Canadian Institutes for Health Research, and Killam trust.
Dr. Stilwell
Dr. Stilwell presented his thesis 'Exploring Pain and Clinical Communication' which looks at the ways healthcare providers explain pain to their patients. His defence committee included supervisors Dr. Katherine Harman and Dr. Brenda Sabo. His research was funded by Dalhousie University, a Nova Scotia Graduate Scholarship, and the Canadian Chiropractic Guideline Initiative (CCGI).
He says it was hard not seeing anyone to gauge their responses while he presented, but once the presentation was over and they moved to questions everyone turned on their cameras, so it was more personal.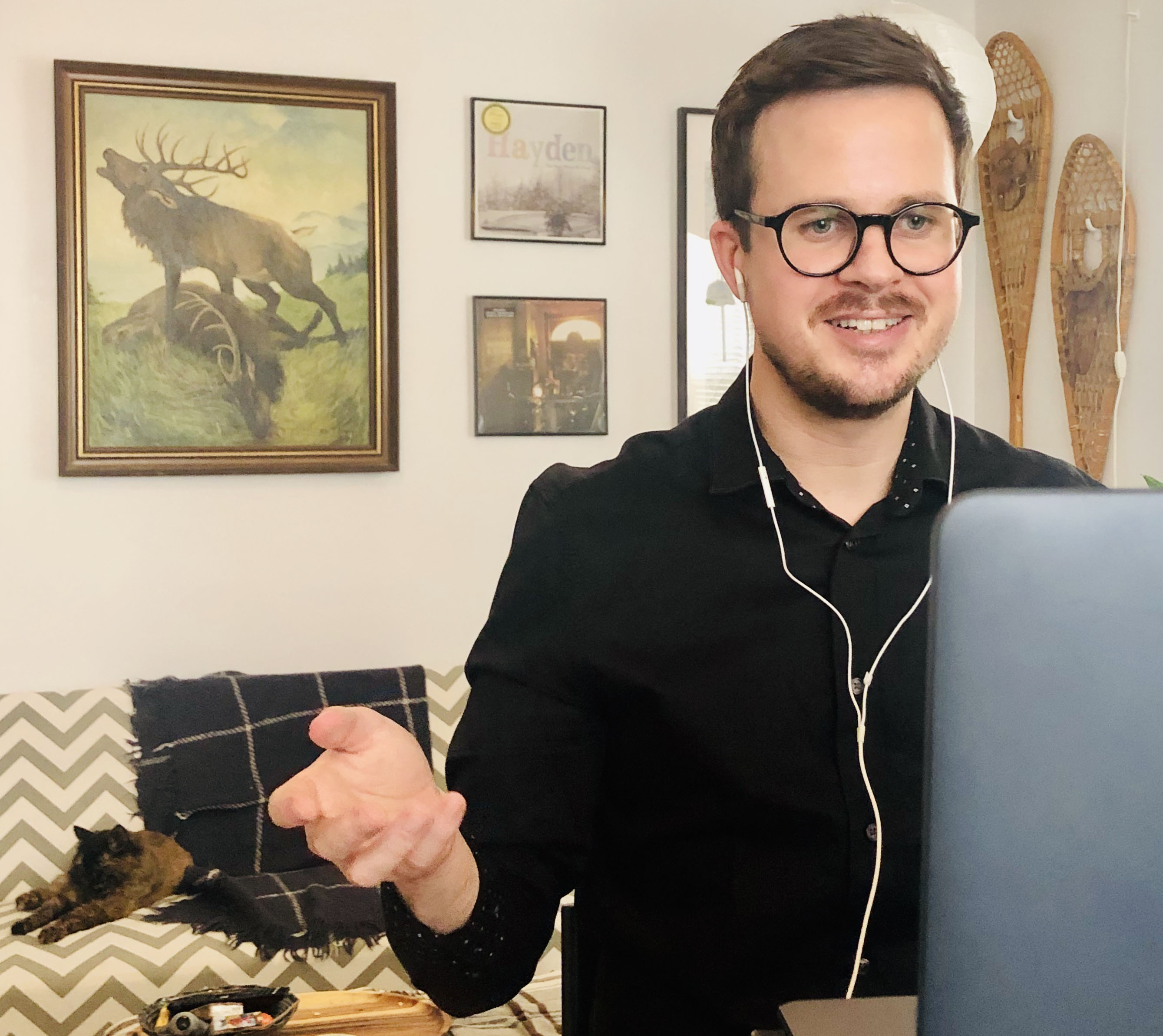 Dr. Stilwell during his virtual thesis. (Photo: Christie Stilwell)

Dr. Stilwell says although there was a lot of uncertainty, everyone worked together to make sure it worked out.
"I thought it was going to be cancelled or moved, I was quite confident it wouldn't go as planned but everyone adapted."
Furry friends (and distractions)
Both Dr. Lawrence and Dr. Stilwell had some distractions during their defences, which would only happen when defending virtually from home.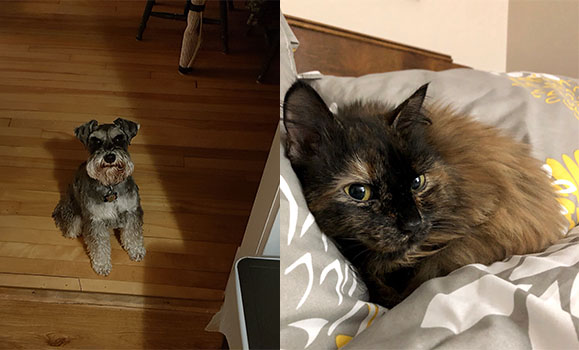 Dr. Logan's dog and Dr. Stilwell's cat tried to distract them during their thesis defences (Submitted photos)

Dr. Lawrence's dog (unsuccessfully) tried to paw their way into his office. Dr. Stilwell had to decide if he should put his cat in another room during the defence but decided that she would meow too much. He angled the camera so his committee couldn't see her walking around and had to occasionally gently push her away with his foot to stop her from scratching the chairs.
In it together
Although it wasn't ideal, both Dr. Lawrence and Dr. Stilwell say defending online isn't actually much different than presenting in person.
Dr. Lawrence encourages people to reach out to their supporters beforehand to get some words of encouragement. As the president of the PhD in Health student society, he wants people to stay connected.
"Everyone's really excited for you, you forget how big of a deal it is."
Dr. Stilwell says the support online has been incredible.
"The digital support has been huge. The texts, emails and calls I got from people to show their support and to say congratulations means a lot."
Dr. Shaun Boe, the Associate Dean (Research) of the Faculty of Health says "Both Drs. Lawrence and Stilwell showed great flexibility in adapting to the situation and defending their work remotely. It is not surprising of course, as both are great examples of the intelligent, creative and resilient students we are lucky to have in the program. The Faculty looks forward to seeing their future success."
What's next
Dr. Lawrence is looking for work outside of academia – hoping to put his policy knowledge into policy practice in the public or private sector. He says it's a difficult time to look for work, but he's grateful he didn't have to put his research on pause. He and his wife are expecting a baby in August.
Dr. Stilwell got a post-doc research position at McGill University, where he will be working remotely for the time being. He will be continuing in the same line of work but focusing more on pain related suffering. He plans to eventually do an art show based on pieces his wife (fellow PhD in Health student Christie Stilwell) created based on his study participants' explanations of pain.