Mike Sangster (BSc Physiotherapy 2003) grew up in the Annapolis Valley, NS and came to Dalhousie for a second career in physiotherapy.  Having completed an MBA, he began his career as a management consultant but early in his career realized he needed more. "I needed to do something that would provide me greater purpose and meaning," he says.  Although he chose Dalhousie because it was in his backyard, he learned very early in the program how fortunate he was to have the opportunity to be trained by some of the best researchers and clinical instructors in the field of rehabilitation.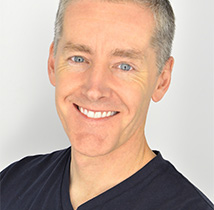 Throughout his time at Dalhousie he was mentored by a clinician (and friend and Dal PT grad). "Mentorship provided me the opportunity to be challenged in my thinking and my biases and to learn to ask 'why'. In my time at Dalhousie this mentorship relationship grew and changed as I learned more. The foundational benefit of having a mentor was sharpening my ability to think critically. This has made me a better clinician."
As a teaching hospital, the IWK believes that preceptorship is mutually beneficial to the clinician and the student and provides a supportive environment. Mike began precepting students one year after graduation and has continued to do so ever since.  He takes at least one physiotherapy student every year and more if his clinical commitments allow. Additionally, as the center coordinator of clinical education for IWK physiotherapy, he has facilitated the clinical placements of over 70 students in the past few years.
"Being a clinician gives us privileged access into the lives of our patients, often at challenging times. Preceptorship allows me the opportunity to impress upon the student the privilege of this role." His hope for students is that their clinical experience will help them to see their patients as people and individuals first and then learn to apply the best available evidence within a sound clinical reasoning framework to the care they provide. "I hope they feel challenged, in the safety of the learning environment, to think critically, ask why, and confront their own biases in their approach to health care."
When asked if he learns from the students, Mike says, "Absolutely! One of the really neat things about working with students is the quality of discussion we have about patients and the unconstrained ideas they offer in designing plans of care. I have learned from every student and am a better clinician for having spent time with each and every one of them."

Mike says the most rewarding part of being a preceptor is when a student gets a win. There is a point in almost every clinical rotation when he observes a student make clinical connections that show their evolution as a clinician.  "I believe we have an obligation to train those who come behind us and that alumni should volunteer to be preceptors. All clinicians are where they are today because someone sacrificed their time and their talent to provide learning opportunities for them to grow. I do believe giving back is a duty to provide similar opportunity for the young in our profession."
When asked what the future holds, Mike feels that one of the amazing things about working in healthcare is that things are constantly changing. "My practice will continue to evolve in the future and that prospect excites me. Being a preceptor to students helps me in the development of my practice as it provides me an opportunity for rich clinical dialogue about the latest research and emerging ideas."