Dal Health is thrilled to welcome Dr. Brenda Merritt as our new Dean.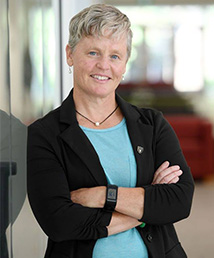 Dr. Merritt is an Associate Professor in the School of Occupational Therapy, with cross appointments in Nursing and International Development Studies. She served as the Associate Dean, Academic from 2013 to 2017 and as Acting Dean of the Faculty of Health at Dalhousie for the 2017/18 academic year.
Dr. Teri Balser, Interim President and Vice Chancellor, announced the appointment, stating that "Dr. Merritt conducts research in interprofessional health education, curriculum design and evaluation, and the development of innovative educational strategies to cultivate professional behaviour and clinical decision-making skills. Her research portfolio also includes investigating how chronic health conditions, injury, key determinants of health, and/or environmental contexts impact a person's ability to participate in chosen and necessary daily life activities."
Dr. Balser also noted that "Dr. Merritt is recognized as an international expert in teaching and using the Assessment of Motor and Process Skills to advance occupational therapy practice and research, having taught over 60 workshops in eight different countries. Her leadership, expertise and experience are all well-suited to leading the Faculty of Health and its diverse academic community as they work to improve the well-being of individuals, families, communities and populations regionally and globally."
Photo: Danny Abriel