News
»
Go to news main
Grad Student Profile: Keisha Jefferies
Posted by
Terry Murray-Arnold
on July 22, 2019 in
Students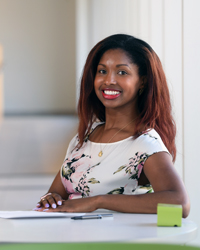 PhD candidate Keisha Jefferies' research is focused on understanding the perspectives and experiences of African Nova Scotia nurses who practice in the Canadian health care system. "I am interested in understanding and describing how intersections, or the socially constructed concepts of race, class and gender, impact their ability to practice nursing leadership."   
As an African Nova Scotian health professional, Keisha has firsthand experience in this. "Practicing as a Black nurse in Nova Scotia revealed a lot of racial tensions and barriers in institutions and organizations," she said.
After working for two years as an RN, she decided to return to Dal and pursue graduate studies.
Keisha has begun to synthesis literature, which highlights that Black nurses across Canada- whether they are Canadian-born or immigrants, experience racism, discrimination and multiple forms of oppression as nurses in Canadian health care. "The evidence shows that Black nurses get passed over for career advancement and educational opportunities in addition to experiencing hate speech from patients and colleagues," she said.
According to Keisha, the underrepresentation of Black nurses in leadership positions is one of the contributing factors that feeds into the systemic cycle that is designed to keep Black people in a position of societal disadvantage. She explains that it also reinforces harmful stereotypes and stigma associated with Black people. "That is what continues to draw me into what's going on here in the African Nova Scotian community. I recognize that there is work to be done at all levels however, I am very interested in uncovering what is going on at the policy and institutional level, how that affects practice and the implications for community (population) health. This is where I am focused for my research," she said.  
Keisha's PhD supervisors are Dr. Ruth Martin-Misener, Director of School of Nursing and Dr. Gail Tomblin Murphy, Nova Scotia Health Authority VP Research and Innovation.
"Keisha's exploration of the informal and formal leadership experiences of African Nova Scotian nurses is highly innovative and an area about which very little is known," said Dr. Martin-Misener. "Her research will provide new information about the impacts these nurses have on health and health care as well as the challenges they have encountered. Her findings will inform changes in nursing education, practice and policy to promote equity, diversity and inclusiveness."
An issue "flying under the radar"
Research on racially marginalized populations, is hampered because health data is generally collected by age and gender, with little to no attention paid to race or ethnicity.
"Health data is gathered according to age, sex and/ or gender yet, we have very little knowledge about how race or ethnicity is impacting health. We [Black researchers] are trying to build a case and justify why these research questions need to be addressed, but a lot of the time we don't actually have the evidence to always support the issue," she said.
Due to the lack of race-disaggregated data across Canada, it becomes extremely difficult to argue that the health of the African Canadian population is a national health priority.
"This can be a huge issue when applying for funding and grants where you need to show an issue exists," Keisha said.  
Earlier this year, Keisha was awarded the Vanier Canada Graduate Scholarship as well as a Killam Predoctoral award and Research Nova Scotia's Scotia Scholars Doctoral Award. The Vanier scholarship is the federal government's most prized award for PhD students. High-achieving recipients are selected for the potential impact of their research, academic excellence, and leadership abilities.
"These scholarships are a major support. Beyond the financial award, which alleviates financial uncertainty and allows more time to focus on the research, the recognition that is attached to the award is significant. My work is very explicit in identifying racism, oppression and presenting perspectives from a Black lens, so it is reassuring for this work to receive national recognition, highlighting that this is meaningful research," Keisha said.
Keisha would like to see more provincial support for research on race and ethnicity. "We are not addressing a lot of the issues. I feel like progress is being made but there is still so much work to be done. My recent awards are a huge support and I am grateful I can do my work. However, I would like to see more funding streams dedicated to supporting projects led by Black researchers, using unconventional methodologies that focus on issues related to the Black community," she said.
Changes for Social Justice
The approach Keisha uses in her research is Black Feminist Theory.  A component of this involves activism and community work. "It is not just applying for your PhD, gathering your data and disseminating at the end, it really involves addressing social issues and effecting changes as you are going," Keisha said.
While she is focused on her PhD research Keisha thinks it is important to mentor other students. Keisha co-developed the CBSN (Community of Black Students in Nursing), a student-led, peer mentoring group, within the Dal School of Nursing for Black students or students of African descent. The group's goal is to offer and provide support for Black students in nursing.
"I did not have any mentors who looked like me as I went through the undergraduate program. That's why I think my work with CBSN is so important."
Earlier this year the CBSN and PLANS (Promoting Leadership in health for African Nova Scotians)  partnered to hold a luncheon for Black students at Citadel High School. The workshop was designed to expose the students to careers in nursing with the goal of improving diversity.
In the future Keisha wants the CBSN to do more community outreach outside of HRM. " We would like to take it [the Citadel High luncheon] and move into other communities outside of HRM and around Nova Scotia: Truro, New Glasgow and Whitney Pier. There are a lot of Black communities that are outside of the Halifax Area," she said.  
Currently, Keisha is also collaborating on a project looking at the issue of food security among African Canadian communities with food experts and experts within the African Canadian population.
"Keisha is an amazing PhD student," said Dr. Martin-Misener. "Not only has she been highly successful with securing national and provincial scholarships and publishing articles, she is making an important impact speaking out about racism in higher education, supporting her colleagues and contributing to her community."