News
»
Go to news main
International collaboration between Dal Health‑NUI Galway forges important connections for OA research
Posted by
Dawn Morrison with files from ICUF (Ireland Canada University Foundation) and NUI Galway
on July 19, 2019 in
Partnerships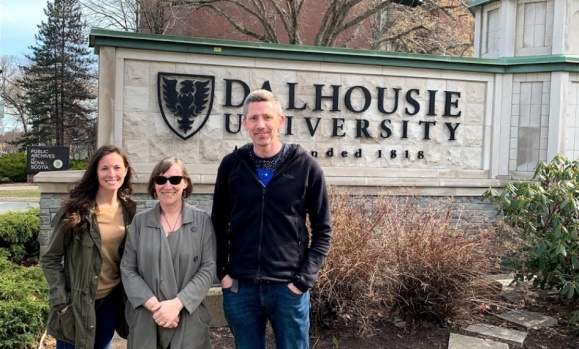 An innovative partnership between Dalhousie and NUI Galway has forged important new links between Atlantic Canada and Ireland while advancing osteoarthritis research.
Barry McDermott, a PhD student with the Translational Medical Device Lab in NUI Galway, received a prestigious Dobbin Atlantic Scholarship from the Ireland Canada University Foundation to come to Dalhousie and work with Dr. Rebecca Moyer in the Laboratory for Clinical Biomechanics and Rehabilitation in the School of Physiotherapy.
The successful, international collaboration laid the groundwork for future connection and innovation between institutions.
Dr. Rebecca Moyer, Assistant Professor in the School of Physiotherapy and Principal Investigator for the Lab, says Barry reached out to her and Dr. Cheryl Kozey, last fall with an interest in musculoskeletal health. They were struck by the diversity of his education and experience.
"Barry has a very unique background — pharmacy, engineering and veterinary science –with a particular application in neurological disorders. He brought an interesting skill set to our musculoskeletal research team, so it was a great opportunity to open those doors and grow the research," she says.
"This highly successful, international partnership is an excellent example of collaboration," says Dr. Cheryl Kozey, Acting Dean of the Faculty of Health and Professor in the School of Physiotherapy, with a cross appointment in the School of Biomedical Engineering. "By working together and exploring ground-breaking new approaches like these, we are better positioned to develop strategies for improving mobility and joint health for those with OA."
Working to improve joint health
The research involved determining how people with osteoarthritis respond to physical interventions by developing MRI derived computational models of knee osteoarthritis. The work will feed into research conducted by Dr. Moyer and her group into the development of clinically relevant biomarkers of osteoarthritis, and therapeutic interventions to improve joint health and reduce disease progression.
Ultimately, the goal is to be able to use MR images of arthritic knees to identify patients at risk, indicate those who would benefit from surgery and optimize physical activity for patients.
The partnership was beneficial for all involved. "It was an opportunity for Barry to get this experience as a PhD student, and also great for us to build this new capacity," Dr. Moyer says.
"Through Dr. Cheryl Kozey's work, we had good information on human movement and forces that are acting on the knee joint in people with and without osteoarthritis. We took specific human movement mechanics and applied them to the models to better understand the impact of these forces and loads on the knee joint surface," she adds.
The Innovation in Musculoskeletal Health and Physical Activity Team (IMPACT) at Dalhousie is a multidisciplinary and multi Faculty group of researchers who are working on improving the joint health and overall health of the large number of adult Canadians who have mobility deficits and pain associated with osteoarthritis and includes researchers from the Faculties of Health, Medicine and Engineering, with Cheryl Kozey, Derek Rutherford and Rebecca Moyer from Health.
A unique collaboration
Barry says he had a memorable and productive time at Dalhousie and hopes to keep the collaboration going into the future.
"The visit to Dalhousie gave me the opportunity to initiate a unique collaboration between our two groups to develop innovative medical technologies, and to support a stronger understanding of orthopaedics for my future work at NUIG," he says.