News
»
Go to news main
Unstoppable: Michelle Mahoney
Posted by
Dawn Morrison
on July 17, 2019 in
Citizenship
"Overwhelmed," is how Michelle Mahoney describes her reaction when she heard that the Occupational Therapy's Class of 2019 had created a student award acknowledging her contributions to the School and the profession of OT as a whole. "I'm so honoured — I can't tell you how much this award means to me."
The class wanted to acknowledge Michelle and the impact she made during her time as the receptionist and website manager in OT, where she formed close bonds with the students. The class raised nearly $700 as a start, and have since opened the fund up to accept donations from the public. Beginning this fall, the $500 Class of 2019 Michelle Mahoney Prize will be awarded to a second year OT student.
"Michelle had a lasting impact on our class," said graduating OT student Laura Power in an address to her classmates. "We wanted to recognize her enthusiastic, positive spirit, all while providing students with encouragement and support throughout their journey here at Dalhousie."
"She embodies all of the characteristics that we strive to attain as occupational therapists, and encourages everyone to be the best version of themselves," said Cynthia Osborne. "Her life motto is "I can do anything, it just might take me a little longer. I am unstoppable."
A Lasting Legacy
Originally from Springhill, NS, Michelle is the youngest of 5 children. She graduated from St. FX in 1995 with a Bachelor of Arts in Sociology, and has worked at Dalhousie in various roles for over 20 years, including 10 spent in the School of OT. She sits on the Board of Directors for Easter Seals Nova Scotia and has been recently been appointed to the national board.
Michelle was born with Arthrogryposis, a rare condition (she was only the third known case in Nova Scotia). She has limited mobility in her arms, hands and knees, and doctors told her parents she would probably never walk, feed or dress herself.
Today, Michelle is an avid surfer and skier, and takes part in the Drop Zone fundraiser for Easter Seals where she rappels down the tallest buildings in Halifax. She says with the help of occupational therapists throughout her life, she's able to learn to swim, ride a horse, drive a car and more. "Occupational therapists have helped me with everything from putting on my own socks, to attending university."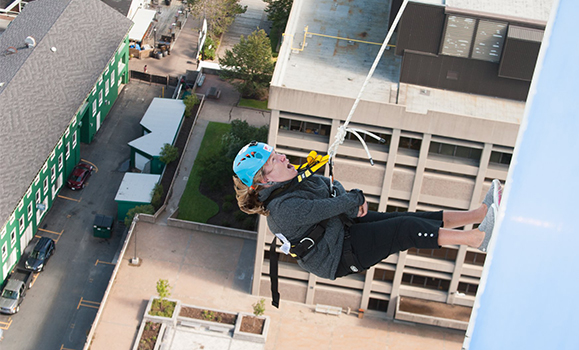 Michelle rappels down some of the highest buildings in Halifax to raise money.

She is also a strong self-advocate with a determination to succeed. "I learned from a young age to advocate for myself, and I never back down from a challenge.  In fact, I love an obstacle. Just tell me I can't do something, and watch me do it."
It's this spirit of determination, advocacy and positivity that the students wanted to recognize with the award in her honour.
"We thought it would be a great way to recognize Michelle's contribution to the school of OT and our profession as a whole. It's not just one person she has influenced during her time here but countless students, faculty and staff," Laura says.
"She has also given us the insight and wisdom to make us the best therapists possible," added Cynthia. "When we took the idea to our class, we had a lot of interest. Director Lynn Shaw was also instrumental in the speedy development of this prize, providing a lot of support to us in making it happen over a very short timeframe."
Although she is starting a new chapter within the Faculty of Law, Michelle has made an indelible impact on the School of Occupational Therapy, and will for years to come.
"I'm thrilled and very humbled by this award. It makes me feel pretty successful, because of the impact I've made on student lives," she says, adding with a smile. "They'll always remember me."