News
»
Go to news main
Get out and PLEY!
Posted by
Alex Smith and Michelle Stone
on July 12, 2019 in
Community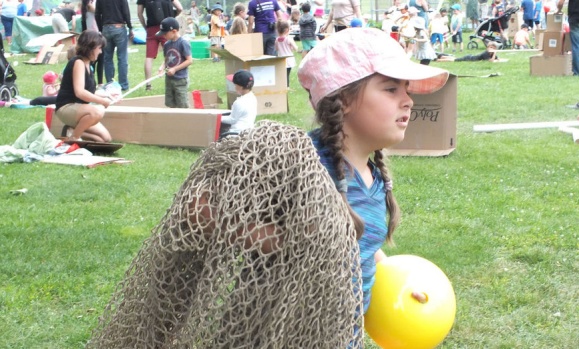 Summer of PLEY (Physical Literacy in the Early Years) public events take Dalhousie research findings out of the lab and into the community.
Should parents let their children play with boxes, buckets, tarps and lumber? The research says yes, for a variety of important reasons related to their growth, happiness, and overall health.
Researchers in the Faculty of Health's School of Health and Human Performance and Healthy Populations Institute have created The Summer of PLEY to spread the message about the value of children's unstructured play with moveable materials ("loose parts"), and to equip parents, educators, and the public with the understanding of how to support outdoor play – with its risks – to optimize children's development.
The Summer of PLEY is a series of five free public events spanning three weeks in July and August that focuses on the critical importance of outdoor play in childhood development. Dalhousie University's Physical Literacy in the Early Years project (PLEY) invites children, parents, caregivers and professionals from early childhood education, the primary school system, health care, recreation and other backgrounds to participate in events that will share and build on the project's research findings.
What is loose parts play?
The Summer of PLEY kicks off July 22 with a public loose parts pop-up play event happening on the Halifax South Commons (beside the Pavilion) anticipated to attract up to 150 children. Loose parts are anything that children can move, stack and manipulate independently to create their own fluid play experiences. Loose parts frequently include recycled materials such as boxes, milk crates, tires, tarps, dressed lumber and wood scraps, old fabric, cable spools and other materials.
"Nova Scotia researchers are helping to unlock the power of play," says Dr. Michelle Stone, Assistant Professor, School of Health and Human Performance, and Associate Research Scholar in the Healthy Populations Institute, Dalhousie University. "The PLEY research points to the expected benefits of widespread adoption of outdoor loose parts play for the early years while adding to our overall understanding of the significant contributions outdoor play makes to children's development and well-being," she says. "Our work is part of a growing national body of knowledge that informs policy and can serve as a guide in program development. Ultimately our interests are focused on healthier, happier, more resilient children."
On August 7, the PLEY team will host a panel discussion at the IWK Health Centre, "Building Resilient Children: Injury Prevention in the World of Risky Play," featuring internationally renowned outdoor play researcher, Dr. Mariana Brussoni (https://brussonilab.ca/), in partnership with the Chief Medical Officer of Health for Nova Scotia, Dr. Robert Strang, the IWK Child Safety Link, and the Atlantic Collaborative on Injury Prevention. Dr. Brussoni is an Associate Professor in the Department of Pediatrics and the School of Population and Public Health at the University of British Columbia. She is frequently interviewed by media to share her expertise particularly as it relates to children, risk and play.
On August 8, Dr. Brussoni will deliver a keynote address – Risk, Resilience and the Renaissance of Play – at Dalhousie's University Club.
The final Summer of PLEY events will be held at the Halifax Central Public Library on August 10, featuring another loose parts play session, and public lecture focused on how to support outdoor play and physical literacy development in early years environments. Educators who participated in the PLEY project will share their experience of integrating loose parts into childcare outdoor play spaces. There will also be a presentation featuring the voices and images of children as they engage in loose parts and nature play.
The Summer of PLEY series is funded by Research Nova Scotia and the Dalhousie Medical Research Foundation. Numerous businesses have donated materials for the loose parts event including Aerobics First, Atlantic Superstore, Canadian Tire, Cobequid Consulting, CycleSmith, MEC, Scotia Tire, SportChek and Walmart. The UK-based Pop-Up Adventure Play assisted with training.  The series would not have been possible without the remarkable commitment of all our volunteers.
Additional information and resources about outdoor play and the Summer of PLEY series can be found at Play Outside NS.
PLEY EVENTS: FREE AND OPEN TO ALL
July 22, 2019 – Pop-up Loose Parts playground
Location: Halifax South Commons adjacent to The Pavilion
Time: 11:00 a.m. – 2:00 p.m.
Brief Description: Loose parts pop-up playground on the Halifax South Commons. What will the kids create? Attendees encouraged to bring water, sun block and hats. 
Audience: Free public event for children aged 2 -12.
August 7, 2019 – Building resilient children: Injury prevention in the world of risky play
Location: IWK Health Center, Cineplex Auditorium 
Time: 9:00  – 10:00 a.m.
Brief Description:  A free panel discussion with the Chief Medical Officer of Health for Nova Scotia Dr. Robert Strang, Dr. Mariana Brussoni, Dr. Michelle Stone and Jane Cawley from the PLEY Project, Sandra Newton from the IWK Child Safety Link, and Jennifer Russell from the Atlantic Collaborative on Injury Prevention.
Audience: For Injury Prevention and Health Professionals and other interested members of the public.
August 8, 2019 – Risk, resilience and the renaissance of play
Location: Dalhousie's University Club, Great Hall (second floor)
Time: 5:00 – 7:00 p.m.
Brief Description: Keynote lecture and social event with Dr. Mariana Brussoni about how risky outdoor play is critical for establishing healthier, happier, and more resilient communities.
Audience: Researchers and Community Builders
August 10, 2019 – The Power of PLEY: Why kids need to play every day – Part 1, Loose Parts session
Location: Halifax Central Library. BMO Community Room
Time: 12-1:30 p.m.
Brief Description: A free loose parts play event in the BMO Community Room for families to drop in and play with loose parts ahead of presentations on how to support outdoor play and physical literacy taking place in Paul O' Regan Hall (See event Listing below).
Audience: All members of the public
August 10, 2019 – The Power of PLEY: Why kids need to play every day – Part 2, panel discussion
Location: Halifax Central Library, Paul O'Regan Hall
Time: 2:00 – 4:00 p.m.
Brief Description: Dalhousie University's Physical Literacy in the Early Years (PLEY) project research team is hosting a free panel discussion about the importance of outdoor play and physical literacy development.
Audience: All members of the public