News
»
Go to news main
Early intervention for tiny ears
Posted by
Dawn Morrison
on May 6, 2019 in
News

May is Speech and Hearing Month! A Dal Health researcher advocates for universal hearing screening services for Canadian infants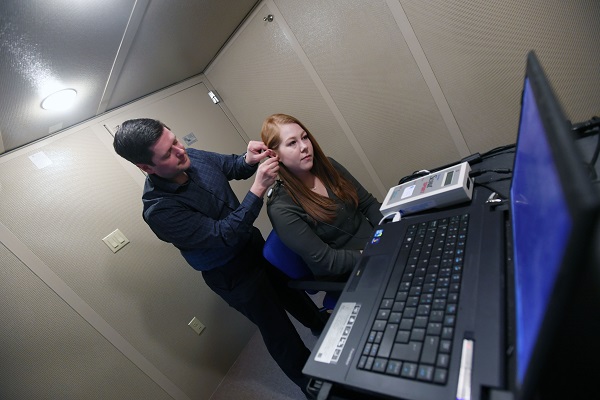 Dr. Steve Aiken demonstrates otoacoustic emissions testing for second year Audiology student, Kelsey McIntyre



Parents can have their newborns' hearing tested quickly and easily — in fact, the screening can happen moments after birth, as soon as the baby's ears are cleared. It's something that might not be on the radar for new parents, but this preventative step can significantly improve communication outcomes for little ones.

Dr. Steve Aiken, Associate Professor in the School of Communication Sciences & Disorders, says all babies should have their hearing tested, and as soon as possible.

"Babies' ears can be tested in a very easy, non-invasive way. Healthy infant ears actually emit sounds in response to other sounds, called otoacoustic emissions. We use a special, tiny earphone with a microphone, play a sound and we can record if a sound comes back. The equipment is not expensive, and nurses can do it right in the hospital."

Why early detection and intervention is so important

"Early detection of hearing loss can create better educational outcomes and ensure that there is a proper technical intervention early on if needed, like hearing aids," says Dr. Aiken. "If there is an issue, this early intervention is critical in avoiding language delays and providing support, whether through speech or sign language. The earlier a hearing problem is detected the better."

May is Speech and Hearing month in Canada, a time to highlight the importance of early detection and intervention for hearing and communication disorders. Nova Scotia is one of a handful of provinces providing comprehensive early hearing detection and intervention services to infants. Over 96% of Nova Scotia babies are screened in this way, earning our province a passing grade on a national report card assessing infant hearing services.

Dr. Aiken was instrumental in creating The Canadian Infant Hearing Task Force (CIHTF), which he chaired until last year. The CIHTF advocates for early hearing detection and intervention programs (EHDI) in all Canadian provinces and territories. Its last full report card was issued in 2014, with a progress report issued in 2016.   

Nova Scotia earned a grade of 'sufficient' on this national assessment, as one of the provinces delivering comprehensive early hearing screening and intervention services for infants. Canada did not fare as well, receiving an 'insufficient' grade on the 2019 Report Card on Canadian Early Hearing Detection and Intervention Programs. A key factor in Canada's poor result was inconsistency in delivering a universal standard of hearing screening and intervention services for infants across the country.

"Your postal code shouldn't determine access to services for newborn and infant hearing loss," says Dr. Aiken.

The 2019 report card detailed "an alarming disparity" in the hearing health services available to infants and children in Canada, and revealed little has changed since the CIHTF's last full report in 2014.

The group of audiology experts aims to raise awareness and advocate for comprehensive EHDI programs across Canada. They also developed a change.org petition that was read in the House of Commons, calling on the federal government to show some leadership in this area at the policy level.

Quick Facts

2019 Report Card on Canadian Early Hearing Detection and Intervention Programs grades provinces and territories on a number of areas relating to infant hearing health, including:

•    universal hearing screening of all newborns,
•    early identification of hearing loss in infants,
•    intervention including technology such as hearing aids,
•    family support, and
•    ongoing  monitoring and evaluation of the program.

Canada's overall grade was insufficient, as were 7 out of 13 regions across the country, while Nova Scotia received a rating of sufficient.

Find out more:

View the Canadian Infant Hearing Task Force, including the Nova Scotia and national report cards.
Visit the Dal Health School of Communication Sciences & Disorders website