News
»
Go to news main
Profiles in Leadership: Dr. Marion Brown
Posted by
Dawn Morrison
on December 17, 2018 in
News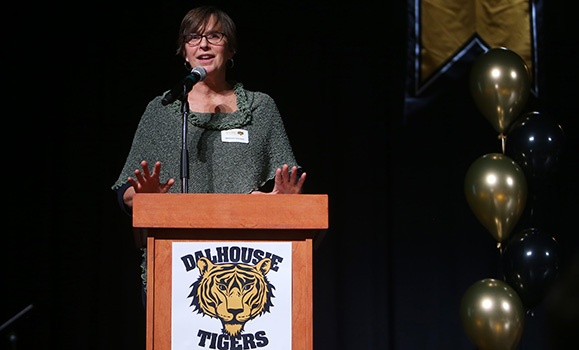 Dr. Marion Brown says she was honoured to be the featured speaker at the 9th Annual Women in Leadership Spotlight Dinner in November, organized by the women's basketball and volleyball Tigers.
"I was really touched to be asked," she says, sharing that she was recovering from a serious car accident at the time. "It was at a pivotal time for me in my recovery. I was honoured to do it." Dr. Brown is an Associate Professor in the School of Social Work, a Dal alumna (BA'88, BSW'90, MSW'97), and a former basketball Tiger.
Dealing with a challenging recovery and receiving support from other former Tigers prompted Dr. Brown to think about the ways in which sport has influenced her life, and created deep and lifelong connections.
"When I was recovering, people I played basketball with 30 years ago were in touch, asking what they could do to help. It meant a lot to me, and made me think about what it means to be on a team, not just at the time, but for years afterward," she says. "The fact that your teammates can be in your life for 20 or 30 years is amazing."
Upholding the sisterhood
Dr. Brown's research topics include critical girlhood studies, sexualized violence, and professional identity development. Her work, and the support she received through her recovery, inspired her to weave the theme of 'sisterhood' through her leadership talk.
"As soon as Coach Anna (Stammberger) asked me to be the speaker, I knew I would talk about the sisterhood – which is simply a solidarity among all female-identifying people," she says. "It's so important to spread the message of women believing in each other, supporting each other, and to counter the prevailing cultural messaging that wants to see women pitted against each other.  Let's not breathe any more life into that narrative.  Let's seize every opportunity to uphold the sisterhood."
Dr. Brown highlighted three particular ways that sport helps to grow the sisterhood: "First, sport celebrates a range of women, and therefore helps us see a great diversity among those who identify as female; second, sport recognizes a woman's body for what it does, more than how it looks - and isn't that welcome messaging? And third, every time we have a team of girls, we have a pilot project for growing the sisterhood, so let's do it."
Dr. Brown ended her address by asking all in the room to recognize that "we all contribute to the culture, the society, in which girls are growing up so we all have a role to play in shifting the words and actions that dismiss or degrade women and fostering the connections that uphold the sisterhood."
The annual Women in Leadership Spotlight Dinner is an important fundraiser for the Dal Tigers women's basketball and volleybal teams, promoting women leaders and celebrating student athletes and their successes in the classroom, on the court and in the community.