News
»
Go to news main
Dal Health researcher Dr. Margot Latimer coauthors new research published in CMAJ
Posted by
Terry Murray-Arnold
on December 10, 2018 in
News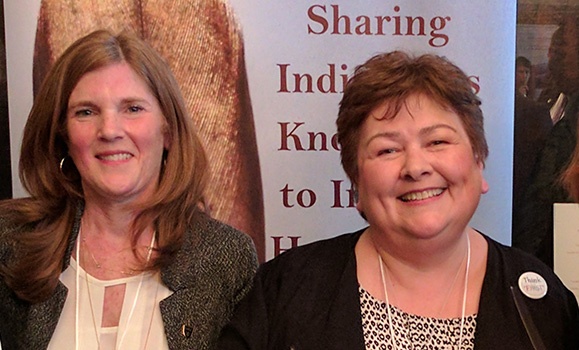 First Nations children and youth experiencing more pain than non–First Nations children
First Nations children and youth are experiencing more pain than non–First Nations children, but do not access specialist or mental health services at the same rate as their non–First Nations peers, found new research published in CMAJ (Canadian Medical Association Journal). View it here: https://bit.ly/2C3M2aN
"Both physical pain and mental health conditions, and their relation to each other, are of substantial concern within the Indigenous population, given that Health Canada reports First Nations youth are 5–7 times more likely to [die by] suicide than non–First Nations youth," writes Dr. Margot Latimer, with coauthors. Dr. Latimer has appointments in the Faculty of Health, the Faculty of Medicine, and the IWK Health Centre.
The study looked at data on 2631 First Nations and non–First Nations children and youth aged 17 years and younger who accessed care and specialist treatment for pain in Atlantic Canada between 1997 and 2015. Compared with non–First Nations children, the proportion of First Nations children and youth who sought treatment for 10 out of 13 pain indicators was higher. These included admissions to the neonatal intensive care unit, diagnoses of dental and ear conditions, headache, burns, diabetes, wounds and fractures. The finding of many diagnoses of painful ear and dental conditions was consistent with other research, although the lower percentages of visits to certain specialists by the First Nations group was unexpected.
Although the researchers found an association between early physical pain and mental diagnoses in non–First Nations adolescents, they did not find it in the First Nations cohort. They suggest this may be because of lack of mental health services and long wait times leading to delayed diagnoses.
They call for action to address these disparities.
"Given the profound lingering impact of colonization, First Nations newborns, children and youth are a group requiring high-priority designation to create policies to improve access to health services focusing on pain and mental health assessment, management and follow-up," write the authors.
Co-author Dr. Latimer sees education of health practitioners serving these populations as a crucial step to overcoming issues. "The solution is multi-level and feasible; creating opportunities for health providers to learn about Indigenous People's history and the impact of that history on determinants of health, plus put into practice timely, equitable, culturally-safe and evidence-based health practices reflective of Indigenous People's perspective on health," she says. 
In Winter 2019, Dalhousie University is piloting a core curriculum, inter-professional (IPHE) course for all first year Nursing, Medicine and Dentistry students called 'Introduction to Cultural Safety in Indigenous Health'. The course will teach Indigenous People's history and how they prefer to interact with health care providers and the health care system. It was developed in consultation with First Nations communities and is co-taught by Indigenous and non-Indigenous faculty and Indigenous facilitators.
"Occurrence of and referral to specialists for pain-related diagnoses in First Nations and non–First Nations children and youth" is published December 10, 2018.
Find out more: