News
»
Go to news main
Bringing Healthy Living to Life
Posted by
Jonathan Briggins
on September 21, 2018 in
News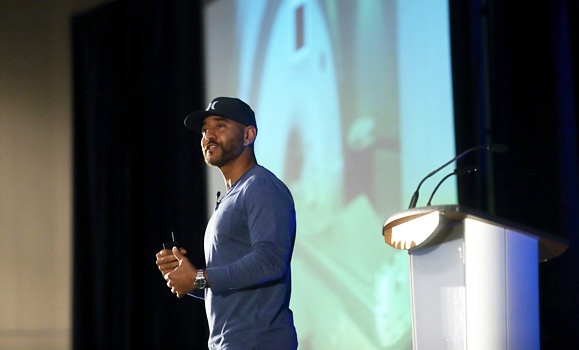 A little self-care motivation kicked off the opening of Dalhousie's collaborative health conference on Wednesday night.
The Healthy Living, Healthy Life Conference — hosted by the Faculty of Health as part of Dal's 200th anniversary celebrations — brings together academics, researchers and community members from Sept. 19-21 at the Halifax Convention Centre.

"One of the main aims (of the conference) was to bring the partners together — bring all the different disciplines together, all the people who are involved in health, into one conference where people can see what the difference that collaborative approaches to health can make," says Lynn Shaw, director of the School of Occupational Therapy and chair of the conference.

The conference's opening keynote was given by Shawn Stevenson, bestselling author and creator of popular health podcast, The Model Health Show. The talk was centred around community health with a focus on self-care.

"[Health of self] is what I really want to focus on because it becomes incredibly difficult to influence your loved ones, your family, your friends and to influence the community at large if you're not okay," Stevenson told the crowd.

"It really starts with us."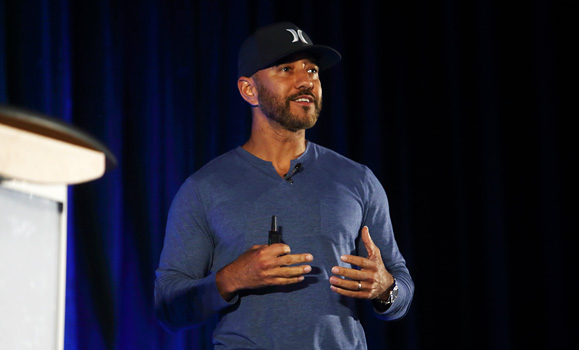 Stevenson's talk was built around four pillars: exercise, sleep, nutrition and healthy living. He said he's big on action backed by data, and throughout the talk he presented different ideas of how to improve the four pillars he talked about. Along with how these goals can be achieved, Stevenson referenced the science and research to highlight why he suggests the action items.

An interactive talk
As Stevenson stood on stage in a baseball hat, Henley shirt and jeans, he engaged the crowd with interactive elements. While talking about exercise, he got audience to stand up and do some stretching and chair squats. He also asked if people in the room did high-intensity interval training and used specific example from people in the room as he discussed exercise.

Later on in the evening, there was a brief moment where he encouraged everybody to write down two private health goals for the season. His tone throughout the evening was encouraging as he presented self-care tips.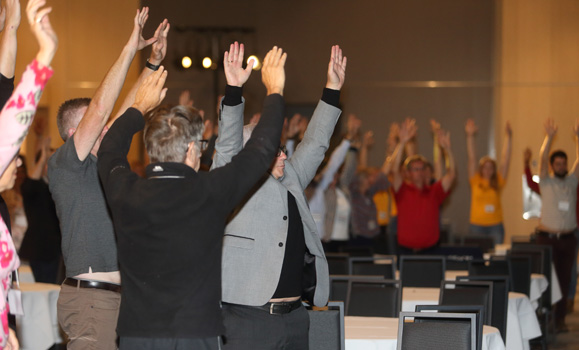 The biggest laugh of the night came during the portion on nutrition, while Stevenson was talking about the younger years when people tend to eat whatever they want. Stevenson mentioned pizza and milkshakes — and someone in the audience mentioned "donair!"

As you might expect, Stevenson — who is American, and graduate of the University of Missouri - St. Louis — wasn't familiar with the beloved Halifax food, proclaiming "what?" to a huge laugh from the crowd. He proceeded to make reference to donairs throughout the night when talking about nutrition.

In closing, Stevenson encouraged people to show people that they care and to embrace their friends and family.

"This conference is really about taking control of our own health and from there having the trickle down effect into our families and into our community," said Stevenson. "The world really needs you, it needs people doing great work. And it starts with you, taking care of you, because you deserve it."

A full schedule of events
Healthy Living, Healthy Life has a schedule full of breakout sessions, lectures, workshops and presentations.

For example, on Thursday morning, students participated in a 3 Minute Health Innovation Competition, presenting short presentations of innovative health projects. And on Friday afternoon, the conference hosts a moderated conversation titled "Turning Health Upside Down" featuring Dr. Monika Dutt and Dr. Timothy Allen Caulfield. The session focuses on the conference theme of transforming health and features two health leaders that debunk myths and bring new ideas.

And it all concludes on Saturday with a community workout with Shaun T, a world-famous fitness expert, motivational speaker and choreographer. It's his first trip to Nova Scotia. Tickets are available online.

For all the details, visit the Healthy Living, Healthy Life conference website.