News
»
Go to news main
A partnership across continents: The Dalhousie‑Kuwait project
Posted by
Trudi Smith, with files from Colleen MacDonald
on August 31, 2018 in
News
Throughout 2018, the Faculty of Health will be highlighting 200 health achievements from our Faculty's rich history of teaching, scholarship and service. This feature is part of our Dal Health 200 series. Follow us on Facebook and Twitter to learn more.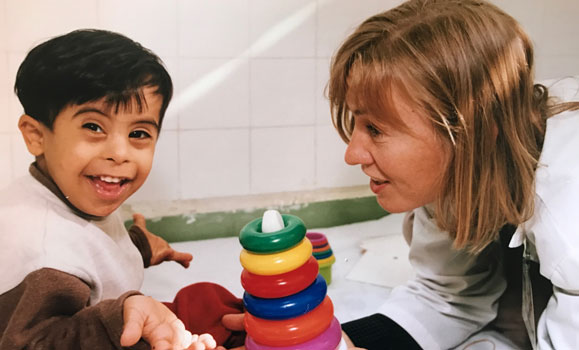 In 1996, Dalhousie University and the Kuwait Ministry of Health signed a $30 million contract that led to the establishment the Kuwait-Dalhousie Physiotherapy and Rehabilitation Centre (KDPRC).
Then School of Physiotherapy director Dr. Lydia Makrides was the Dal lead on the project that brought an interprofessional team of 43 Canadian, British, Australian and South African health professionals and their families to Kuwait. Their aim was to improve the standard of rehabilitation care in Kuwait through education, service and research. The multidisciplinary team included physiotherapists, occupational therapists, speech-language pathologists, audiologists, psychologists, a nurse and an exercise physiologist who collaborated and exchanged ideas with their Kuwaiti counterparts.                                                                                      
As Centre director, Physiotherapy professor Dr. Gail Dechman and the team worked with the Kuwaiti Ministry of Health to help establish a high standard of rehabilitation care for the country. As part of this initiative, Canadian experts travelled to Kuwait for two-week periods, offering intensive workshops in various clinical areas.
While the project ended in 2000, it's had a lasting impact. For the people of Kuwait, enhanced rehabilitation care and for the Dalhousie team, the social and cultural experiences continue to resonate.