News
»
Go to news main
What it means to give back: Chris Cluett and Justin Whittle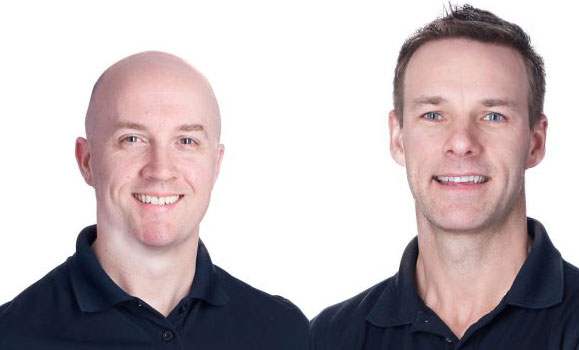 Chris Cluett (BScPT'03)
and
Justin Whittle (BScPT'03)
became friends while studying Kinesiology at Memorial University. They both decided to attend Dalhousie School of Physiotherapy because of its reputation for having a great faculty and providing a great physiotherapy education. Plus... they heard Dal liked Newfoundlanders! 
"We always worked well together on various assignments and projects through six years of university and knew that we would work well together as business partners," says Chris. "That's held true since starting our business in 2004." They opened ProActive Physio in 2004.  Over time they formed strategic partnerships with other physiotherapists as clinic partners enabling new physiotherapists to get started as new clinic owners sooner.
"Our model provides a brand and a box of know-how that removes complexity for therapists," says Justin. This model has seen ProActive grow from one location in the beginning  to 11 locations in Newfoundland as well as clinics in Manitoba, New Brunswick and Prince Edward Island. With the expansion the opportunity for additional services have grown to include; massage therapy, occupational health services (POHS), medical services, women's health, chiropractic, nurse practitioner, accupuncture, athletic therapy, kinesiology and dietetics.
With perseverance as a core value of their business success, Chris and Justin were driven to establish the Perseverance Award to recognize a Dalhousie physiotherapy student, not just for academic achievement but to recognize the effort and attitude behind success. "Our intent for the award was to provide motivation and a financial lift for a student, and to recognize their hard work and efforts. Our experience with the School of Physiotherapy from administrative staff to all of our professors was that they treated students like family, always! They went well beyond what would have been expected and made  a positive impact on our lives'" says Chris.
The desire to give back has translated beyond the Perseverance Award. They provide solid clinical placements for physiotherapy and kinesiology students, a strong workplace culture that exemplifies the values of support, communication and transparency, community support through volunteer work with their local Arthritis and Parkinson's Societies, as well as community sports event coverage, to name a few. 
Dr. Anne Fenety, Director of the School of Physiotherapy, feels that, "Chris and Justin exemplify what we try to instill in our students. We are so pleased to see not only their business success, but their leadership success. They took the time and cared enough to give back to our school, our students and their community. That is leadership! That is true success!"
Their future is looking very bright for these alumni. They are further expanding their clinics into Atlantic Canada, launching 'Cyno', a new Virtual/Tele-Health Solutions platform that focuses on enhancing accessibility to healthcare (especially in rural areas), invested in and helped develop a self treatment/exercise device called Nexxbar which was pitched on CBC's Dragon's Den. The episode will be air this fall.
 "To us Perseverance means pushing through adversity, challenges and struggles. Pain is temporary, quitting is permanent," says Chris. "Quitting was never an option for us. The award is a reminder of this."