Students Emily Drake and Perri Tutelman team up to help young adults with cancer find support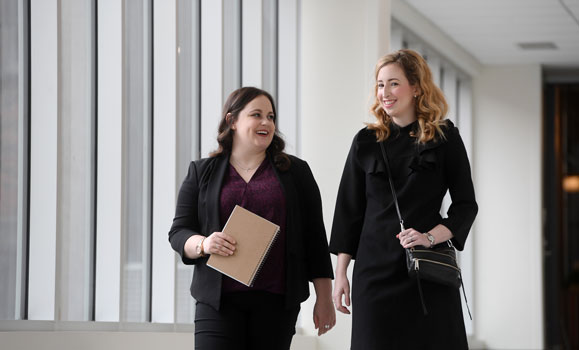 Emily Drake (PhD in Health) and Perri Tutelman (PhD in Clinical Psychology) are in two different Dal programs, but their skills and research interests complement one another. "We have intersecting interests in adolescents and young adults with cancer and psycho-oncology — the study of the psychosocial issues these young people face as a result of their illness," says Emily.
Recently, the students were invited to speak at CancerCon in Denver, Colorado. They were two of only three Canadians invited to speak at the conference.
They led a session for adolescents and young adults living with chronic/metastatic/advanced cancer.  Perri also moderated a social media panel that Emily spoke on. During the panel discussion, they guided attendees through the basics of social media, giving advice on things like how to engage with each other online, the best platforms to use and ideas on who to follow.
"It was different than a typical academic conference," says Perri. "This conference is specifically designed for patients. The experience allowed us to engage with the patient community and use the skills we learned in class and the knowledge we developed from our research."
Emily agrees, adding that conferences that are patient focused have tremendous value. "It's the largest gathering for the adolescent and young adult cancer community, that I know of, in the world, and its primary purpose is to connect these young people with each other," she says.
Perri and Emily say there are unique challenges faced by this group of young people. "One of the largest psychosocial issues faced by adolescents and young adults living with cancer is social isolation. It's less common for adolescents and young adults to be diagnosed with cancer, and so they often don't get to connect with others who are living with the same challenges," says Perri.
"Adolescents and young adults living with cancer are a marginalized oncology community because of the lack of age-appropriate resources and services that exist across the country and internationally. Young people living with advanced cancer are further marginalized because their needs are not as equally advocated for within the young adult cancer movement. These young people face unique challenges that other cancer populations may not be dealing with, like mourning the loss of their careers, living what they call, a condensed life, and communicating about their advanced illness to their young children," says Emily.
The students' chronic/metastatic/advanced cancer session at the conference focused on bringing patients together to share information, and more importantly, to connect.
"We want to connect young people living with advanced stages of cancer with each other," says Emily. "Ultimately, they're the experts on their own condition. We're there to bring what we know about young adults with cancer, social media and credible health resources, to help facilitate our sessions. It's a chance for us to use what we've learned to provide service to this community. "
CancerCon is an annual, international gathering of young adults with cancer, bringing together patients, survivors, caregivers, advocates, and activists, along with oncology team professionals and the healthcare industry. The goal of the conference is to improve the health outcomes of young adults with cancer.
Emily was funded to go to the conference by a Brain Tumour Foundation of Canada Healthcare Professional Development Grant, the Dalhousie Student Union and the Dalhousie Association of Graduate Students, and Perri was sponsored by a travel grant from the Beatrice Hunter Cancer Research Institute.