Kirk Opie, College of Pharmacy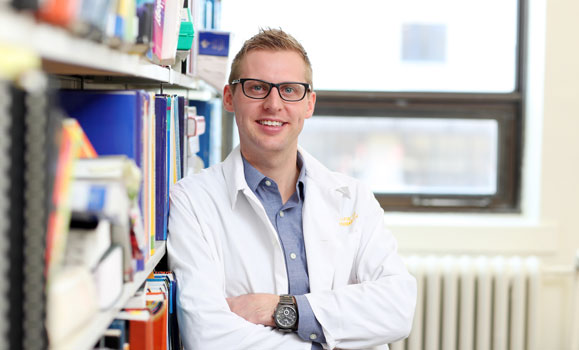 When Kirk Opie crosses the stage to receive his Bachelor of Science (Pharmacy) on May 28, he will be continuing a longstanding family tradition. His grandfather began his career in pharmacy as a certified dispenser in the 1940s before going on to medical school. His father did a Masters of Science at Dalhousie with a focus on pharmacology before beginning his career in dentistry.
Kirk's mother graduated with a BSc in Pharmacy in 1976 and recently retired after 40 years of practice — in fact, his parents met at Dalhousie. His aunt graduated with a BSc in Pharmacy in 1992 and Kirk's sister, Sarah Opie, graduated with the same degree in 2010. His other sister, Esther, is a Nursing graduate from Dalhousie.
While he is busy carving his own path, Kirk acknowledges the strong family connections to Dalhousie and particularly, the College of Pharmacy. "I really grew up in the midst of it," he says. "I credit my whole family for where I am today. I grew up watching them make a difference in people's lives and this is what led me to want to enter the health field. I want to make a difference, too."
Originally from North Sydney, Cape Breton, Kirk says his sister Sarah has been a particularly strong influence on him. "Sarah has been a role model for me, throughout my path in Pharmacy," he says, noting that they spent time working together in a Pharmacy during his program. "She helped me to develop my skills, and I love how she can connect with people. It's what I aspire to in my career."
Kirk's desire to make a difference is also what inspired him to pursue an education in Pharmacy. "I always knew I wanted to be in a field where I can interact with people and make a difference. I was drawn to the health professions, but I wasn't sure exactly where to specialize," he says. "I saw what pharmacists were doing and how the profession was evolving, and I liked where it was going.  I wanted to do something where I was involved with patient care, could develop my skills and knowledge, and help people. Pharmacy was a good fit."
Family history aside, Kirk was attracted to Dalhousie's College of Pharmacy because of its excellent reputation. "I've always heard that Dalhousie is one of the top pharmacy schools in Canada. The pharmacy profession is changing; there are so many changes to drugs and medication. At Dal, there is a lot of self-learning, and a focus on critical thinking and critical appraisal. The program really prepares you for practice. It's a well-developed program where we get the best experience possible."
In addition to graduating from university, this year marks another major event for Kirk; he's getting married in the summer.  His fiancée, Lyndsay Russell, is a graduate of Dalhousie Medical School and is finishing up a paediatric medical residency at the IWK.
Kirk's future career plans include working in a community practice. "I feel that's where I can make the biggest difference."