News
»
Go to news main
The Youth Project: 25 years of support for the LGBTQ2+ community
Throughout 2018, the Faculty of Health will be highlighting 200 health achievements from our Faculty's rich history of teaching, scholarship and service. This feature is part of our Dal Health 200 series. Follow us on Facebook and Twitter to learn more.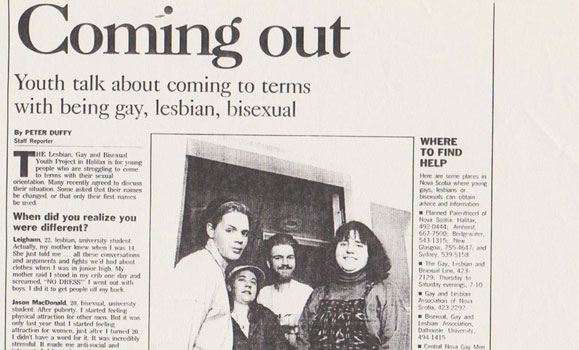 "In Nova Scotia in the early 90's, homophobia was rampant," says Maura Donovan. "In schools, in families, pretty much everywhere — no one was really speaking up against it in most cases."  
In the fall of 1993, Maura Donovan was a student in the Bachelor of Social Work program at Dalhousie about to begin her second field placement. Witnessing the widespread challenges LGBTQ2+ youth experienced, Donovan decided to see if she could start a support program for her field placement.
For the placement, Donovan sought to establish a community group to provide support and resources for "gay youth."  "That was the term that was used then," Donovan explains.
"They were at risk for everything – homelessness, suicide, not finishing high school, poverty, addictions, gay-bashing, HIV. Even pregnancy, because getting pregnant was a way to prove you weren't gay."
The lack of information and resources made it difficult for people to understand the severity of the issue. Some parents thought their child was just 'going through a phase.' Some believed homosexuality was an illness that had to be cured. Even some older members of the gay community believed bisexuality didn't exist.
"Most people had no idea what two-spirited meant, and thought transgender meant being a drag queen. And concepts like genderqueer and non-binary — I don't think anyone had even put words to those identities yet. So for queer youth of all identities, there was lots of fear."
Support for underserved youth
Donovan had been involved in starting two earlier support groups for lesbian, gay, and bisexual youth, before beginning the Youth Project. She also worked for Nova Scotia Public Interest Research Group (NSPIRG), doing research on homophobic abuse in Nova Scotia. 
"I knew there was this huge unmet need in the community," she says. "So I approached the Field Coordinator at the School of Social Work about starting something for this underserved community. She was supportive right from the start, and that was both a surprise and a relief. I also had amazing support from Brenda Richard, my Faculty Field Advisor at the School of Social Work."
After having difficulty finding a sponsor organization, finally there was some good news. Planned Parenthood Nova Scotia, an advocate for youth empowerment and for access to sexual health information and services, came on board to support the Youth Project. Working with the youth, Maura began to develop "a really solid, ethical, reflective, youth-directed program."
"A lot of decisions were made in those early months, about what kind of service this would be. The youth members decided to have the program drug and alcohol free, and allow the maximum age to be 25 years old. They all also worked hard to be explicitly an inclusive space, making sure everyone, no matter what their background, felt welcome," she says. 
Planned Parenthood and the School of Social Work were instrumental in developing a solid service with clear guidelines, policies, and a progressive delivery model. "What Brenda did was a combination of so many things – coaching, mentoring, encouraging – always with such high ethical standards and regard for human dignity. That was such a gift." 
Twenty five years later, the Youth Project remains a powerhouse of support and resources. It is still a youth-directed organization, ensuring that their programs and services remain relevant. It is a place where young people who are at risk of abuse, sexualized violence, suicide and depression can access helpful resources and support.
"Anyone who has been oppressed and isolated, they need exposure to accurate information about themselves, to counteract the negative stereotypes and the lies they've been told by society," Donovan says.  
Once people are better equipped to deal with the challenges they'll face, then they can go out in the world and move forward in their careers or personal development. Donovan says "you can't do that from a place of isolation and shame."'
After the field placement ended, Donovan continued to volunteer with the Youth Project until 1998. Donovan says Nova Scotia has the Youth Project to this day because back in 1993, Brenda Richard, the School of Social Work, and Planned Parenthood Nova Scotia believed in her, and this project.
"With the right mentoring and support, students can do many great things. But we won't know a student's potential unless we believe in and take a chance on them."
Find out more: