nin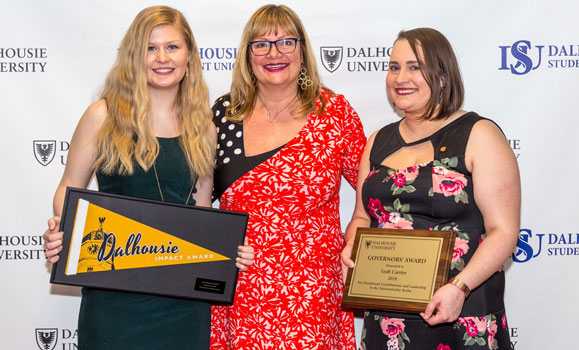 Each year, the Dalhousie Impact Awards recognize outstanding student leaders for their contributions to the community. This year, nine Dal Health students walked away from the March 22nd ceremony with honours, and we couldn't be prouder!
Governors' Award
The Governors' Awards are the top student awards at Dal, recognizing students who contribute to University and community life, while achieving high academic standing.

Leah Carrier, Nursing
Martha Paynter, Nursing
Read more about Leah and Martha: Student leadership that matters: Get to know Dal's 2018 Governors' Award winners
Varsity Athlete Award
Awarded to a varsity student-athlete who demonstrates significant contribution to the community, has increased awareness at Dalhousie of a given charity or cause, demonstrates positive leadership, and inspires others to get involved.
Adam Spragg, Health and Human Performance
Co-captain of the men's volleyball team
Two-time Academic All-Canadian
Involved with Special Tigers program
Volunteer at Toronto General Hospital
Student Wellness Award

Awarded to a student who best demonstrates leadership in promoting and contributing to a healthy campus, is a role model for health and wellness both in practice, and by impacting others to lead a healthy lifestyle.

Madeline Tweel, Health Administration
Director of the Dalhousie Medical Campus Response Team, and past recipient of the DMCRT Leadership Award

Worked with senior executives to help develop strategies to reduce surgical wait times, and built a quality framework for surgical services in NS

Alongside volunteers, operates an anonymous peer-to-peer email service to help students navigate mental health challenges

Organized Mental Health Awareness Week at Dalhousie
Organizes St. John Ambulance therapy dog visits to campus
Rising Star Award
Awarded to students who have demonstrated an outstanding level of committment, leadership, creativity and initative to the DSU, as well as to the campus and community at large.
Kathleen MacMillan, Pharmacy
DSU Certificate of Distinction
Awarded to students who demonstrate above-average contributions to campus life over the course of a University career.

Nila Joshi, Health
Past VP of the Dal Association of Psychology students
Volunteered in the Johnson Early Learning Lab and the Autism Research Centre
Sat on Board of Directors of HOPES Health Centre

Coordinator for the Vedanta Ashram Society's week-long Hindu camp
Gold D
Awarded to students who demonstrate an elite level of involvment and achievement in campus life over the course of their university career.
Kathleen Leaman, Social Work
Advocates and encourages students to develop self-advocacy skills
Senior Peer Advisor at the Dalhousie Bissett Student Success Centre
First social work student to volunteer wit hDalhousie University Student Advocacy Society
Senior Writing Tutor at teh Dalhousie Writing Centre
Winner of the NS College of Social Workers Bursary 2018
Faculty Leadership Award
Awarded to a student from each faculty who exemplify the highest level of passion for their discipline, take initative in creating new opportunities and encourage their peers to enagage in faculty initatives.
Samantha Delorey, Nursing
VP Professional Development of Dal Nursing Society
Research Assistant focusing on community and mental health, and completed an independent research project in this field

Keynote speaker at the Canadian Nursing Students' Association Atlantic Regional Conference
Organizes workshops on resume and interview skills and strategies for upper year students
Awarded first place in last year's Nursing Showcase
Malcolm Honour Award
Awarded to a student for an elite level of involvement and achievement in campus life over the course of a university career.

Alejandro Gutierrez Ocampo, Health Administration
Founder and current board member of HOPES Health Centre

President of the Association of Health Administration Students

DMCRT Volunteer

Student health promotion volunteer

Community Day volunteer
Recipient of the Glen Moore Memorial Award
See more:
Check out the Dal Student Life Impact Awards photo gallery on Facebook.