News
»
Go to news main
National Osteoarthritis Researchers Meet at Dalhousie
Delegates plan national strategy to help those with OA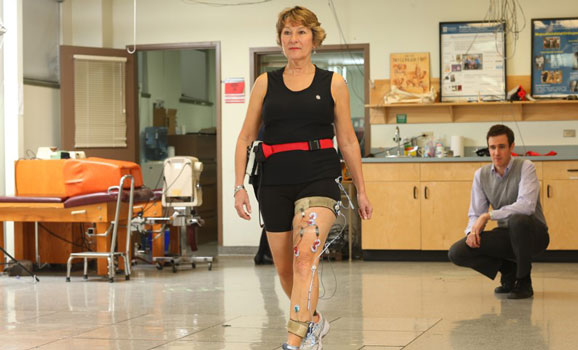 Osteoarthritis (OA) is thought to be a 'wear and tear' disease that affects older adults, but this disease also affects people early on in adulthood. Experts say that OA is reaching epidemic proportions in Canada, negatively impacting mobility and leading to significant health care costs. Researchers and other delegates from across the country met at Dalhousie on October 25-26, 2017 for GaitNET OA; a two-day summit representing the first steps towards a national OA strategy to improve mobility and joint health in those with OA.
Discussions centered on ways to collaborate, enhance care and establish evidence-based tools and guidelines for managing joint health. A key focus for future efforts will be on early intervention strategies to effectively manage the disease by improving joint health and reducing the number of people who turn to joint replacement surgery as their only treatment option.
"Five million Canadians report having an arthritic condition. In Nova Scotia, around 25 per cent of adults have arthritis," says Dr. Cheryl Hubley-Kozey, Associate Dean of Research in the Faculty of Health and principal applicant on the grants from the Arthritis Society (TAS) and the Canadian Institutes for Health Research (CIHR) who jointly funded this meeting. She notes that Nova Scotia has the longest wait times in the country for joint replacement surgery; the current treatment of choice for end-stage OA.  
"We know given the increase in numbers of OA diagnoses that this surgery is not a sustainable approach to meet the escalating demands.  Integrating the excellent research conducted locally and nationally into a more comprehensive strategy is needed to provide better options for improving joint health in those with OA and reduce the need for invasive surgeries" Dr. Hubley-Kozey says.
It was clear from the clinicians present that they need objectives tools to monitor their patient's progress and to assist them with evidence- informed decisions on appropriate treatment options, including joint replacement surgery.  Mobility (gait) researchers use advanced measurements to study how people walk.  People with lower body OA walk differently as the OA pain and joint damage worsens. Certain changes can also make their pain and joint damage worsen more quickly.
"By working together we can combine data from across the country to produce the objective tools for clinical assessment and strengthen the evidence on how to keep people with OA mobile and physically active while protecting their joints," says Dr. Hubley-Kozey.
An emphasis on early care management
"The whole philosophy about this research appealed to me: managing your arthritis naturally by modifying behaviour and using the knowledge gained from research — not just sitting at home popping pills and turning into a couch potato," says Angelo Rudić, a consumer who has knee OA and was invited to speak at GaitNET.
"This approach puts emphasis on early care management and improving the methods for identifying at-risk patients right at the primary physician level. So, you can catch it early and start managing OA before it has progressed to the point where it gets harder to manage and puts more strain on our health care system," he says.
The meeting brought together mobility researchers, trainees, clinician researchers, consumers, industry and the Nova Scotia Arthritis Society. The organizing committee for GaitNET OA included Dalhousie researchers from the IMPACT Team (Faculties of Health, Medicine and Engineering), and researchers from University of Western Ontario, UBC and Waterloo. In addition to TAS and CIHR; support was provided by Motekforce Link, Canadian Society for Biomechanics, the Wolf Orthopaedic Biomechanics Laboratory University of Western Ontario, C-Motion Inc. and Dal's Faculty of Health.
"Through dialogue among the different stakeholders at this meeting, we have taken a positive step toward setting priorities for a national research agenda with the main goal  focused on enhanced OA management to improve joint health and the life for those living with OA," Dr. Hubley-Kozey says.