Health mythbusters is a regular column in which Dal Health researchers challenge widely held beliefs about health issues.  This month, Dr. Chris Simms looks at the relationship between natural disasters and health epidemics, and examines how they can be prevented. Dr. Simms is an Assistant Professor in the School of Health Administration, and has spent many years living and working in Africa and Asia including the Philippines, Indonesia, Sri Lanka, Senegal, Tanzania, Zambia, Kenya, South Africa, and Madagascar. He has contributed to global health as board member of the Canadian Society for International Health, editorial board member of the International Journal of Clinical Practice and as a Fellow of the Royal Society of Public Health.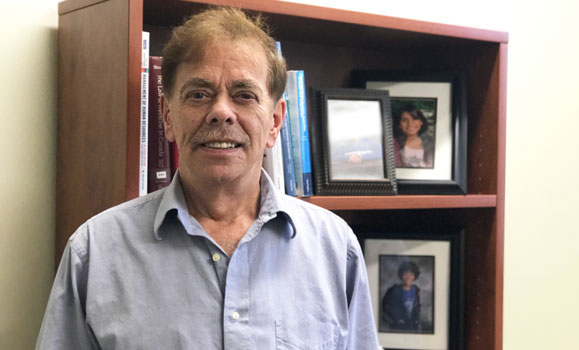 Natural disasters, like health epidemics, are inevitable."
Larry Brilliant who helped eradicate smallpox, famously said "outbreaks are inevitable epidemics are optional". The 700-800 scientists, who contribute to the annual World Economic Form Global Risk Report, would agree; they claim that the greatest global risk is failure to adjust and mitigate. The UN Office of Disaster Risk Reduction seeks to tackle hazards before they become disasters through a culture of prevention, a thorough understanding of risk, by ongoing review of policies and priorities, and by good governance in support of collaboration and partnership.
In this sense, the fires now raging through California may be a natural disaster yet land development policies put many communities in harm's way. For example, recent research shows that the direction of growing population density is increasingly overlapping wildfire "high severity zones". The ensuing risks are compounded by failure to mitigate; forest management practices are poor and most counties in California had not planned or implemented a Wireless Emergency Alert (cellphones) with which to warn residents of impending disaster.
The 2016 Fort McMurray fire can be seen in a similar light. Experts repeatedly and explicitly warned of the dangers of rapid expansion of resources industries northwards into the middle of boreal forests which is an ecosystem that is designed to burn – forests regenerate themselves through fire. Rather than take proactive steps during the hottest spring on record, the Alberta government cuts budgets to forest fire preparation; it halved budgets such as FireSmart which included such initiatives as tree thinning.
In much the same way, the disastrous impact of hurricanes Harvey and Irma on Houston and Florida are explained in part by the intense population growth and the unwise, unregulated development of coastal areas set against a background of global warming. Houston is a city built on cement sprawling onto coastal prairie land, and Florida has absurdly erected high rises on barrier islands and marshes, swamps, and wetlands. In Houston there are no zoning regulations while in Florida, state employees are warned against using the phrases "global warming" or "climate change".
The danger of ignoring global risks is underscored by a prescient study (published just before Hurricane Maria hit Puerto Rico) which showed that "nightmare hurricanes" that rev up from a Category 1 to Category 5 within 24 hours may become 10 to 20 times more frequent in occurrence. Kerry Emanuel, a hurricane specialist at Massachusetts Institute of Technology, who authored the study, argues that the surge in hurricane activity this season should not be labeled "natural" disasters since the term ignores the human role in global warming and the build-up of coastal communities.  Needless to say, poor federal response to Puerto Rico's plight is turning a spate of public health and safety hazards into new disasters.     
The advice to tackle hazards before they become disasters, through a culture of prevention and a thorough understanding of risk applicable, is applicable the health sector beyond disease outbreaks and epidemics. It has a direct bearing on appropriateness and effectiveness of care and the fiscal sustainability of  the system.
In the October 10th issue of the CMAJ, Robert Strang (Chief Medical Officer of Nova Scotia) and others warned that if fiscal sustainability is to be achieved in Canadian federal, provincial and territorial health systems, prevention and public health measures need to be set in place. As they stand these systems are not structured (or financed) to tackle hazards before they become disasters but rather are designed to be reactive, to treat rather than prevent and to target the individual rather than the population.
If the intent is to deal effectively with chronic disease and cancer and other health priorities, governments will need to address the underlying socioeconomic causes – the social determinants of health. Decision makers will need to support policies and programs that are not related to health care yet have a direct effect on the health of Canadians – policies that would address poverty, affordable housing community services, water and sanitation, recreation and mass transit.
As seen in California, Alberta, Texas and Florida, the social determinants of health are often the political determinants of health and what is required is long-term planning in a system that tends to reward short term objectives. Leadership and good governance need to come to the fore to promote a proactive approach to both natural disasters and chronic disease.