News
»
Go to news main
Dal Health shines at North America's leading Interprofessional Health Education Conference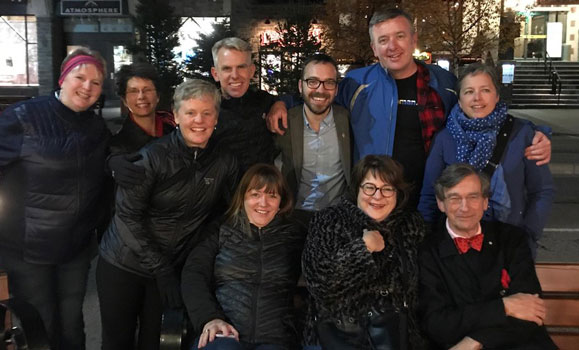 From October 1st-4th 2017, a contingent of Faculty of Health researchers, alum, students and staff met with colleagues from across the continent for the Collaborating Across Borders (CAB) interprofessional health care and collaborative practice conference. The large Dal contingent presented on a broad range of topics from designing and delivering interprofessional education (IPE) curriculum to evaluating IPE courses and researching IPE impact.
As the most diverse Faculty of Health in Canada, it's not surprising that Dal Health has taken a leadership role in the implementation of IPE initiatives. But the conference served as a reminder of how well situated Dal is on the continuum of pre-licensure IPE and collaboration.
"The team at Dal has really worked to implement an evidence informed and practice relevant pre-licensure interprofessional educational foundation," says Diane MacKenzie, an associate professor in the School of Occupational Therapy and one of the conference presenters. "The combined efforts of students, faculty and staff to contribute to the goal of positively impacting future clients, patients and practice is really exciting and puts Dalhousie at the fore of Canadian work in this area."
Sheri Price, an associate professor in the School of Nursing and presenter, concurs. "Our Dalhousie projects were acknowledged by conference attendees for showcasing innovations in pedagogical and research initiatives," she says.
Over the four days, Dal Health faculty and staff from the Schools of Occupational Therapy, Nursing and Health Science gave a total of 10 presentations reflecting research collaborations between 7 Dal Health Schools and 3 Dal Faculties (Health, Medicine and Dentistry). In addition to these presentations, Medicine professor Christine Chambers gave the closing key note address.
"I was inspired by the high quality of presentations our faculty and staff brought to the conference," says Brenda Merritt, Dean of the Faculty of Health (Acting). "We were a significant presence and the scale and scope of interprofessional work being undertaken at Dalhousie was really profiled."
Dal's role wasn't limited to presentations. Retired IPE Coordinator Anne Godden-Webster was the conference's Canadian co-chair while former Dean Will Webster is Chair of the Board of Directors of the Canadian Interprofessional Health Collaborative (CIHC). The CIHC and its American counterpart, the American Interprofessional Health Collaborative (AIHC), are CAB's sponsoring organizations.
"CAB VI was a great showcase of the collaborations happening across Dalhousie," says Dr. Merritt. "The conference served as a good reminder that when we reach outside professional lines to discuss issues and design solutions we can positively impact education, research and person-centred care.
Learn more