The Research Profile is an in depth look at research being conducted in the Faculty of Health. Each profile highlights the research achievements, goals and interests of a faculty member in their own words.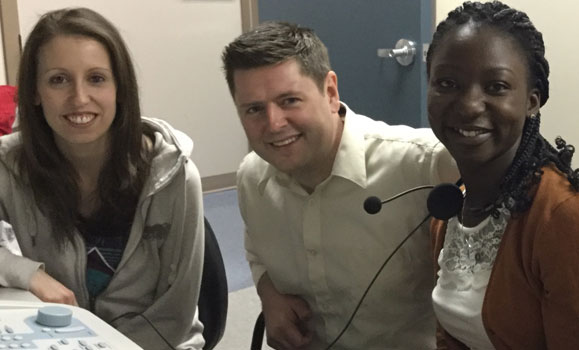 Name: Steve James Aiken
Title: Associate Professor
Degrees: PhD (Medical Science–Toronto), MSc (Audiology–Western), BA (Psychology–Western)
Faculty of Health Unit: School of Human Communication Disorders
Years employed at Dal: 10

Research Snapshot

When and how did you decide that health research would be your career?
I started my career as a clinical audiologist, working with people trying to get on with their lives in spite of hearing loss. We don't realize how important hearing is until we lose it—but communication is at the very core of human experience. Sadly our clinical measures are still very rudimentary, and they don't tell us much about why someone is having hearing problems. We still use tests developed in the 1940s! I decided that I wanted to be a part of making things better.  

How does your research impact the everyday lives of Canadians? 
Many people have difficulty with hearing when it's noisy. They're lost when trying to talk to someone at a party or in a noisy workplace—or a noisy classroom. And many of these people appear to have normal hearing when they get their hearing tested. This tells us that our clinical tests are not very good. My work uses tiny electrical potentials measured from the scalp—brainwaves—to study how speech sounds are encoded in the brain, and how this changes in people with hearing problems. Age and noise exposure can have a huge impact on hearing that simply doesn't show up in the clinic. It shows up when we look at brain responses. The goal is to bring this work to the clinic, so that we can understand why they're having hearing problems, and so that we can develop better ways to treat and prevent these problems. 

Looking back

Is there an individual, community/group or incident that has inspired – or continues to inspire – your research?
Absolutely—that would be Dr. Richard Seewald. In the 1970s, there was an outbreak of rubella at the IWK that left a large group of babies with permanent hearing loss. These families came to see Richard Seewald, a young audiologist tasked with helping these babies. No one knew how to do hearing aids on babies, although he did what he could. Richard decided to go back to school and do answer this question, and he developed an evidence-based approach for fitting hearing aids to babies. This was his PhD work—and it was health research at its best. There are children all over the globe that have benefited and are still benefiting from the work of this Canadian pioneer.

What's been most unexpected about your career to date?
The extent to which my role at Dalhousie has allowed me to have an impact in the community—this was completely unexpected. Although Canada has a wonderful health care system, we still have large gaps. One of the most glaring is that we don't have programs to detect and treat hearing loss in babies in all of our provinces and territories. This is done everywhere in the US, but not in Canada—and it means that many of our children are missing out. A few years ago I started a national task force that is working to change this. I've also had the opportunity to serve as the president of our national audiological association and to launch a new clinical publication. These are things I never expected to do!

What made you want to be a part of Dalhousie?  
Dalhousie has always had a great reputation in the field. This is a program where students have the opportunity to learn from scientists and clinicians, and where students get extensive training in the clinic—and it shows. It's wonderful to be part of something that works.

The School also stands out with its focus on serving the community. We have a program that provides hearing aids to people in financial need—with support from the Lions clubs, a program that helps people with aphasia, and many of the professors are involved in international development. This focus on service really attracted me to Dalhousie.

Looking outward

If you had the opportunity to write one tweet about your research that would be read by all Canadians, what would you share in 140 characters?
Dal scientist uses brainwaves to untangle the mysteries of hearing loss.

What motivates you?
Hearing issues affect so many people—former patients, friends and family. We may not ever be rid of hearing loss, but research can make things better. This is motivating!

Looking forward

What's next for you in your work?
I'm beginning a new collaborative project to investigate hearing in the UK military with researchers at Cambridge and Birmingham. This will answer many questions we have about how best to measure changes in hearing that result from noise exposure.   

If you could only accomplish one thing in your career, what would it be?
I'd like to see a shift away from a late-intervention model—where we can only help someone with hearing aids—and towards an early-intervention model where we detect the signs of hearing loss and provide treatment before it's too late. People monitor their blood pressure to lower the risk of heart attacks. I hope to help develop similar measures for hearing. Let's make hearing loss a thing of the past!