Alumni Outside the Box is a regular column profiling Health alumni who are using their health degrees in new or unique ways.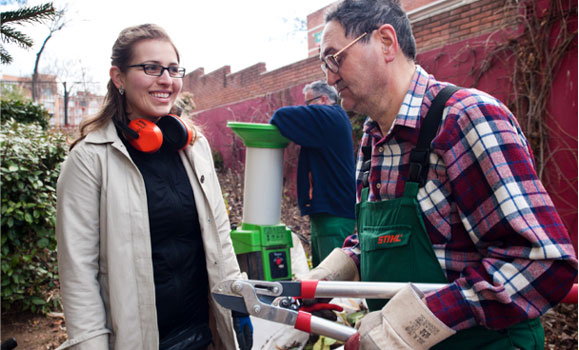 For Becky Marval, pushing the boundaries of what it means to be an occupational therapist has become second nature. For the last eight years, Marval has worked with Mobile Outreach Street Health, commonly known as MOSH, as their resident OT.
An alum of Dal's occupational therapy program (BScOT'07), Marval had always been interested in the social impact on function. When MOSH formed in 2009, she jumped at the opportunity to be a part of the team.
Supporting the homeless community
Through her 0.50 FTE with MOSH, Marval works with a team of primary health care workers – mostly nurses – providing immediate and ongoing support to persons at risk of and experiencing homelessness. Marval's work focuses on complex issues that involve health, participation and quality of life.
"I focus on clients working toward some sort of lifestyle change or other involved goal, such as going back to school," she says. Each case can vary widely and in the run of a day, she might find herself providing health education, helping clients with resource navigation or engaging in mental and physical health support.
"Part of my passion and mandate is to look at the bigger picture," she explains. "Our population isn't here because of a simple issue. The common denominator is social determinants of health issues, primarily poverty. It's more impactful and sustainable to try to make change at those levels rather than focus on how those issues have presented themselves as individual problems."
Building a network of supporters
When she's not working for MOSH, Marval splits her time between a variety of other part-time positions with non-profits, Nova Scotia Health Authority, the IWK, or private practice.
For the last two years, she's worked with Adsum for Women & Children assessing how they support their clients including suggesting policies changes that better serve their clients' needs. She's also spearheaded Peer Works, a supported work program that hires Adsum residents and clients in property management roles servicing Adsum's permanent housing units.
"Working under a mentor, the women learn to prepare and turnover units between tenants," she says. "The goal is to facilitate skill building and confidence in this type of work."
Although her roles have increasingly focused on serving those who are homeless or unstably-housed, their varied nature requires a broad base of skills and knowledge.
"I've had the challenge and privilege of working between two and four jobs at all times," she says, noting that this has given her the opportunity to build networks and meet new contacts. Cultivating a broad network of contacts in and around the homelessness sector was particularly important when she first joined MOSH, given the sole practice nature and broad scope of this role.
Pushing professional boundaries
Originally envisioned as a social work position, the role was reworked after the North End Community Health Centre (the umbrella organization for MOSH) had a positive experience working with Dal OT students on clinical placements.
Marval guesses that she may have been the first OT in Canada to work with the homeless community in this way. "At the time, I reached out to contacts around the world to try to find a mentor doing this type of mobile clinical care with persons experiencing homelessness and couldn't," she says.
She credits her role's creation to the advocacy work of occupational therapy schools, including Dal. "OT Schools have been really active in advocating for the broad relevancy of their scope of practice outside traditional roles," she explains. "Through their work, they have increased external exposure to and interest in what could be captured in an OT's scope of practice."
Recognizing the uniqueness of her role, Marval has been proactive in connecting with homelessness and OT organizations whenever she travels. Over the past eight years, she has seen firsthand an expansion in OT's scope of practice.
"I've heard from an increasing number of students and practicing OTs around the country and world who are working with the homeless community."
To further facilitate growth in this area, Marval is part of a research group looking at homelessness and occupation. "I want to participate in building the body of knowledge for how OTs can contribute supports in the homelessness area," she explains. "It's important to build the resource base for others entering this part of the field."
Looking back, and ahead
When asked what lead her to this type of role, Marval notes that she never envisioned herself in a prototypical OT job.
"I didn't know this area of practice was a possibility," she says. "But I've always wanted to be creative and dynamic in how I help people. I've been really fulfilled by how the MOSH role has allowed me to problem solve and be creative in finding solutions for individual situations."
She's particularly excited by how occupational therapy's professional scope of practice has expanded in the decade since she graduated. "I foresee OTs continuing to spread themselves into areas outside the department of health, moving into areas in education, justice, and community services."
As for what's next for Marval, she's getting ready for a totally new endeavour. Due with her first child in February, she's looking to focus on her growing family and is excited to see where her career and passion will go after that.
"I don't want to stagnate, I like working in areas where there is opportunity to grow and push the boundaries of OT."
Learn more about MOSH and Adsum for Women and Children, registered non-profits that welcome the interest of volunteers and donors.