News
»
Go to news main
Dal Health hosts first Scotland‑ New Scotland collaborative meeting focused on improving primary care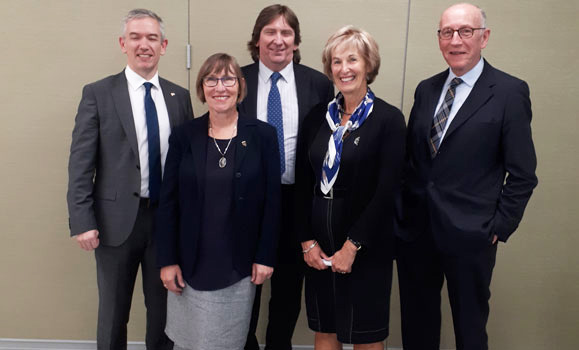 From September 27th-30th, Dalhousie University's Faculty of Health hosted three prominent Scottish thought leaders in primary care.
Dr. John Gillies, a professor with the University of Edinburgh and deputy director of the Scottish School of Primary Care, Dr. Stewart Mercer, a professor with the University of Glasgow and director of the Scottish School of Primary Care and Dr. Gregor Smith, deputy chief medical officer for the Scottish government, are all leading voices in primary care reform in Scotland. With a broad range of expertise as clinicians, researchers and civil servants, all three have dedicated their careers to improving the health of the Scottish people through improvements in the provision of primary care.
Comparing responses to similar health status indicators
Perhaps unsurprisingly – given our geographic, genetic and socio-economic similarities – Scotland and Nova Scotia have comparable health status indicators. Our populations, both aging, with declining access to health care in rural areas and increasingly unsustainable health costs, fare poorly in benchmark studies documenting population health.
Nova Scotians and Scots alike are more likely than their peers in Canada and the United Kingdom to have chronic conditions, cancer or to be obese. Researchers, clinicians and policy makers in both regions have grappled with how to improve prevention measures and the provision of primary care.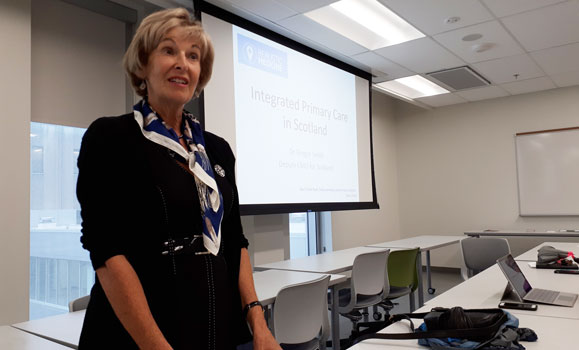 Dr. Renee Lyons, who is a professor emeritus at Dal Health, a senior scientist (emeritus) at the Lunenfeld-Tanenbaum Research Institute and a professor at the University of Toronto's Dalla Lana School of Public Health and Institute of Health Policy, has visited Scotland many times as an invited lecturer in chronic disease management and health systems improvement. Recognizing the similarities between the health issues facing Scotland and Nova Scotia, she began to consider how the regions could collaborate to learn from each other's experience and develop innovative ways to improve health.
"I thought it would exciting and valuable to Nova Scotia if we could build a Scotland-New Scotland alliance for health reform. I saw so many benefits for both locales and I knew that many Scottish researchers and government leaders were very interested in this idea," says Dr. Lyons. "I wanted to do something to thank Dalhousie for being so good to me, and was happy to contribute some funds to launch the Scotland-New Scotland Research Fund."
The initial collaboration came about through a gift from Dr. Lyons to the Faculty in 2017. The fund was to support research and training collaborations between Scotland and Nova Scotia. These discussions – and the resulting fund – led the Faculty to issue an invitation to three of Scotland's leading primary care experts.
Bringing primary care experts together
Led by Associate Dean Research Cheryl Kozey and with the support of Dal's Vice President Research – and former Dean of Health – Alice Aiken, the goal was to bring together primary care experts from both regions for introductory meetings.
"Our initial intent was to start building relationships," says Dr. Kozey. "We wanted to see whether there was an appetite for establishing an ongoing dialogue and opportunity to exchange ideas, lessons learned and best practices."
Over three days, representatives from Dal Health and Medicine as well as primary care experts from the Nova Scotia Department of Health and Wellness, the Nova Scotia Health Authority (NSHA) and the Nova Scotia Health Research Foundation (NSHRF) took part in a variety of activities related to integrated, collaborative primary care.
Through individual and group meetings the Scottish representatives learned about key primary care issues facing Nova Scotia, were introduced to some of the excellent research taking place and shared the challenges they were encountering in Scotland. These discussions were further informed by site visits to the Mumford Family Medical Centre and Our Health Community Centre in Chester. An open presentation drew a broad range of attendees from the health field including patient advocates, students, clinicians and researchers.
"From these initial discussions, it's clear that there is a lot we can learn from each other's experiences," says Dr. Kozey. "What was most rewarding for me was to see the excitement grow over the three days as it became clearer that we share common values and goals for health and social advancement.  Moving forward we plan to capitalize on opportunities available to strengthen current and develop new relationships with our Scottish partners to address research, training and policy issues together."
Get involved
Make a donation in support of the Scotland-New Scotland initiative.