News
»
Go to news main
Working together for Wheezy Will: Health students participate in Interprofessional Simulation Day in Yarmouth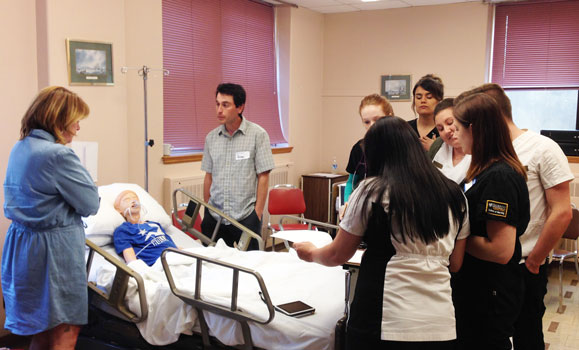 On June 5th, students from eight professions spanning the field of health participated in Interprofessional Education (IPE) Simulation Day in Yarmouth. The students, who study at the Yarmouth site of the Dal School of Nursing or who were on clinical placements in the Yarmouth area, came together to work on a variety of simulation experiences from various practice areas.
During this event, interprofessional student teams experience realistic scenarios that involve the use of both simulated patients and manikins.  After each simulation, the student teams get together with facilitators and faculty mentors to debrief. This year, more than 40 students from nursing, radiological technology, nuclear medicine technology, diagnostic medical ultrasound, respiratory therapy, speech language pathology and dietetics participated.
The students were broken into six teams, each with representatives from various professions. Each team had to respond to three different cases. "The simulations each involved a patient requiring immediate attention due to a fall, asthma attack, or potential infarction [stroke], accompanied by family members who were agitated due to the situations," says Lucas Jenkins, a radiological technology student currently on clinical placement at the Yarmouth Hospital.
"The group I was a part of learned within the first scenario that as healthcare providers, we are all capable of communicating with family members of patients to inform, support, and include in the care we provide, regardless of our professional discipline. This inclusion allowed us, a healthcare team, to resolve the conflict scenarios much more effectively."
Providing students with the opportunity to work as a team and to experience the non-clinical aspects of a health environment was one of the key goals of the day, says Noel Pendergast, IPE Coordinator for the Faculty of Health. "The focus for all of the cases were interprofessional competencies, such as communication, collaboration, role clarification, conflict resolution, and patient- or family-centred care," he explains.
By using manikins as patients and actors as family members, the students had to respond to and work with distressed family members while treating the ailing patient. "This challenged the students to include the family members as part of the health care team," says Pendergast.
The power of teamwork
The simulations – all of which required quick action from the health care team – also helped students understand how their chosen health profession complemented other team members' and to identify where they overlapped.
"If a nurse was tasked to administer medication to an asthmatic patient, I was able to take the responsibility of monitoring the patient's vitals," says Jenkins. "If I, as a radiological technologist, was obtaining written or verbal consent for the administration of contrast media for a CT scan, a nurse was able to insert an IV in my place. Each discipline was able to contribute, and as a healthcare team we were able to allocate tasks based on our respective scopes of practice."
Adele LeBlanc, administrator and adjunct lecturer at the Yarmouth Nursing site, concurs. "There was so much mutual learning that occurred through the interactions," she says, noting that the faculty members and other facilitators of the event also worked as an interprofessional team to coordinate the day and debrief the students after each simulation scenario.  
Feedback from student participants has been positive, with many noting the direct relevance to their anticipated careers.
"It was such a great opportunity to take part in this day and to be able to collaborate with students from other health professions," says Kennedy LeBlanc, a nursing student. "These simulations allowed me to practice scenarios that I will most likely face sometime in my career as a nursing student and future nurse."
Jenkins agrees: "As a provider of care for mostly relatively short periods of time in diagnostic imaging departments, I was introduced to potential long-term care scenarios that I may not always be a part of, but will now be able to assist in the event that I am needed."
This is exactly the feedback Pendergast hopes for, "These simulations demonstrate the power of teamwork, and that has a real impact on students. It's great when you hear that students are going back to the classroom or to their placements 'buzzing' about what they've learned."