Alumni Outside the Box is a regular column profiling FHP alumni who are using their health professions' degrees in new or unique ways.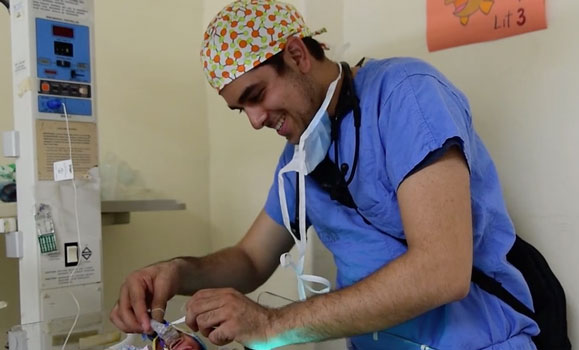 One of Dal's smallest programs, the Bachelor of Health Sciences in Respiratory Therapy may only graduate a dozen students each year, but alum Brandon D'Souza says they are essential to healthcare delivery.          

"RT's are specialists who have advanced training for the management of cardio-respiratory systems of the body," he says, noting that one of the biggest areas of focus is mechanical ventilation, also known as breathing machines, and providing emergency airway management across all populations.
Finding his calling
Brandon knew from an early age that he wanted to pursue a career in healthcare. While completing a co-op program in high school, Brandon had the opportunity to shadow numerous professions from nurses, to radiological technologists, to physicians. On one particular day, he found himself observing open-heart surgery, and ended up meeting a Respiratory Therapist who worked in the OR.  
"I then found out that respiratory therapists, a profession I had not heard of before, could specialize and work there, along with many other places in the hospital and in the community."
Brandon applied to Dal and started in the Respiratory Therapy program the following September. Despite all the advance research he did on the profession, his work opportunities have been broader than even he expected.
"I would not have expected to be where I am now upon graduating."       

Taking his expertise abroad
Since Brandon graduated from Dal, he's been using his degree in unique ways. After a 7.0 magnitude earthquake hit Haiti in 2010, Team Broken Earth, a medical mission team based out of Newfoundland began providing relief and education via medical mission trips to a hospital in the capital of Port-au-Prince. He was the first RT to travel with the Halifax team in 2015, bringing along expertise that wouldn't otherwise have been available.
"Due to its lack of resources, Haiti is a very challenging environment to work in…you often have to get creative to find solutions to local problems," he says, recalling his experience. "Basic examples could be the lack of aerochambers for puffers. You can make one with a pop bottle if you have a knife and some tape."
Brandon also notes that lack of stable electricity and harsh weather made it difficult to depend on more conventional methods for delivering emergency care. "When using ventilators in Canada we have oxygen and medical air that comes out of outlets in the wall. In Port-au-Prince, you are lucky to have a wall, so you have to use tanks and compressors while hoping they do not overheat…all while planning for what to do when the power fails."
"It's important not to forget about the greater goal," says Brandon. "[We can't just] parachute in and do the work, that is not sustainable. We have to guide and teach so that they do not need us anymore."     

Working with young patients
While Brandon enjoys his experiences working abroad, his home base is here in Halifax where he works at the IWK. "When I first started at Dal, I was positive that the neonatal and paediatric population was not for me," he says. "They seemed too small, scary, complex, and the risks [were] too high."
However, through rotations in the NICU and pediatrics, he came to know his colleagues and the support and education they gave each other. He realized it was worth the challenge. "On the really good days, you get to be part of a story where someone gets a second chance, sometimes a first with neonates. The good days offset the rough ones by a long shot."   
Brandon says that there are a lot of physical and emotional challenges that go along with being an RT, especially when working with children. "The best days are when our patients go home and they don't need us anymore."
Despite the bad days, he says that working with his colleagues and young patients can always bring a smile to his face.
Continuing to challenge yourself
As for the future, Brandon is interested in global health, both clinical and logistics work abroad. "RTs are predominantly a North American phenomenon, but our knowledge, skills, and expertise can reach worldwide."
Brandon has been involved with the Canadian Society of Respiratory Therapists and has presented at conferences across the country. He hopes to continue working with them to push the profession forward.
"I believe that continuing education is essential to staying connected, interested and involved in anyone's field. I am always looking at new ways to advance my knowledge. I do not know exactly what is in store, but that is half the fun."