News
»
Go to news main
Health Mythbusters: Dr. Brad Meisner and Dr. Marie Earl
Posted by
Brad Meisner and Marie Earl
on February 27, 2017 in
News
Health mythbusters is a regular column in which FHP researchers challenge widely held beliefs about health issues.  This month, Dr. Marie Earl and Dr. Brad Meisner tackle two common myths related to falls prevention. 
Dr. Marie Earl is an Assistant Professor in the School of Physiotherapy. She is a member of the Nova Scotia Intersectoral Seniors' Falls Prevention Committee. Her teaching and research focus on progressive exercise to protect or restore health and function of older adults and those who live with chronic health conditions. 
Dr. Brad Meisner is an Assistant Professor in the School of Health and Human Performance, Division of Health Promotion. He is the Director of the 'Research and Education on Aging and Community Health Unit' (REACH-U) and an Associate Research Scholar at the 'Healthy Populations Institute' (HPI) at Dalhousie University. He also serves as Chair of the Division of Educational Gerontology for the Canadian Association on Gerontology. His research program examines ways to support healthy aging by challenging popular age stereotypes.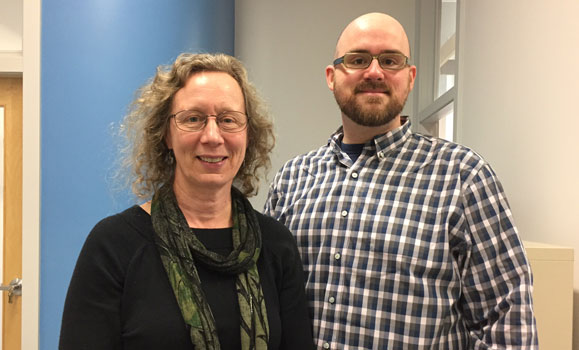 Falling is a normal part of aging that can't be prevented. 
Falling is a concern for many older people, but aging itself does not cause someone to fall. The belief that falls are a normal or an inevitable part of aging is an example of a false negative age stereotype.1
In reality, there are many modifiable risk factors that can be addressed to help prevent falls.2 For example, regardless of age, inactivity as well as low physical and functional fitness contribute to someone's risk of falling. Although we cannot change the year we were born, we can try to change or maintain our physical activity and fitness levels as important parts of fall prevention efforts. 
The Canadian Physical Activity Guidelines for Older Adults (65 years of age and better) recommend regular physical activity to achieve or maintain health and functional abilities in later life.3 Incorporating 150 minutes of moderate- to vigorous-intensity physical activities into the average week, in bouts of at least 10 minutes, is a key recommendation.3 However, 'moderate' or 'vigorous' intensity will mean different things for different people. 
These physical activities can be anything that:
get our heart and breathing rates up, 
makes us sweat, and
we find enjoyable. 
Activities that strengthen muscles and bones, along with balance exercises, round out the physical activity recommendations for older people who are at risk of falling.2-5 For these individuals, rather than accepting falling as an unavoidable part of the aging process, they can work with health professionals to adopt an appropriate physical activity program to reduce their risk of falling.2, 5, 6
The best way for older adults to avoid falling this winter is to stay at home." 
Actually, falls that happen at home, during routine activities of daily living, are a much more common problem than falls that happen on icy, slippery sidewalks.7
According to best-practice guidelines, older people should be screened for fall risk factors at least once per year by their health provider, so that individual risk factors can be identified and addressed appropriately.5 Health teams should work together, with older clients who have an elevated risk, to address:
 'internal' fall risk factors that often arise from inactivity, injury, or illness (e.g., muscle weakness, co-ordination problems, vision or sensation impairments, medication side effects, low blood pressure), as well as 
 'external' fall risk factors that relate to the older clients' environment (e.g., reducing clutter in the home, using appropriate footwear to improve balance on slippery surfaces).4, 5 
Also, staying at home to avoid falling could make it easier to be inactive, which would decrease fitness levels over time, and ultimately increase the risk of falling. 
It is also important to create safe and supportive environments in our communities to prevent falls and to encourage physical activity in the winter season. Therefore, not only do older people and health teams have a role in fall prevention, but so do goverments (e.g., policies and practices of service standards for snow removal, salt management, and sidewalks). These multisectoral collaborative efforts are important given that all citizens are at risk of slipping and falling on icy sidewalks in the winter months. 
References 
1. Meisner BA and Levy BR. Age Stereotypes' Influence on Health: Stereotype Embodiment Theory. In: Bengtson VL and Settersten RA, (eds.). Handbook of Theories of Aging. Third edition. ed. New York, NY: Springer Publishing Company, LLC, 2016, p. 259-76. 
2. Gillespie LD, Robertson MC, Gillespie WJ, et al. Interventions for preventing falls in older people living in the community. The Cochrane database of systematic reviews. 2012; 9: Cd007146. 
3. Canadian Physical Activity Guidelines for Older Adults - 65 Years and Older. Canadian Society for Exercise Physiology, 2011. 
4. Sherrington C, Tiedemann A, Fairhall N, Close JC and Lord SR. Exercise to prevent falls in older adults: an updated meta-analysis and best practice recommendations. New South Wales public health bulletin. 2011; 22: 78-83. 
5. Kenny RM, Rubenstein LZ, Tinetti ME, et al. Summary of the Updated American Geriatrics Society/British Geriatrics Society clinical practice guideline for prevention of falls in older persons. J Am Geriatr Soc. 2011; 59: 148-57. 
6. Jang H, Clemson L, Lovarini M, Willis K, Lord SR and Sherrington C. Cultural influences on exercise participation and fall prevention: a systematic review and narrative synthesis. Disabil Rehabil. 2015: 1-9. 
7. Seniors' falls in Nova Scotia. Current Status & Policy Approaches to Support Prevention. Halifax: Nova Scotia Department of Health and Wellness, 2016, p. 65.