News
»
Go to news main
Dean's Message: February 2017
Posted by
Alice Aiken
on February 27, 2017 in
News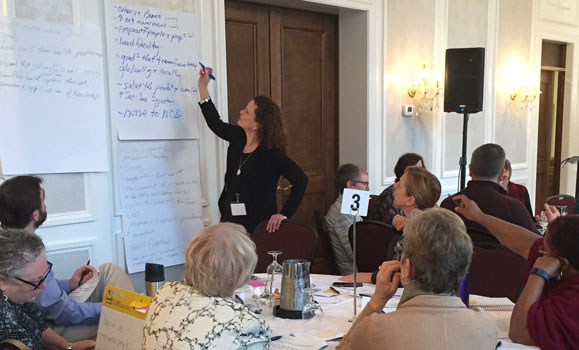 Dear friends:
This is an exciting time in the Faculty of Health Professions! Back in November, we launched a strategic planning process and I've been overwhelmed by the enthusiastic response.
Establishing a shared vision for our future has been my top priority and, based on the participation so far, it's clear that our community is equally focused.
As the largest and most diverse health faculty in Canada, we are uniquely placed to lead health care transformation and innovation. To capture the breadth of knowledge and experience housed across our faculty, we assembled an internal Steering Committee and External Advisory group – with membership from all key health and education partners in Nova Scotia – to develop an inclusive and participant-driven strategic planning process.
Throughout November and December, we undertook an environmental scan of the Faculty. This involved seeking input on our strengths, weaknesses, opportunities and challenges from all internal and external stakeholders. More than 50% of our faculty and staff – over 100 faculty and nearly 40 staff – participated in environmental scanning sessions, and almost 300 students weighed in through an Opinio survey.
Leaders in health and post-secondary education, including Dal president Richard Florizone, and health authority presidents Janet Knox and Tracey Kitch, among others, participated in stakeholder interviews.
I've been inspired by the passion and optimism each participant has brought to this conversation.
In January, we held a full day strategic planning session with representatives from the Faculty, university, health authorities and government. Throughout the day, attendees reviewed the input from the environmental scan then brainstormed and drafted a shared vision for the faculty and its role within the broader health community over the next 3-5 years.
From this session, strategic directions were established and working groups created to develop strategic action plans. This work is almost done and a draft plan will be shared with faculty and staff for feedback mid-March, with opportunity to comment and ask questions about the draft plan at open meetings in March. A group of dedicated alumni are also meeting to give feedback on the draft plan.
As an active participant in this process, I've had the opportunity to get to know many of our dedicated team, to learn about the unique challenges and opportunities facing our faculty and broader community and to witness the commitment and dedication in all health circles to forwarding health issues in Nova Scotia.
I'm excited to share our final strategic plan with all of you later this spring. Please stay tuned.
Sincerely,
Alice
Save