Executive‑in‑Residence
Inspiring Future Leaders in Health Administration
As a member of the School's Professional Advisory Council (PAC), the Executive-in-Residence will join an elite group of highly respected and accomplished health leaders, offering valued and insightful counsel to the School of Health Administration.
Senior Canadian Health Leader
Distinguished Career
Leader of Transformational Change in the Healthcare Industry
Highly Respected and Visionary Leader
Embodies the Values of Mentoring Leadership
The Executive-in-Residence will be uniquely positioned within the School to foster the professional growth and development of future leaders in the health sector.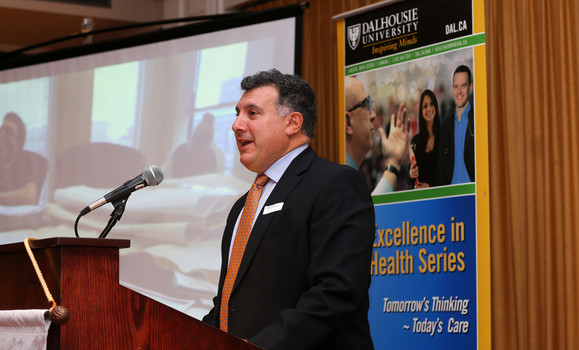 Robert's credentials will let you know that this is a man who lives up to his promises. The awards he's received, the volunteering he does, and his presence on boards and panels shows the devotion of this man to his community and to his profession.
Robert is an entrepreneur who leads Zed Group, a diversified selection of companies in the seemingly broad range of healthcare, hospitality, event production and fundraising. What brings this all together for Robert is the talent he displays envisioning the path each company must take, setting the tone for the people who work with him, and entrusting these talented partners to get on with the work of transforming vision into reality, and promise into customer delight.
His ability to inspire others and to see and understand the path that's needed has been honed in a career that spans the service, hospitality and healthcare industries. Robert served in senior healthcare leadership positions at several Maritime healthcare centres before establishing Crothall Services Canada, which provides out-sourced management solutions for hospitals and schools throughout North America. After leading the company to nearly $30 million in annual revenues, Robert sold the business and remains Chair of Compass Group Canada. Today he leads Zed Group which comprises Zed Healthcare (strategic advisory), Triangle Strategies (consulting services), and ZedEvents where he has been involved in producing and promoting some of the region's most successful events, such as the "Mike Weir Miracle Golf Drive for IWK", Atlantic Business Magazines Top 50 CEO's and MHFNS's "Different Stage of Mind", Festival of Trees as well as the David Foster Crescendo Gala.
His awards are numerous but key accomplishments include Queens Jubilee Award, Association of Fundraising Professionals Volunteer of the Year Award, Canadian College of Health Service Executives Chair's Award Winner for Distinguished Service and Outstanding Alumnus, Canada's Top 40 Under 40 Award, Atlantic Business Magazine's Top 50 CEO's in Atlantic Canada Award and he now resides in the ABM Hall of Fame and winner of the Canadian Mentorship Challenge 2013 from Start Up Canada & the Canadian Business Youth Foundation.
Volunteering in his community is the backbone of Robert's beliefs. He has been involved in literally hundreds of organizations in the past and a few of his current affiliations include The Mental Health Foundation of Nova Scotia, Citadel High School-volunteer teacher of Entrepreneurship, Board Member - Strongest Families Institute of Canada, Member - Professional Advisory Council Dalhousie University Masters of Health Administration, The United Way, Research and Educations Foundation, College of Family Physicians, Board Member and Mental Health Nominating Committee of the Board, Adjunct Professor-Dalhousie University and Partners for Care.
Robert lives in Halifax, Nova Scotia, with his wife Dr. Joanna Zed and their three sons William, Geoffery and Gregor.