Inspiring future leaders in health administration
Inspiring future leaders in health administration requires support and guidance from highly trained and experienced professionals in the healthcare industry. Recognizing the critical role of mentorship in training future leaders, the School launched its Executive-in-Residence program.

The Executive-in-Residence is a senior Canadian health leader with a distinguished career of leading and achieving transformational change in the healthcare industry and will be uniquely positioned within the School to foster the professional growth and development of future leaders in the health sector.   Robert Zed, President and CEO, Triangle Strategies (MHSA '86) has held this position since July 1, 2013.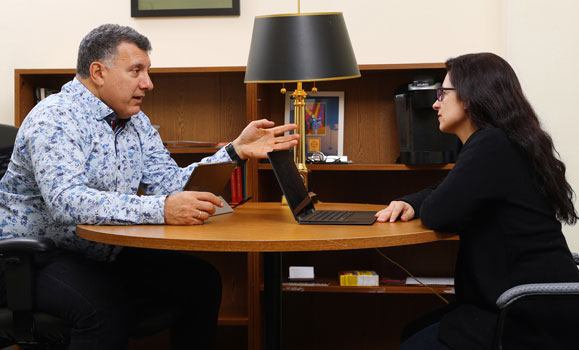 Robert's ability to inspire others, to see their potential and offer guidance spans several decades within the healthcare sector.  Robert served in senior healthcare leadership positions, received numerous awards including the Queens Jubilee Award, Canadian College of Health Service Executives Chair's Award for Distinguished Service and Outstanding Alumnus, Atlantic Business Magazine's Top 50 CEO's in Atlantic Canada  and winner of the Canadian Mentorship Challenge 2013 from Start Up Canada and the Canadian Business Youth Foundation.
Volunteering is the backbone of Robert's beliefs. He has been involved in hundreds of organizations including The Mental Health Foundation of Nova Scotia,  Citadel High School, Strong Families Institute of Canada, The United Way, College of Family Physicians, Partners for Care and numerous others.  Robert is also Adjunct Professor, School of Health Administration and lives in Halifax with his Family.